The Pied Pipers of the Lower East Side
Derek Ahonen
The Amoralists
Performance Space 122, New York City
(2009)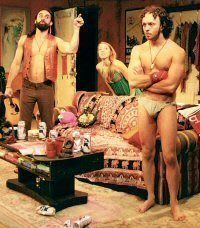 Writer/Director Derek Ahonen's play about four polyamorous lower-east-siders and their quest to make their tribal way of life keep working despite obstacles (both external and internal) is a peculiar event in storytelling, a three-act tale where both pro- and antagonists evoke sympathy in their attempts to live. Never quite giving away when he's being ironic and when we're meant to take his characters at their word, Ahonen draws us into a system where those who believe in communal living are able to partake of a spirit of tribal encouragement, and those who see the world from a more capitalist perspective must navigate their beliefs around this strange little foursome.
The play chalks up at two hours and forty five minutes, with two brief intermissions, the first act being the strongest by far as Ahonen lays out the foursome who have dedicated themselves to living in a loose quartet of sexual and idealistic compatibility. There's Billy (James Kautz), styling himself after Che Gueverra, and Dawn (Mandy Nicole Moore), the waifish teen runaway who was adopted into the Pied Piper tribe. Then there's Wyatt (Mathew Pilieci) and Dear (Sarah Lemp) who run the vegan takeout restaurant beneath the apartment.
The chemistry between the four performers is sometimes tenuous, with Ahonen's text bringing a heightened sense of drama to each of their interchanges. The desire to shock never seems far from the surface of this play, which features full frontal nudity (of both the male and female varieties) and amorous scenes between several configurations of genders, but underneath the strident posturing of each character one senses real belief and longing for the ability to live in what they consider to be the best, healthiest way possible.
This is true even of quasi-antagonists: Evan (Nick Lawson), Billy's frat-boy brother, to whom Billy's entire life is laid out against his will, and Donovan (Malcolm Madera), the beneficent landlord who has been spotting the quartet the apartment and enabling their free-range lifestyles as long as the Pied Pipers have been in existence.
A few quibbles with the writing - although Billy is meant to be an alcoholic and drug user and the actor performs this role well, there's a moment when he begs Dear to throw away his alcohol and she actually finds a number of bottles around the apartment. The idea that someone so bent on self-destruction through substance abuse would actually be able to keep that much liquor in his living space stretches credibility, and the moment seems to come from a laboring desire for laughs rather than real pathos.
Saying that, The Pied Pipers of the Lower East Side is an intriguing look at the sexual and moral politics of current, self-selecting urban families. The contrast of Billy's relationship with his chosen family against that of his genetic one, and the strange father-figure position filled by the person actually enabling the group to survive, bring an interesting dynamic to the production, and while the final act begins to drag significantly (wisely, the second intermission takes place just before the events that would make one want to leave the performance), overall this is a strong piece of experimental drama.
Reviewer: Rachel Lynn Brody