Pierrepoint
Peter Harrison
The Dukes & Cafe Society, Manchester
Dukes Theatre, Lancaster
–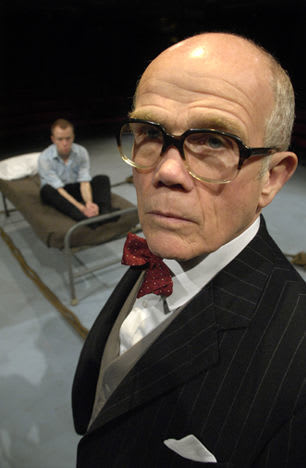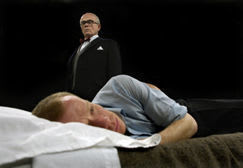 In the 60 minutes during which this play meticulously unfolds the character of Albert Pierrepoint he could have executed as many people.
To him it was a minute's work, a civil servant to his mind—perhaps a more deadly kind of clock-watcher to others—going about the business of hanging convicted criminals, as one of Britain's last executioners.
The life and times of the Lancashire pub landlord, who called time on around 400 souls during his occasional official calling, have been well-documented on screen and in print, but this revival of Peter Harrison's highly-intimate play loses nothing of its ominous appeal.
Indeed, revived here by the Dukes, and Manchester's Cafe Society theatre company, it probably achieves even greater effect as it is performed in-the-round for the first time.
Martin Oldfield reprises the title role in a play that has already won accolades elsewhere. It's fundamentally a one-hour monologue, delivered as he paces around the condemned cell of the largely-mute Timothy Evans (Gareth Cassidy) the hapless young man convicted, wrongly it transpired, for murdering his daughter.
At the play's final, chillingly-unavoidable conclusion, the last minute of Evans's life feels like one of the longest minutes of your own.
Until that moment Oldfield pours his heart out, directly to the audience, in a way that you suspect was never an option for the more taciturn Pierrepoint.
Instead it's the conscience talking of that rarity, a self-opinionated Yorkshireman, carrying on the family business of his father and uncle and "feeling nothing" about his work.
Behind the sanctimony though there are hints of self-doubt, even inner sadness that a man who could so deftly take life, was never able to have children.
The triumph of the play, and an intensely-absorbing performance, is to leave its audience pondering whether Pierrepoint's apparent detachment from his task made him more human, or inhumane?
It's unlikely, however, that any pro-hanging theatregoer will leave here with their certainty intact.
Reviewer: David Upton