Piff the Magic Dragon in... Jurassic Bark
Piff
New Greenham Arts, Corn Exchange Newbury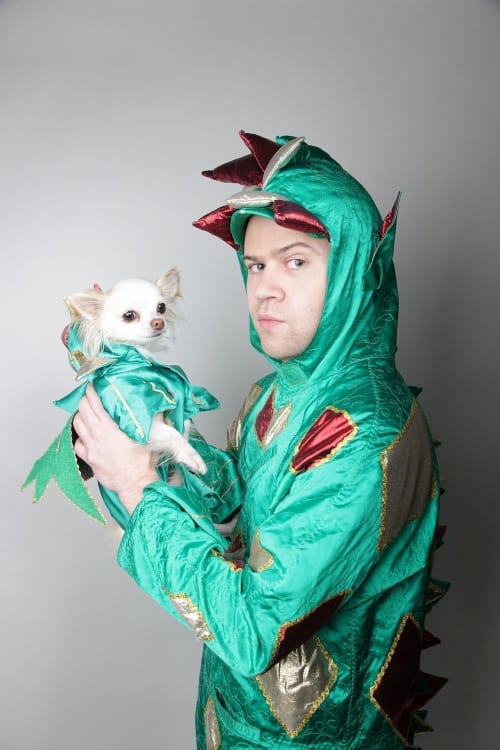 This is literally a magical evening in the presence of Piff the Magical Dragon—Jurassic Bark with his assistant Mr Piffles, the world's first magic performing Chihuahua, who levitates and suffers the indignity of being laminated and miraculously reappearing from a cardboard box in the audience and is fired out of a cannon amongst myriad other tricks.
Piff, dressed in full dragon costume, is a talented and accomplished magician who has a wonderful rapport with his audience and entices, in this case, Hannah from the audience to help him, who becomes his assistant for the next 45 minutes.
He is desperate to get married and he hopes that Hannah will pass four crucial tests in order to become his princess. The first involves sitting on a chair with cushions but Hannah can't do it until it is revealed that there is a large pea under the cushions—a clever play on the fairy tale.
He is assisted by Amy Sunshine, who is on work experience or, as she tells us, "community service" and is the butt of some of Piff's jokes.
Piff informs us that he is insured for a million dollars, "but as a dragon I couldn't afford the fire cover." A gag that is used to great effect later in the performance.
Each trick, and they come fast and furious, ends with the audience being told the cost. His sleight of hand is impressive with clever card tricks and objects appearing and disappearing from thin air.
The magic is truly amazing. In one trick he asks a member of the audience to choose a name for Mr Piffle's dog collar and it miraculously appears in a box—now how did he do that? And the stunning illusions become even more striking after the interval.
The adorable Mr Piffles wins the hearts of the audience, dressed in an identical dragon costume to Piff. He performs tricks such as escaping from the 'straight jacket of doom' or finding cards chosen by the audience.
Even when things go wrong—and they do—Piff's charm and charisma shines through and he really is very funny.
All the time, Piff continues to woo Hannah and he proposes to her but instead of him she chooses a free T shirt which just happen to be on sale in the foyer.
This is a thoroughly enjoyable, entertaining and mystifying evening.
Reviewer: Robin Strapp