Pig Girl
Colleen Murphy
Finborough Theatre
–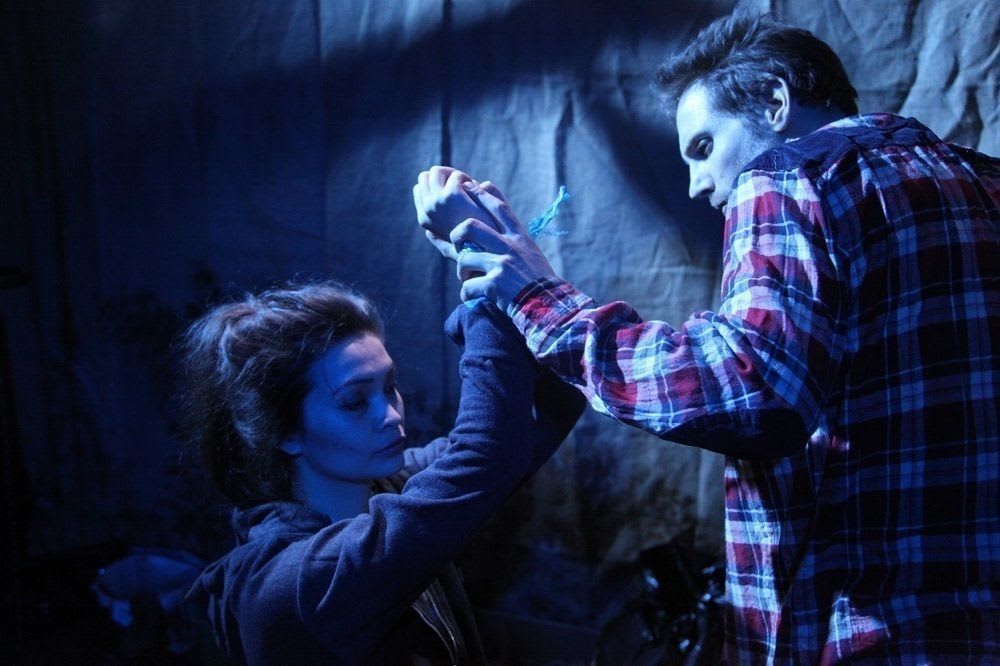 It is difficult to imagine light and shade in a production that gives voice to the nameless victim of a Canadian serial killer and so Coleen Murphy's Pig Girl cloaks itself in a shroud of darkness.
Inspired by the disappearances of a large number of women from the Vancouver Eastside, Murphy's grisly narrative makes its European debut at the Finborough Theatre, trailing a string of accolades including Canada's prestigious Carol Bolt award.
Two narratives run in tandem: the victim (a young prostitute with a penchant for 'speed balls') and her tormenter take centre stage, whilst the victim's sister and a floundering police detective stand either side, framing the action.
The central image is bleak. Physically and sexually abused in the dim light of a pig farmer's barn, our heroine (played with vigour by Kirsten Foster) refuses to be silenced by her unstable captor.
Spitting profanities, recounting childhood anecdotes and reciting the complex bones that make up the spine, Pig Girl refuses to die. "I've got a life" she repeats, "and I'm gonna keep it".
Her sister, played with a mixture of optimism and frustration by Olivia Darnley, battles fruitlessly against the hostile detective (Joseph Rye), for whom a missing prostitute features at the bottom of his to do list.
Playing to a fifty-seat theatre, there is little distance from which the audience can survey the macabre action and this intimacy heightens the taught atmosphere. Like it or not, the audience is helpless: voiceless voyeurs.
The performances are competent enough—especially from Foster—though the direction seems a little sluggish: too static for a play that runs at ninety minutes with no interval.
However, Pig Girl succeeds not only in giving voice to the dead but by vocalising an important social injustice of its own: a missing prostitute is distinctly different from a missing person.
And yet—this point made, there is little ground to cover in the remaining sixty minutes—save a depressing reiteration of the problem.
Uncomfortable too are Darnley's attempts to justify her sister's worth. It transpires that the helpless prostitute once trained as a nurse (hence the extensive knowledge of bones)—surely the police should look harder now?
Perhaps it would have been braver to cut this sentimental subtext—former nurse or straight up sex worker, nobody deserves to be Pig Girl.
Reviewer: Alecia Marshall