HMS Pinafore
Words by W.S. Gilbert, music by Arthur Sullivan
Charles Court Opera
King's Head Theatre
(2010)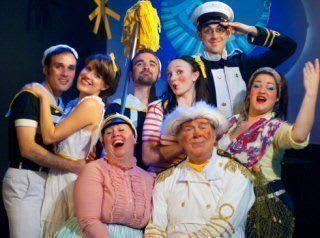 Transferred here after a well-received run at the Rosemary Branch Theatre, this pocket version of the nautical operetta is presented by a cast of nine, supported by the piano duo of David Eaton and James Young. It is a very minimalist production in that James Perkin's set gives us little more than a sail, a capstan and some buckets and mops with Gilbert's face beaming over things from a sun in the first act and Sullivan as a Man in the Moon in the second.
It's a tale that pokes fun at political preferment and class divisions with the daughter of the captain of the navy battleship HMS Pinafore in love with a humble member of its crew but being offered marriage by the first Lord of the Admiralty.
HMS Pinafore has a somewhat depleted crew under Captain Corcoran, reduced to just three sailors, and the crowd of relatives who accompany First Lord Sir Joseph Porter is cut down to one cousin, one sister and one aunty (or at least her ashes - an extra gag to add to Gilbert's many) but there wouldn't be room for many more and they sing out to fill this space as much as five times their number in an opera house. You don't miss extra voices, though the piano scoring does sometimes reduce the accompaniment to a thumpety background but it throws the singing into prominence - and this is a cast of excellent singers.
As a self-styled opera company (and indeed they have previously presented some of the standard grand opera repertoire) and playing at a venue which has now been launched as 'London's Little Opera House', their strength lies in the vocal talent on display. John Savournin has a light touch as Captain Corcoran, one number a delightful parody of a curate's chanting and a hint of a clerical demeanour and Simon Masterton-Smith is a nonchalant Sir Joseph, effortlessly pointing his numbers while Georgia Ginsberg and David Menezes make a beautifully sung pair of young lovers. It is clear that some of the company have been cast for their vocal rather than their acting, comedy or dancing skills, perhaps more noticeable here than in the cosy complicity which the 'Rosie' engenders. Some of the cast are making the gestures or hitting the right notes but performing rather than being funny and not physically expressing the emotion they show in the voice, which is sometimes emphasised by the very slow tempo at which some of the numbers are taken.
This is by no means a reverent reproduction of the old D'Oyly Carte style and the performers relish some of those delicious moments where Sullivan seems to be parodying grand opera's excess but John Savournin's HMS Pinafore is well within the bounds of operetta, not trying to make it a piece of modern music theatre. It will best please those Gilbert and Sullivan buffs who like a relatively traditional production, though perhaps a little more tongue-in-cheek, and will relish its joyful silliness.
Run ends 8th December 2010
Reviewer: Howard Loxton