Pink House
Madison Pollack
Paradigm Lab
PQA Venues @Riddles Court
–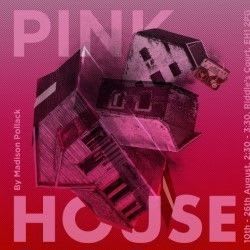 On a stage, littered with countless ribbons and laces, and several large square cages filled with trinkets, two women are symbolically covering one as if piling dirt onto a coffin. It's an arresting look, and one that makes sense when considering that it's a story about memory, the importance of possessions and whether a home is a building or a concept.
Pink House throws the audience into a complicated family situation from the offset and the slow, unravelling of the knotty story of the two lead characters' relationship is both terse and intriguing. Upon the death of her estranged daughter, the ageing and severe Shira has become the legal guardian of Peri, an adoptive granddaughter. There's resentment between the pair on many levels and there are many clashes between them: the modern and old-fashioned, strict and laissé faire, and even in Shira's orthodox Judaism and Peri's seemingly disinterested agnosticism. In the background of this, Shira begins hearing voices and experiencing flashbacks to her family life back in Nazi-occupied Germany.
Telling a distinctly American story, and indeed a Jewish one at that, is always a pleasure at the Fringe. It's especially refreshing as the play dives straight into the lives of these women and has the actors portray them in subtle ways to differentiate the generational divides. An interesting choice was to have the Yiddish scenes played with local UK accents, whilst Peri and other American characters had thick US brogues, differentiating the places audibly as well as in space and time.
Madison Pollack's script manages to keep both the timelines alive, although it's not a perfect fit. The flashbacks suffer from feeling like an onslaught of new characters and dynamics when the audience has only just gotten to grips with the complexities of Shira and Peri's relationship. Moreover, that storyline invariably becomes more weighty and interesting, and ends up being snatched away leaving a sense of unfulfillment.
In the end, both storylines do pay off and the final scenes do manage to pack an emotionally satisfying finale, but some of the meandering to get there is a little messy, and the device used to show the transitions between timelines isn't clear enough. There were also some issues with the actors clattering around backstage and the volumes of ribbon and props onstage were actually more of a hindrance than a help, as several times the cast had their ankles dragging ribbons around and were bumping into each other during unnecessary scene changes of the several boxes onstage.
It's not a bad production, but one that needs some workshopping to really bring out the emotional beats and smooth the kinks out of the practical stagecraft at hand.
Reviewer: Graeme Strachan