Pink Mist
Owen Sheers
Bristol Old Vic Productions
Bristol Old Vic
–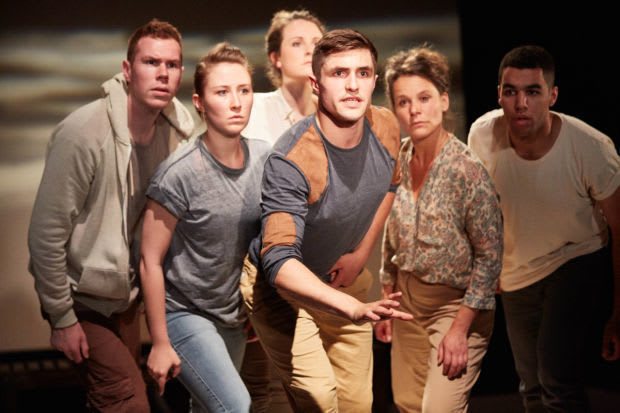 This is a perfect marriage: the effortless poetry of Owen Sheers's spectacular script matched beat for beat, blow for blow by the trademark physicality of the Bristol Old Vic's new Associate Director, George Mann.
Add to the mix John Retallack's pitch-perfect direction and you have an intensely affecting piece of theatre which brings an audience to its feet, leaves emotionally-spent critics in their seats long after the curtain and lingers in the minds of everyone long after the return home.
Its themes are at once painfully current and as old as mankind itself; its lingering message is as authentic and vital as it is uncomfortable. The ease with which vibrant young lives are tossed aside in the name of war and politics is as vivid today as it has ever been.
Pink Mist began life as a radio play. It charts the lives of three young Bristol boys who decide to take action against the lacklustre life they see stretched endlessly before them by signing up to join the Army. In a heartbeat, they are riflemen, thrown into the bloodied heart of the war in Afghanistan.
There's a remarkable empathy to Sheers's text, brought here to heartbreaking realisation. Some of the most harrowing moments of the play are enhanced beyond all expectation by this marriage of text and movement: the surreal chaos of a moment under fire underpinned choreographically and in design with echoes of the noise, mayhem and adrenalin of a night at Bristol's iconic night spot, Thekla.
Emma Cains's design, Jon Nicholls's composition and sound design and Peter Harrison's lighting combine seamlessly in this respect with the poetry and the performances, to spectacular effect.
None of this would have had quite the impact it has if it were not for the flawless performances of the young cast of six.
As an ensemble, Phil Dunster's Arthur, Alex Stedman's Hads, Peter Edwards as Taff, Erin Doherty as Lisa, Rebecca Hamilton's Gwen and Zara Ramm as Hads's mother leave you breathless.
For all their youth (Edwards, Doherty and Hamilton are graduating from Bristol Old Vic Theatre School this summer; Dunster graduated last year and Stedman in 2012), this cast have the integrity and clout of seasoned performers and are, without exception, names to watch.
What unfolds before the audience in Pink Mist isn't just dance; it isn't just theatre; it isn't just performance poetry. It's all of these things and more, far more than the sum of its parts.
It's a truly extraordinary experience.
This is a body-blow of a play which forces its audience to reflect on the nature of modern warfare; on the harsh realities of life for so many young people in the UK today; on society's disregard for the young people we send into the theatre of war.
And, mercifully, it reaffirms beautifully the ability of the human spirit to soar, in spite of everything.
Reviewer: Allison Vale