Pink Mist
Owen Sheers
Bristol Old Vic
West Yorkshire Playhouse, Leeds
–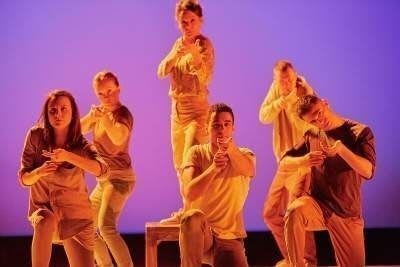 The physical and psychological damage caused by warfare has been a recurring theme in European drama since The Trojan Women was first performed in 415 BC. Although Pink Mist focuses on a contemporary conflict, the issues that it explores are timeless and can be traced all the way back to Euripides' ancient tragedy.
First performed in 2015, Owen Sheers's searing verse-drama explores the fates of three friends from Bristol—Arthur (Dan Krikler), Hads (Alex Stedman) and Taff (Peter Edwards)—who leave their loved ones behind to go fight in Afghanistan. All three men are motivated by economic factors: Arthur and Hads both long to escape their dead-end jobs, and Taff is eager to provide a better life for his wife and son. They are also driven by the urge to assert their masculinity, to prove their courage to themselves and the rest of the world.
Sheers also explores how the soldiers' loved ones—Arthur's girlfriend Gwen (Rebecca Hamilton), Hads's mother Sarah (Zara Ramm) and Taff's wife Lisa (Rebecca Killick)—are affected by their decision to fight in the Middle East. These courageous women try to help their men to readjust to civilian life, but the weight of physical and mental trauma makes this a heavy load to bear.
Based on a series of interviews conducted with wounded service personnel and their families, Pink Mist is an honest, unflinching and deeply felt account of modern warfare. Sheers originally conceived of the play as a radio drama, and this is borne out by the rich texture of the language, which is punctuated with metaphor and rhyme. Although Sheers is perhaps better known as a poet, Pink Mist is a fully realised piece of drama in which the rhythmic quality of the dialogue creates a sense of narrative propulsion.
Directors John Retallack and George Mann's match Sheers's haunting verse with bold, dynamic movement reminiscent of physical theatre companies like Frantic Assembly. Although the stage is bare for the most part, the constant reconfigurations of the performers—who switch between synchronised routines and solo performances—make the production a visually seductive one. Equally impressive is Peter Harrison's lighting designs, which evoke the heat and chaos of war in Afghanistan.
Pink Mist is further elevated by Jon Nicholls's sophisticated sound designs, which evoke time and place with great economy whilst also allowing us to enter the characters' damaged psyches.
All of the six performers rise to the physical and emotional demands of the piece. Dan Krikler, the most recent addition to the cast, gives a likeable and confident performance as Arthur, capturing the character's youthful swagger and restless energy in the early scenes and his sense of overwhelming guilt in the later ones. Similarly, Alex Stedman does a fine job of conveying the psychological anguish wrought by physical damage. Most impressive of all, Peter Edwards gives a superb performance as a man eaten alive by remorse for the violent deeds he has committed.
Although Sheers focuses primarily on the experiences of the three male characters, each of the three female performers is given a chance to shine. Rebecca Hamilton, Zara Ramm and Rebecca Killick movingly convey their characters' grief and overpowering sense of helplessness. It's just a shame that we don't get to hear more from them.
Pink Mist is a superb piece of work that reminds us of the human cost of war.
Reviewer: James Ballands