Pink Sari Revolution
Based on the book by Amana Fontanella-Khan, adapted by Purva Naresh
Curve, Belgrade Theatre Coventry and West Yorkshire Playhouse in association with English Touring Theatre
Curve Theatre, Leicester
–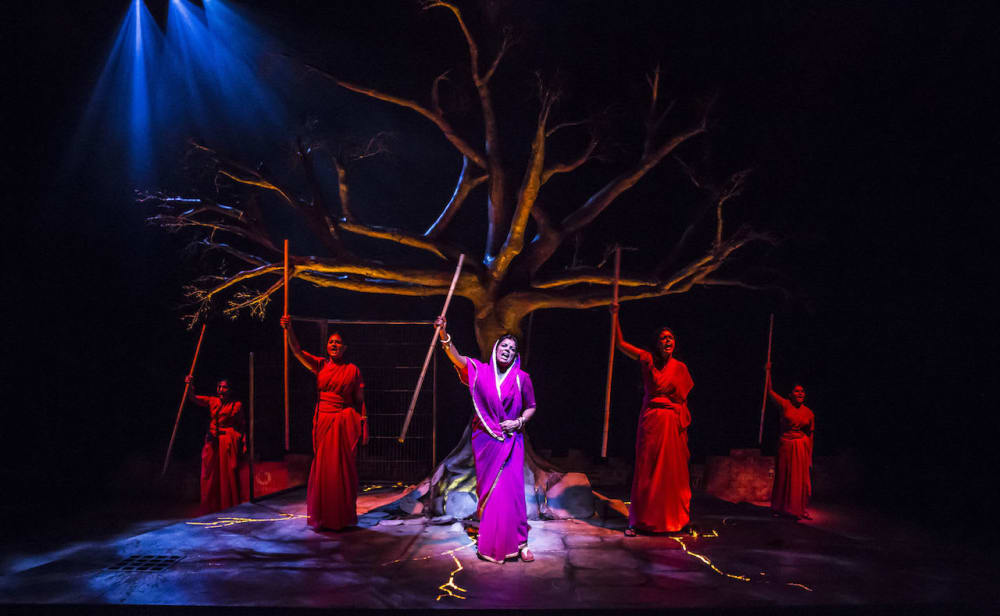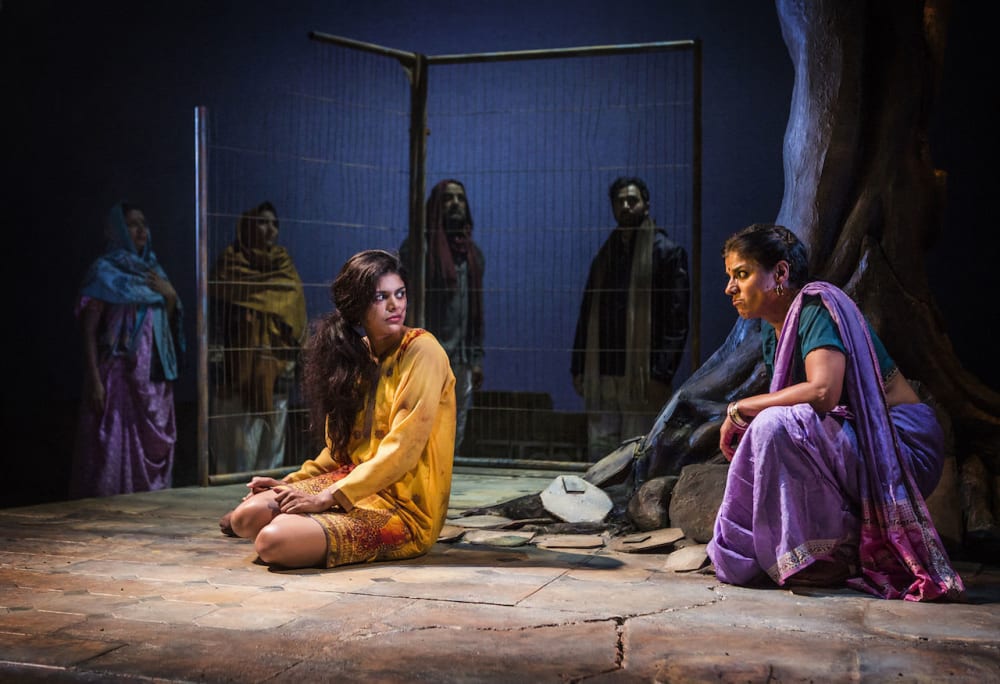 "When you have power, nothing can touch you." These are the words of Sampat Pal, outspoken leader of the Gulabi Gang, an infamous 400,000 strong group of women who confront injustice and abuse against the women of Uttar Pradesh (also ominously known as the "badlands' of India).
The odds are stacked against Sampat, and women, as power rests firmly and unattainably with India's male-dominated society and rigid caste system. Pink Sari Revolution shows how, despite a lack of education, money and clout, grassroots activism can chip away at the balance of power to enable women, case by case, to take some control over their lives.
Suba Das directs this new co-production between Curve, Belgrade Theatre Coventry and West Yorkshire Playhouse, with Purva Naresh's adaptation of journalist Amana Fontanella-Khan's best-selling account of Pal's life and experiences. Research for the play included meetings with Sampat Pal and her gang members in India, together with personal experiences provided by communities in England.
Pink Sari Revolution features Sampat's involvement in the case of Sheelu, a 17-year-old Dalit woman (Dalits are the lowest caste, widely considered "untouchable" outcasts), who refuses her father's choice of husband, runs away with a boy she likes, accuses a higher caste lawmaker of rape, who in turn accuses her of theft.
Sheelu is kept in a police cell without proper examination or recourse to justice. Her father flees the situation, afraid of the shame his daughter has brought on his family but is subsequently captured and tortured. The Gulabi Gang hear of the case and Sampat endeavours to help Sheelu bring the man she accuses of rape to justice.
Sampat is known to be a "difficult" individual to deal with, and Syreeta Kumar reveals her complexities with conviction: strident, caring, vulgar and brave, her behaviour often contradicts the issues she is fighting for—justice for women, particularly victims of rape and domestic abuse, yet abusive towards her daughter and husband. However, her directness is what gets results, particularly with male officialdom.
Ulrika Krishnamurti also delivers a powerful performance, doubling as both feisty Sheelu and downtrodden daughter Champa, All the cast are strong though, and Das successfully presents various viewpoints of an issue to which there are no easy answers.
Action is centred around a tree, centre stage, its roots thrusting out of the ground symbolising the dislodging effect Sampat has on society and its established norms. Isla Shaw's set design is effective and functional, complemented by Tim Lutkin's lighting design which frames several stunning set pieces: the unfurling of shocking pink saris as banners to the cause, the chilling tableau of a woman hanging from a tree, a damning indictment of her community.
Shocking and disturbing, Pink Sari Revolution does the job of theatre—to confront, challenge, and provide material for thought, further discussion and action. That said, feeling about 10 to 15 minutes too long, elements of the play sag and affect pacing, particularly the second act with some unnecessary exposition.
Sickening cases of rape and murder feature all too regularly in the news: Jyoti Pandey on a Delhi bus just one of many cases, around the world, most of which don't make it to the headlines.
A passionate account of how the force of one woman has galvanised communities and an influential movement against injustice.
Reviewer: Sally Jack