Pinocchio : A Family Fable
Daniel Winder (inspired by the book by Carlo Collodi)
Iris Theatre
St Paul's Church, Covent Garden
–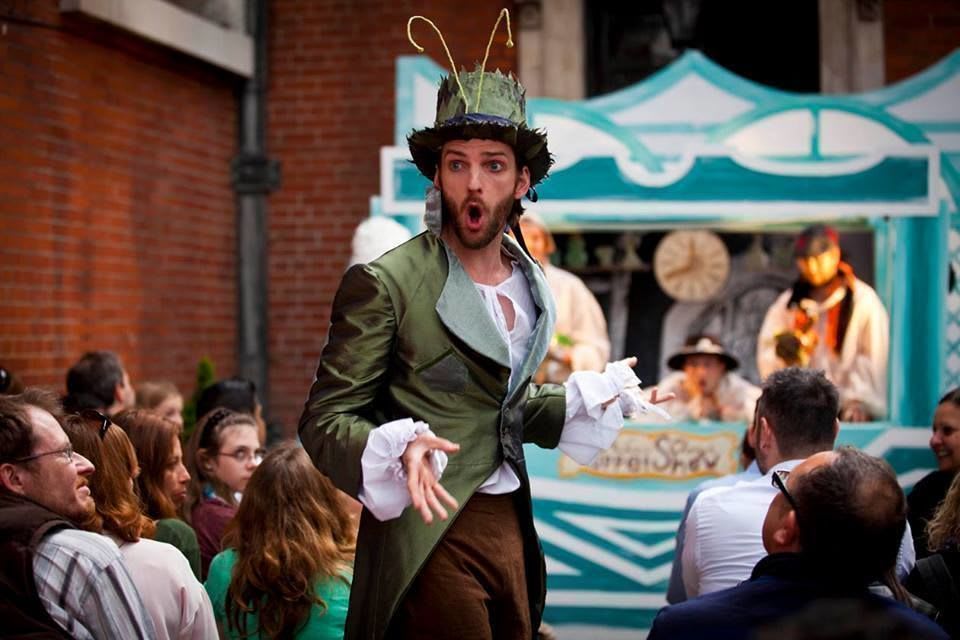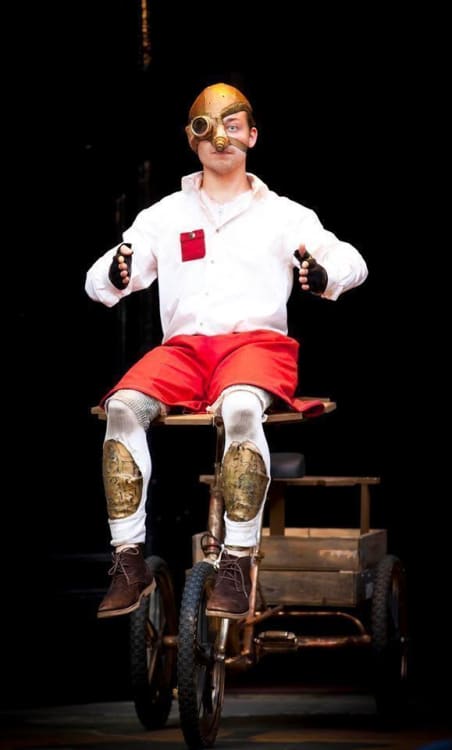 The garden churchyard of the Actors' Church in Covent Garden seems a perfect place for outdoor theatre. Writer/director Daniel Winder and Iris Theatre have brought their own particular magic to create a real family show that kids will love and adults equally enjoy as they tell the story of the naughty puppet Pinocchio who wants to be a real boy. He's not the nicest child and parents and children will surely see themselves in the relationship between him and his maker/father old Geppetto.
This isn't quite as black a version as the one Collodi first wrote but it's not a bland entirely feel-good story either. You've just settled down to watch a puppet show that tells the tale when Mr Green Cricket interrupts it to say it wasn't like that at all and leads you off to start your journey discovering what really happened.
Sometimes seated in front of the church's noble entrance, or on its lawns where designer Amber Scarlett creates a pop-up schoolroom, another puppet show, an inn, a Land of Fun strung with coloured lights, you follow the actors as they create the story. The path up to the church becomes an ocean and finally over a set of teeth and below some billowing baleen you enter a church turned into the belly of the great Leviathan.
Seven actors transform themselves, almost unrecognisably, into multiple different characters, no sooner disappearing as one than they turn up as another. There are tuneful songs (one you can join in with) and, as the evening darkens, luscious lighting.
It begins with widowed toymaker Geppetto very sad. There's been plague in his Tuscan town: his boy Peppino is dead. He is inconsolable and wants a new son and makes a mechanical boy as a substitute. The visiting Blue Fairy… but you know the bare bones of the story.
The first difference is this isn't a wooden puppet but a toy of metal and clockwork and though the fairy wants to help him he has to be on good behaviour. Laura Wickham is a bit twee as the fairy but she's a tough one and lets out the tomboy as a naughty schoolgirl among other things. Simon Kent is a friendly blackbird who's sprouted some colourful plumage and more importantly truanting schoolboy Lampwick, who turns into a donkey. Annabel King is a bossy puppeteer, a fish and a snail as well as a naughty schoolgirl.
The real baddies are a pair of notorious thieves and conmen: Emma Darlow's Mrs Cat, not one you'd want to stroke dear, and Jonathan Mulquin's camp Mr Fox, outrageously wicked. Mulquin is also smilingly malevolent as the Ring Master who runs Fun Land, turning foolish children into a donkeys production line, but his Geppetto, though not always patient, is the kind of dad you dream of: he is a player whose warmth and personality make an immediate connection—even as a baddie.
Then there is Pinocchio, made of metal: convenient that, it doesn't hurt when the teacher whacks his bottom. One eye is covered with a metal lens, when he lies his nose becomes segmentally extended. Persistently doing what he shouldn't, Nick Pack doesn't play him like an angel but you can't help liking his enthusiasm and energy. You know he'll soon learn but—in fact it takes a long while.
Though the imagination of the production and the energy of the actors are always engaging, carrying things forward, this could prove a little too long for the youngest children, even though they love it. A somewhat shortened version for some special matinées might be a good idea. For the rest of us this is a happy show full of delights.
The concentration of the actors, their clear delivery and the production's sense of involvement blot out the city background noises, the people in the piazza and the occasional plane. The church clock striking seems to come in on cue. The church acoustic creates some problems but they are easily forgotten. The company entirely deserves its rapturous reception.
Reviewer: Howard Loxton