Pinocchio: No Strings Attached!
Jon Bradfield & Martin Hooper (inspired by the characters and stories of Carlo Collodi
Above the Stag Theatre
Above the Stag Theatre (Main House)
–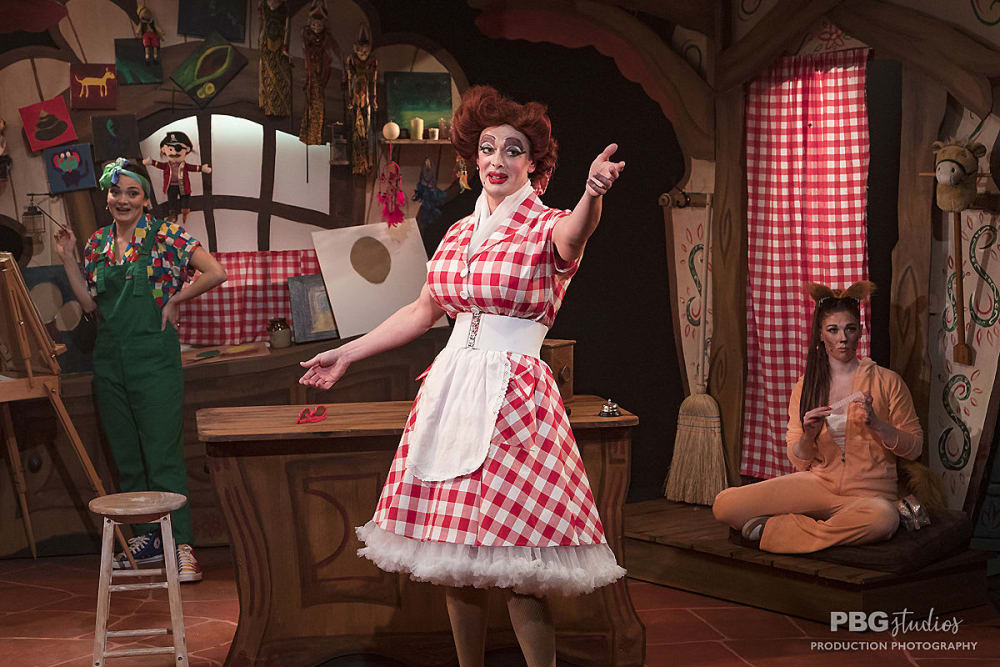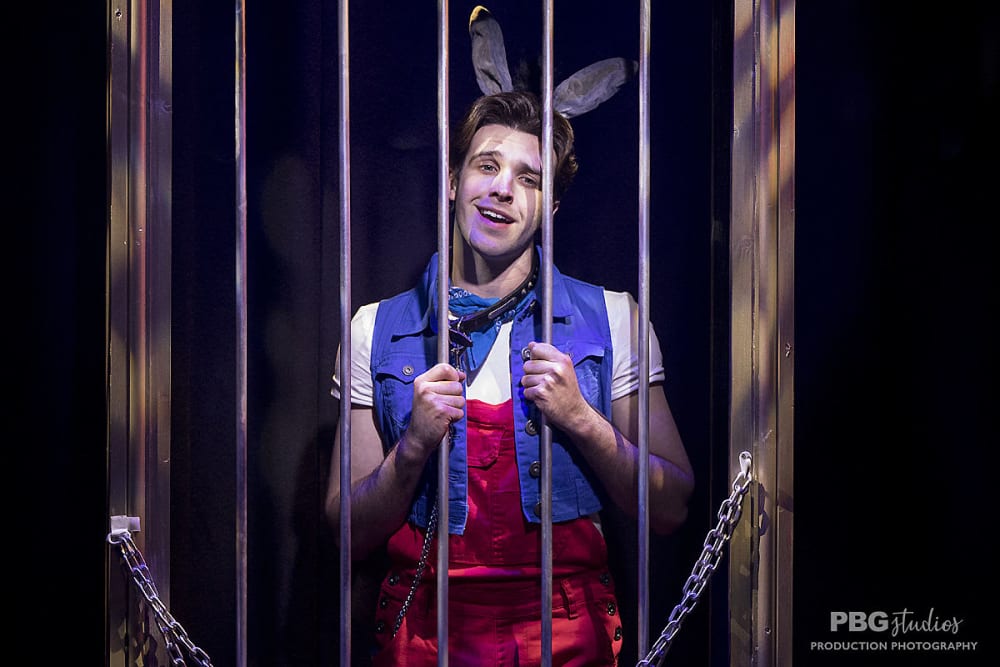 Above the Stag's boutique gay pantos seem to get better every year. This 2019 offering is the best yet: the laughs keep on coming and it is genuinely funny, still very gay but not so reliant on being camp. Jon Bradfield provides some lively numbers, David Shields does his usual wonders designing a setting and fitting it into the space and Jackie Orton provides colourful costumes.
The writers have their own take on Colllodi's story and give the wooden hero a carpenter mother instead of a father. With Geppeta played by an experienced Dame, the inimitably acerbic Mathew Baldwin, the men in the audience are in danger of being gobbled up, though she is very disdainful of persistent Pedro, her faithful fisherman admirer. Shane Barragan's vitality makes him bounce back after every put-down, sparkling proof that big talent can come in small packages.
Geppetta and her lesbian neice Cornetta (Christy Bellis) have fled from Rome, where they seem to have been involved in a Vatican art heist, to the seaside town of Placenta, along with their ginger pussy Chianti (Briony Rawle) who makes her entrance struggling through the cat flap.
Down by the dockside, Dani Olukoya's shimmering Fairy Fatima introduces us to the story and Placenta's lively inhabitants (all in matching haircuts!) give us a spirited Neapolitan chorus.
In true panto fashion, local bigwig the fox Figaro is Geppeta's landlord and after her unpaid rent; he is throwing Pedro out of his place too and claiming his fishing boat towards his unpaid debt.
Quite how Brummagem footballer Joe finds himself in Placenta I'm uncertain, but Pinocchio (who doesn't have to wait to the end of the story to behave like a real boy) is very glad he did and Figaro has his eyes on both of them.
Puppet Pinocchio can't tell lies or, if he does (you remember the story?), his wooden nose starts growing. Well, not quite, it's not his nose in this case—and when he gets turned into a donkey the effect becomes even more noticeable!
Here is plenty of opportunity for following the pantomime traditions of calling out greetings for characters and shouting "It's behind you!" There's a song-sheet with its own Italian twist and a wedding dress finale, but none of the controlling condescension that sometimes permeates pantos. As grown men reach out like little kids to grab sweeties being thrown their way, this is a party. It's a show that draws the whole audience together in laughter.
You can be sure it will soon be sold out so don't delay booking.
Reviewer: Howard Loxton