Pinocchio
Jasmin Vardimon
Jasmin Vardimon Company
Sadler's Wells Theatre
–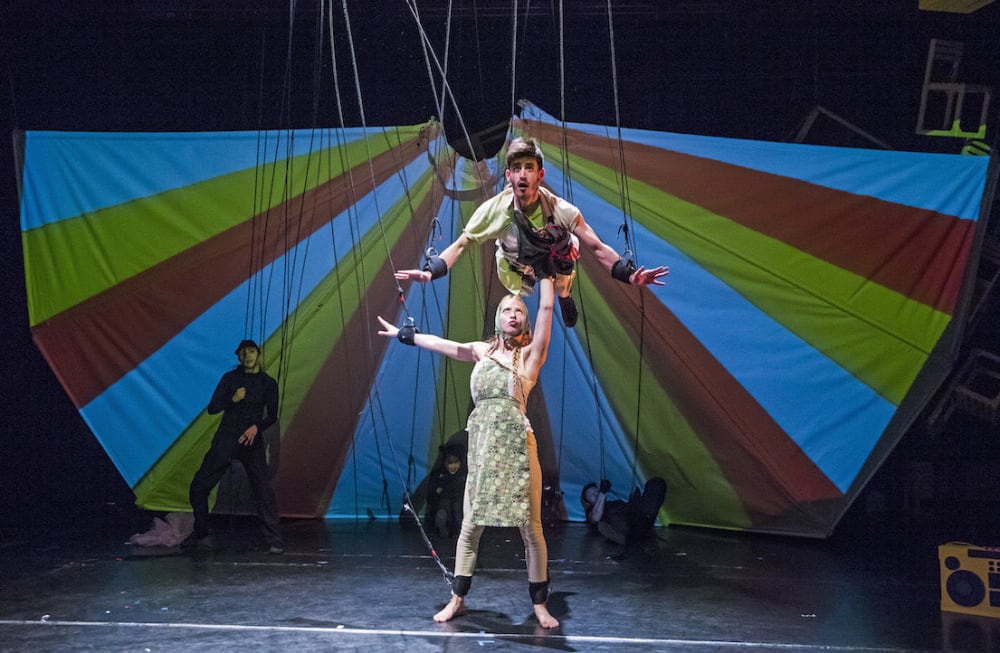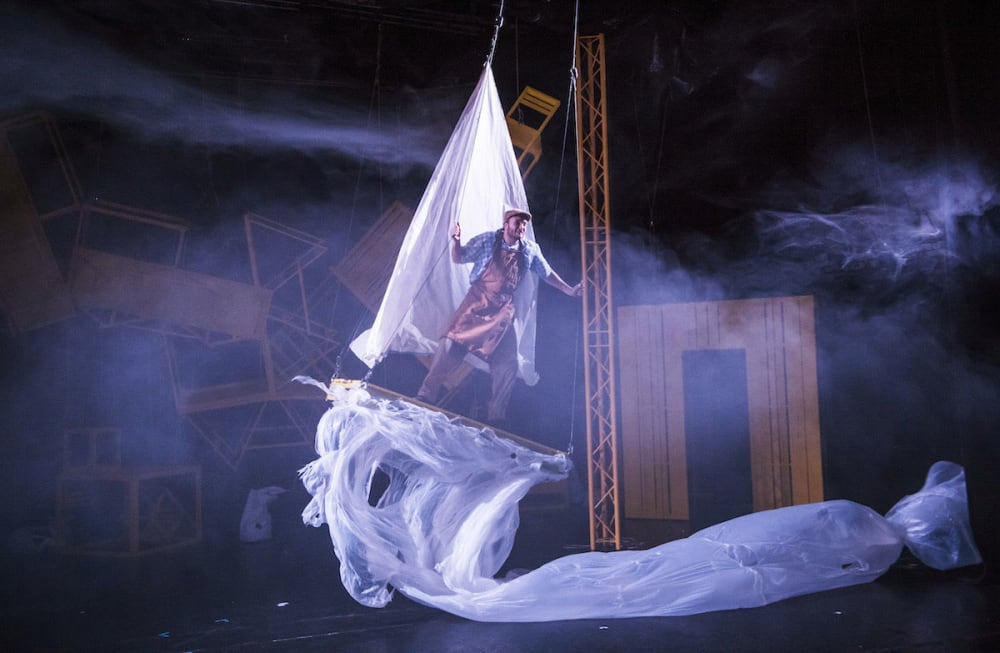 Jasmin Vardimon went back to Carlo Collodi's original story to create her version of this tale, which makes it a rather darker story than Walt Disney's 1940 cartoon version, which has influenced later ideas of the story.
As usual with her work for her company, it is a mixture of dance and physical theatre. It is staged with simplicity and imagination. Setting and costumes by Vardimon, Guy Bar-Amotz and Abigail Hammond present a large tepee that folds open and can be flown out backed by a constructivist-looking display of hanging chairs and wooden pieces that sometimes move in as doorways or scenic structures. This Pinocchio is full of invention that exploits the idea of the marionette and other forms of puppetry.
There is some voice-over narration (matched with an on-stage face to mouth it that is cleverly created by flickering white gloved hands) but it helps if you already know the gist of what happens for the action is illustrated rather than explained, though done so delightfully.
There is a splendid idea in the first few minutes when the characters are presented like a row of connected paper cut-outs in an arc that rises from the ground in a revolving chain before sinking back again to circle behind in endless succession, one in a tutu the others wearing an apron that represent their characters.
That's followed by a sequence where childless Gepetto goes into his tent workshop and carves himself a wooden son; all presented really happening in shadow play. When complete and the tent flaps are opened, Pinocchio is sitting motionless on the workbench. But not for long. A fairy flies into the tepee to give Pinocchio a heart and when Gepetto comes to lifts him outside he doesn't need strings to move.
It's fascinating to see David Lloyd's Gepetto aiding Maria Doulgeri's Pinocchio as he learns to control his body. Dougleri repeatedly crumples, moves with limbs seemingly bent in wrong directions: it's a brilliant performance. Though he learns to stand up, his gait frequently slips back to bent-knee along the ground movement.
When Chahine Yavroyan's lighting turns the tepee into a circus tent, a clever flick to their costumes makes the hand swirling fox and the cat, who have already accosted Pinocchio, turn into two little children. They are able to creep under its edges and get in without paying. When the tent opens up, the circus performers are all stringed marionettes. When Gepetto goes in search of his missing wooden boy, his boat too is on wires—it's a theme that also crops up elsewhere.
When the fairy has to admonish Pinocchio, she turns out to have six arms to point at him and when Pinocchio lies and his nose grows, the whole company creates its extension. Vardimon keeps coming up with fresh ideas, though when we get to the sea I think something more obvious is needed to take us into the Whale's mouth. That clever white glove mouth takes time to set up and isn't really needed. Invention takes precedence over interpreting feeling.
That's a petty cavil and a tiny blemish on 80 minutes of non-stop enjoyment that includes fighting against the wind and other Vardimon signature moments. Since there is no interval, that may make it too long for younger children but there is plenty of action to hold their attention and an eclectic selection of music with lots of bright tunes and a lively xylophone.
Things don't go smoothly for Pinocchio as he learns how to become human: real children don't want to include him in their games and, of course, he gets turned into a donkey, but it is not really frightening. It's a fine show for youngsters, but not just them, there is so much pleasure in watching these dancers.
Reviewer: Howard Loxton