Pinocchio
Adapted by Eve Leigh
Unicorn
Unicorn Theatre (Weston Theatre)
–

Listing details and ticket info...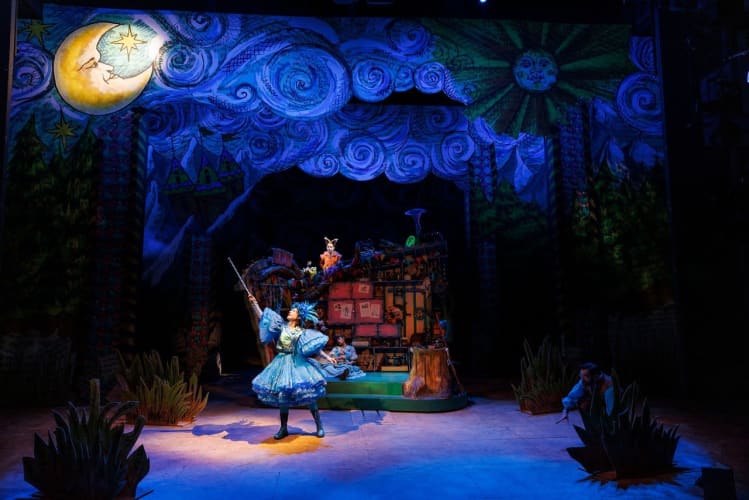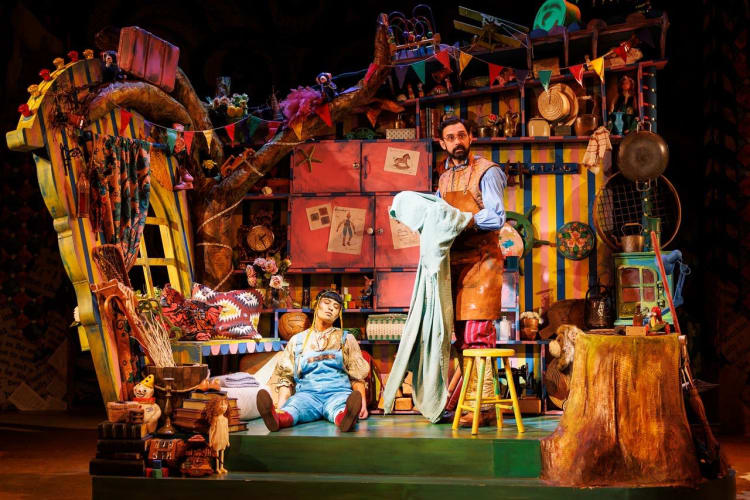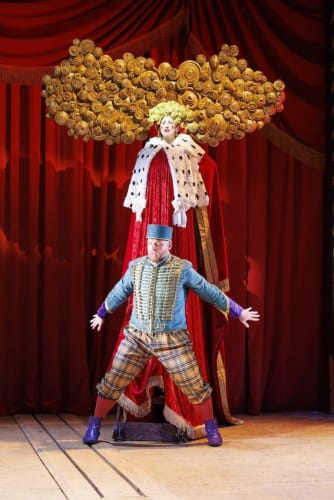 Eve Leigh's adaptation of Carlo Collodi's story, which I saw with a house full of school parties, is a free one that takes its key elements and gives a simple, straightforward telling of how toymaker Geppetto longs to be a parent and makes a wooden doll who magically turns into a real boy after going through adventures to prove himself honest and worthy.
Jean Chan's set provides a colourful warm welcome that promises good things to come: traditional wings, borders and groundrows present a beautifully drawn scene into the centre of which a boat truck will glide to present Geppetto's workshop packed with detail. Then there is Sam Pay with his accordion to get things started and Susan Harrison as Marmalade, Geppetto's cat of appropriate colour. When asked, "does anyone speak cat?" hands shoot up all over the audience and a chorus of meowing and conversation in cat shows a rapport already established.
Marmalade now takes on being narrator. "Don't make it all about you!" calls out the musician and then we are into the familiar story with Eleanor Wyld's Blue Fairy appearing to grant Geppetto's wish for a real son, turning the wooden doll he has made into flesh and blood—given certain conditions.
Tom Kanji is a sensitive Geppetto, learning to be a good parent just as his wooden son learns to be good boy, and he stylishly doubles as bad influence Fratello, who not only leads Pinocchio astray but plans to sell him to a duchess as a special present for her spoiled daughter.
Pinocchio is played by Peyvand Sadeghian. She gives him a delightful innocence, he's naughty without really knowing it; it is all part of the learning curve. He is not played as an angle-jointed puppet but comes alive much more naturally. His conscience take mosquito form, its warning buzzing provided by the accordion. When he lies, his nose grows with simple immediacy: either he or someone else pops on an extension.
This is a tight-knit company working finely together under director Justin Audibert. Eleanor Wyld is not only the mid-Atlantic Fairy but Pinocchio's pert young friend Polpetta, in her flounced skirt and big hair bow, and the posh Duchess, high up on a pedestal when holding audience. Sam Pay plays school bully Mommo and the Duchess's Major Domo as well being the accordionist. With Susan Harrison, the three of them are even the village's singing fountain.
When the story goes under the waves, Chris Pirie's puppets take over and the young audience is thrilled to be frightened as the sharp-toothed Giant Dogfish comes rushing towards them.
If you look closely at the set, you find it is covered with words and open books mask the lights on the stage floor, a reminder of the tale's storybook origins. Collodi's plot seems to have been simplified in this version but it carries its audience with it, buoyed by music, a few songs and the vitality of the performers.
In a world of fake news and political lying, Pinocchio's message about being truthful and that lies can be hurtful is timely, but it is delivered without being heavy handed. Pinocchio is given until Christmas to prove himself, which provides an excuse to tack on a Christmas song as a finale. It gives the audience a Christmas wish to go home with, but it seems awkward; perhaps it won't when Christmas is closer, but it is a reminder that this is in competition with pantomimes.
It is a production that a young audience responds to, holding their attention throughout (about 95 minutes, interval included), with confronting the terrifying Dogfish alongside Pinocchio probably the high spot.
Reviewer: Howard Loxton