The Adventures of Pinocchio
Adapted from the Carlo Collodi stories by Bill Davies
Blunderbus Theatre Company
Watermans, Brentford
(2009)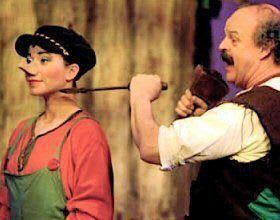 This enchanting three-hander by Bill Davies for the Blunderbus company has been seen at many venues across the UK and now, at the end of a long tour, enjoys a two week London stopover at Watermans on the bank of the Thames at Brentford.
Before the show begins one can already enjoy the beautifully atmospheric setting: two small buildings in a secluded garden, shed-like enclosures with many windows and doors, that will swivel and slide to reveal their hidden secrets, flanked by a framed, translucent screen for shadow play.
Carlo Collodi's Italian fantasy sits happily in this Commedia dell'Arte staging, the story told with words and music, expressive mime, colourful costumes and of course the mischievous Pinocchio, a puppet who - even at his moment of mystical birth from a heavy block of wood -can already walk and talk but has much to learn before he finally turns into a real boy.
A close-fitting head mask with a long nose transforms actress Teoni Woodward from a housemaid in a mob cap into the long-nosed marionette, a nose that will suddenly grow longer when Pinocchio tells a fib to his bewildered but loving 'father' Geppetto. In passing I should also mention that Ms Woodward has a superb mezzo voice well-suited to her 'breeches' role.
The role of Geppetto is given buoyant charm by Don Benjerfield who also plays the wily Fox. All the other characters are deftly portrayed by Claire Alizon Hills, notably the light-fingered Cat, out to steal our hero's bag of gold coins. Finally the Blue Fairy, Pinocchio's guardian angel, puts in her appearance as a flying puppet on strings.
Unlike the Disney cartoon version, first seen in 1940 and now better known than the original, this Blunderbus staging fearlessly tells us the whole story, not just the scene when Pinocchio naughtily surrenders his spelling book in exchange for a puppet theatre ticket.
Here we get such chilling moments as when he discovers Geppetto's tomb engraved with skulls, his troubling transmutation into a donkey flung into the sea and left to drown (involving cleverly effective business with a vast plastic sheet) and the scene of reunion as Pinocchio rescues Geppetto from the belly of the leviathan just in time for his final translation into human form.
Infant schoolchildren in the audience happily took all these tense moments in their stride, their eager, well expressed responses proving that despite the wildness of the fast-changing plot they knew exactly what was going on.
With its expressive playing (plus effective music and lyrics by Frank Goodhind including a dulcet jingle as Pinocchio's signature tune), I can happily recommend this 60 minute show for juniors from four upwards.
The final two matinee performances are on Wednesday 23 December at 11.00am and 2.00pm.
Reviewer: John Thaxter