Pip Utton as Bacon
Jeremy Towler and Pip Utton
The Stand's New Town Theatre
–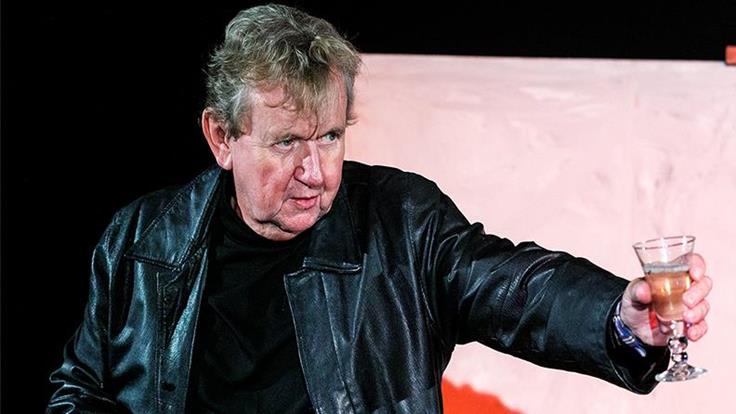 While some others we used to think of as Edinburgh Fringe institutions have gone, Pip Utton is still here celebrating his 30th Fringe with three of his trademark solo plays based on the lives of real people: Adolf, Bacon and a new one, Dylan (Bob, not Thomas).
Utton's Francis Bacon (the artist, not the sixteenth-century philosopher) is sat on a stool applying make-up as the audience enters, wearing a black polo-neck and trousers and a leather jacket. Beside him is a table for his champagne, which he keeps quaffing and topping up from a bottle, and a telephone, which he answers with the words "fuck off" then finds it is 'Melvyn' who wants him on his "little television programme".
This 80-year-old gay man, who tells us he has made himself into a work of art, is lonely, frustrated that he still has his sex drives but fewer opportunities to exercise them.
He tells us a little of his life, beaten by his father, moving to Paris, later London taking his Irish nanny with him, as well as some of his sexual experiences. He talks angrily about critics, but really he is angry with the people that read them for being too lazy to form their own views—information postcards next to paintings in galleries are put into the same category.
He refers to painting as "hand to hand combat", saying he wants his paintings to shock, but he objects to his paintings being called 'abstract' before launching into a tirade against that category of art. But his angriest reaction is to an anticipated audience question about what his art means.
Utton knows exactly how to pitch this sort of play, so you can be comfortable in knowing you are in safe hands theatrically, even when the material itself may seek to shock or disturb. This piece works well in the intimate space at New Town Theatre and is well worth seeing.
Reviewer: David Chadderton