Pirate Gran
Geraldine Durrant
Scamp Theatre and Watford Palace
Underbelly, Bristo Square
–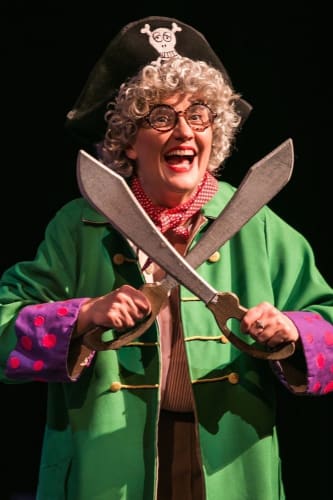 You can always rely on Scamp Theatre to produce some fine children's theatre and its lively adaption of Pirate Gran builds on this reputation.
There is a witty humorous script, lots of catchy songs and bags of audience participation including everyone standing up to recite the Pirate's Pledge.
Pirate Gran, the excellent Pauline Goldsmith, with a broad Scottish accent and her motley crew, Faint-Hearted Jack, Cut-Throat Malone and Fingers O'Malley, give wonderfully warm performances.
The play starts in Gran's living room where we also meet Nippy, a giant puppet crocodile, and are treated to a cooking lesson as she makes a cake in the shape of a cannonball, much to the hilarity of the youngsters in the audience.
Gran is persuaded to set off on an adventure to attend the pirate games, "the Olympics of the Pirate World", at Palm Tree Island.
The set is then ingeniously transformed into The Black Barnacle ship. Designer James Lewis's inventive design received a round of applause. It is rather spectacular.
There is a beautiful moment when the crew reveal their fears and are given hope by Gran in an inspirational song.
The games themselves are sheer buffoonery that delights the children with Gran using her blunderbuss to shoot down puppet parrots made from feather dusters and oranges for their eyes. It's all great fun.
This is great family entertainment and is highly recommended.
Reviewer: Robin Strapp