Pirate Jenny
Nick Ellis
Cambridge Multimedia Theatre
Bridewell Theatre and touring
(2007)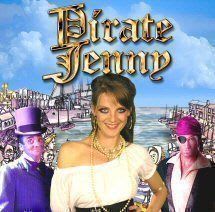 There is something akin to magic in creativity as it stimulates new actuality. Ellis' Pirate Jenny, conjures such reality. It is an inspired amalgam of superb acting, an amusing animated cartoon as a backdrop and, for good measure, racy tunes to match the mellifluence of the actors and the mood of the play.
In 1928 Bertolt Brecht created Pirate Jenny and Kurt Weill dressed her with music that was so popular that they imported her into the Threepenny Opera. Ellis turned her into his own heroine, crowning her with the title role of this inspired production.
While members of the audience settled into their seats, they were treated to a framed backdrop of a map showing the journey of an animated ship sailing in 1765 from England down to the west coast of Africa, then across the Atlantic to South America and on to the Caribbean Islands and finally back to Europe, retracing the "triangle" voyages of the slave trade.
Jenny, impressively performed by Katie Murray, is a scivvy at a rundown boarding house in Wellsley. She is being used and abused by the unscrupulous Mr. Barstowe (Perry Dennis), the owner of the house. The only comforting soul in that oppressive abode is the sympathetic Mr. Snape (Howell Evans), who also lets our heroine down. The sudden appearance of Black Jack (Joseph Macnab) on the scene changes Jenny's life forever. It does not take much for him to persuade her to join his crew and turn young Jenny into a proficient pirate. She is not a ruthless killer, yet she exploits her femininity to the hilt.
The drama unfolds like a flower blooming in slow motion. It gradually exposes the simple facts of our heroine's life. The performance and mime of each of the four actors is impressive. The animated cartoons of the backdrop season the plot and add depth and a panoramic view of Jenny's turbulent life, past and present. It is claimed to be the first interactive cartoon musical. This format gave a natural flow to the drama, which is not easily achieved with conventional stage props, and we are likely to see this approach adopted more widely.
Ellis' play calls upon multiple skills from the actors, including pantomime and singing, which are performed against the ever changing backdrop, which accompanies the plot in a witty fashion.
The direction of Michael Fentiman created an impressive marriage between the various media which vividly communicates the plot and teases the humour and the sordid side of 19th century society. As in the ballad operas that inspired this sparkling musical, John Gay's 18th century Beggars Opera and its Brecht/Weill successor, evil triumphs but the culprits eventually settle for quite life.
If Pirate Jenny reaches your shore, don't miss the boat.
Reviewer: Rivka Jacobson