The Pitmen Painters
Lee Hall, inspired by a book by William Feaver
Co-production between the National Theatre and Live Theatre, Newcastle
Theatre Royal, Newcastle, and touring
(2009)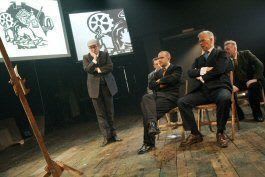 The Pitmen Painters, first seen at Live Theatre in 2007 before transferring to the Cottesloe last year and since revived in the Lyttelton, returned to Newcastle in triumph, this time to the 1,300-seat Theatre Royal, a far cry from Live's 170-seat main house.
The Royal was packed - and, indeed, the production is sold out for the full week apart from a few seats in the gallery - and the audience loved it. There was much laughter, a long curtain call and, as we left, that buzz that is a sure indicator of a show that has really connected with its audience.
It has changed a little from the original - one minor character has vanished and the whole piece seems tighter than before - but the cast remains the same. And I am pleased to report that my major concern, what would be lost in the transition from the intimacy of Live to the much larger auditorium and stage of the Royal, was totally unfounded. The answer is, nothing is lost. But then it had to adapt to the much wider stage of the Lyttelton, so perhaps I shouldn't have worried.
The story of the group of pitmen from Ashington in the 1930s who took up art as part of a WEA course in a rather grotty YMCA hut and went on to achieve nationwide fame is funny, inspiring and, at times, sad. The characters are real people with real depth and yet instantly recognisable, and they are played with deep conviction by the cast of eight.
In spite of - or, perhaps, because of - its humour, it's a play which has a lot to say about class, education, art, culture and politics. Shaw would have been proud of these men! And how ironic that a play which ends with the hope engendered by the post-WWII Labour government, the excitement at the nationalisation of the coal industry and the joy about the new National Health Service, should re-open in its home town on the day when the inheritors of that hope and excitement, in the form of a Labour government and a Labour prime minister, should be fighting for their political lives in Brighton. The pits have gone; Woodhorn, the pit at which so many of these men worked, is now a museum; New Labour removed common ownership of the means of production from its consititution in the nineties; public services are under threat.
And yet the play's ideas are as important now as they were then and this production brings them to a modern audience with humour and great power. See it if you can.
Touring to Dublin, Cardiff, Milton Keynes, Salford, Sheffield, Norwich, Bath and Plymouth, returning to the Lyttelton on 1st December then going to the Volkstheater in Vienna on 30th April, 2010. A Broadway transfer is planned for 2010.
Reviewer: Peter Lathan