The Pitmen Painters
Lee Hall, inspired by a book by William Feaver
A Live Theatre Newcastle and National Theatre co-production
Civic Theatre, Darlington, and touring
(2011)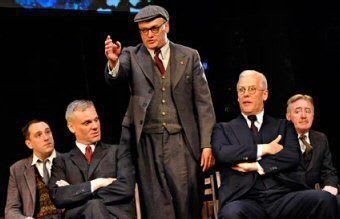 Fairly early into Act One of the production I, inwardly, groaned. One of the characters said, 'If you're not interested in whippets and leeks, round 'ere, you're stuffed'.
Immediately, I prayed that The Pitmen Painters wouldn't portray a stereotypical representation of the working classes in the North East and paint us all as 'Andy Capps'. I needn't have concerned myself.
Although it is possible to consider the characters as 'stock' - there's the bureaucratic union official who lives his life by the rule book (Deka Walmsley), the blustering Marxist (Michael Hodgson), the avuncular joker (David Whitaker), the unemployed young lad (Brian Lonsdale) and the reserved thinker who turns out to be the most talented of the group (Trevor Fox) - it is testament to the talents of playwright and performers that, as the layers are stripped away, we are presented with real men who would be familiar to us from our grandfather's generation.
The story of a group of Ashington pitmen who, as part of the Workers Educational Association Class, hire the academic, Robert Lyon (David Leonard) to teach an art appreciation class and ultimately become celebrated painters is by turn humorous, tragic, moving and uplifting.
Technically, it is also a joy to behold. Lee Hall's script is honest and gritty but also has heart and soul, the acting is excellent, and the staging is simple but effective. Designer Gary McCann has created a sparse set, comprising mainly a few wooden folding chairs and some easels, which functions as a number of different locations throughout. Much use is made of three suspended projectors, which provide relevant facts and also display pieces that were painted by the men. The clever device of using the screeching alarm that marks the end of a ten hour shift and the clattering of the cage that takes the men back to the surface to facilitate scene changes ensures that the hardships of life spent down the mine are never forgotten.
Only two female characters appear in the piece - the nude model who the men are to paint (Viktoria Kay) and the shipping heiress who becomes interested in the work of the men (Joy Brook) - and, if I were to make one small criticism, it would be that these characters are utilised as merely adjuncts. However, both actresses made the most of their roles.
The Pitmen Painters is a fine example of theatre at its best and a 'warts-and-all' depiction of the North East's industrial heritage. Superb.
Touring to Glasgow, Malvern, Newcastle, Southend, Leeds, Brighton, Tunbridge Wells, Coventry and Bromley
Sheila Connor reviewed this production at Guildford. It was also reviewed by Ray Brown in Leeds.
Reviewer: Steve Burbridge