Plague of Idiots

Plague of Idiots
Gilded Balloon
–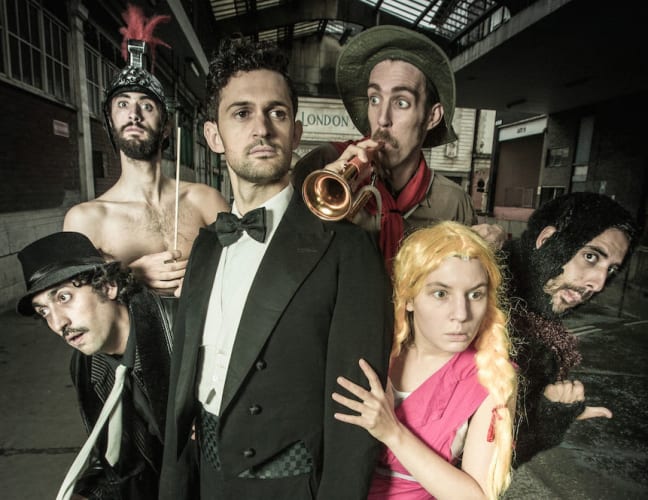 Plague of Idiots arrives in Edinburgh following an Australian festival tour. The four Philippe Gaulier trained clowns are Richard Kimberley from England, France's Laurent Mallet, Fanny Durot from Switzerland, Italian Georgi Vierdia and Australian's Damien Warren-Smith.
They are directed by the legendary comedy director Cal McCrystal in a madcap, Pythonesque show.
It's a smorgasbord of silly funny sketches as Hanquin J Butterworth the third, the Shakespearean actor, who recites Shakespeare that just isn't, introduces us to his troupe of performers.
We meet the Master of Illusion, dressed in a frock coat and top hat, who can't do magic tricks and Monsieur Lulu Le Louvrewho, the master of melody, who finds it difficult to play any instrument.
Then there is Signor Mariano who doesn't speak any English and finally the Swiss blonde, Squirrel, who plays Juliet and does a hilarious contemporary dance routine in a blue lycra costume.
It's all great fun; think pantomime, slapstick involving an apple, dreadful gags and puns about Shakespeare plays.
One of the characters comes on to recite lines from one and places a tape measure held by a member of the audience and rolls it out to the very back of the stage—well he was doing Measure for Measure and they get groan-making worse, but it's a running gag that the audience buys into.
And there is plenty of audience participation including a very wet rendition of "Singing in the Rain"—be prepared if you are sitting in the front few rows.
This is an hour of tomfoolery and knockabout hilarity.
Reviewer: Robin Strapp