Planeta KA
Concept by Jordi Colominas
Imaginart/Unicorn
Unicorn Theatre
–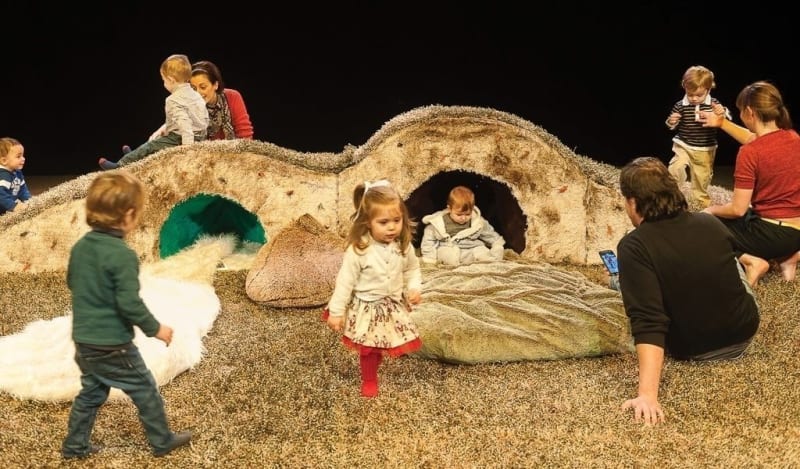 This is a show for the very young—specifically for up-to-three-year-olds. It is a performance that demonstrates sensory exploration followed by a period of active participation. It is all about discoveries, textures and gentle excitements.
As the audience gathers in the foyer, they are asked to take their shoes off and given a bag in which to put them. As they wait to go into the theatre, there is a play space: on a layer of cushioning form there are things to play with, books, a few small toys and a whole lot of padded blocks in the shapes and colours of liquorice allsorts.
One small boy becomes very attached to a long, snake-like dragon. When someone else covets it, it looks though there might be a fight but soon it has become a towrope for pulling the other all round the foyer. The giant sweets are used to build towers until they topple over. One little girl is attempting handstands; another ignores the "proper" playthings and puts a mesh basket that held toys over her head and rolls around inside it.
One confrontation has briefly led to tears but these tots seem to be having such a good time they hardly need the show. Soon, however, they go through into the theatre where benches for adults and floor cushions for the children are ranged in front of another floorscape with hills and bridges, mounds and slopes.
Planeta KA is a softly cushioned, invented environment, strange but not unfriendly, but there is darkness beyond and behind these strange hills and meadows and some tots are a little wary, but soon they are settled.
Music, a change of lighting and, from the darkness behind the cave-pierced "mountains", a head pops up, disappears, then the rest of a young woman crawls into sight. It is dancer Charlene Low (who alternates performances in London with Esther Huss), a solitary explorer who sets out to investigate this new world.
To liquid music and in gently colour-changing lighting, she spins over the mountain ridges, slides down their slopes. Advancing on hands and knees, she reaches out and touches. Back on her feet, she bends and twists, stretches a leg and tests a texture with her toe.
She's finding places to crawl into, discovering secret places: somewhere to hide. Here becomes bouncy, there you can slide down; these are places to climb over, hillsides to jump off with soft places to cushion your landing, then: gosh, this bit seems wobbly.
Wind sounds and a change of tempo have her wiggling her feet, leaping and then everything fades to darkness.
When the lights come back up, Charlene re-enters, this time her moves more lyrical. There is still a sense of textures but she is dancing. It is a simple, flowing choreography that grows from natural movement—no classical positions or street dance. When she gently comes to a stop, close to the audience, the lights come up a little on them and she gestures for them to join her. She has demonstrated Planeta KA's safety, revealed ways of exploring it, ways to have fun—and now it is their turn.
Some are there in a flash, some a little more timid, some mothers go with them (at this time on a week day it seems all the dads are working). Those most confident outside the theatre aren't now always the boldest. There is careful climbing as confidence builds, experimental bouncing.
The sliding slopes are very popular; one boy plays king of the castle, another invites a stranger into a cave and mother closes them into a darkness that has some tiny light inside so it's not too scary. Charlene is there to offer encouragement, assistance or conversation if they are adventuring away from mom or auntie.
This isn't a play; it is a play space, a sensory game space, made up of craters and caves and miniature mountains. Does it work as an introduction to theatre for such young children? It certainly offers a disciplined opening of watching performance and then offers a positive involvement—but on invitation. I don't think this will lead to tots climbing all over our stages!
Theatre isn't just about watching plays. For young people, especially, it is about stretching the imagination, opening up to ideas, exploring in every sense and a community sharing experience. Planeta KA, a collaboration between Spanish and British companies, does all those things. It stimulates inquiry and investigation—and it's fun.
Watching a dozen or so youngsters enjoying themselves makes it clear this is a special experience. It is on offer in the morning and early afternoon—not at usual show times and the whole experience within the theatre last under an hour, not too long for the youngest and long enough to give the three-year-olds some satisfaction and leave them not bored but wanting more. The pre-show foyer play can start as soon as they get there.
Planeta KA is performed in the morning and early afternoon. There are no evening performances.
Reviewer: Howard Loxton