The Man Who Planted Trees
Richard Medrington and Rick Conte
Puppet State Theatre Company
Purcell Room, Southbank Centre
(2011)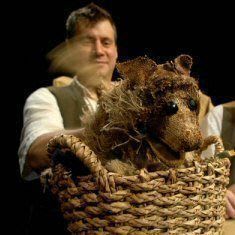 Since it was first performed on the Edinburgh Fringe in 2006 this adaptation of Jean Giono's story The Man Who Planted Trees has toured the world receiving awards and plaudits, including enthusiastic reviews from colleagues on British Theatre Guide. When it played this London date I jumped at the opportunity to catch up with it: could it really be so good?
It is a sheer delight. Giono's tale of a French shepherd who plants trees for miles around his cottage on barren, arid hills where the wind is cutting and only lavender seems to thrive, and over the years the thousands of acorns and other seeds he plants turn into a forest that brings shelter, water and fertile earth, is a marvellous example of how one person caring for his world and seeking to improve it really can bring change.
Although written as fiction, it may have a solid basis of fact in the re-forestation of parts of Provence, as well as being an instructive fable. This celebration of the fictional M Elzeard and real life equivalents will surely itself plant a seed in young minds but the huge success of this presentation and the thing that makes it such a success with children (and adults too) is the decision to involve the taciturn shepherd's dog in the telling of the story.
Two performers play it on an empty stage with just a table top, two chairs, a couple of drape-covered boxes, some cut out tree shapes, a couple of models of Elzeard's cottage and the village that grew up later and two puppets (or maybe more than two for since the story stretches over more than forty years they do have to age a little). The sets and puppets were made by the director Ailie Cohen, there's a song from Charles Trênet, a little other music and some effects but ninety-nine per cent of the credit must go to the writers, for they are also the performers.
Rick keeps pretty quiet, as himself at least. It's Richard who greets the audience, though he is rapidly joined by extremely chatty Dog who's got quite a lot to say before Richard can begin to tell the story. Dog's not been well. He's been to see his doctor, well the doctor calls himself a vegetarian, but Dog's main beef is that he never gets to talk to the man always at his back; this guy Richard calls his Collie ("No, colleague, Dog"). They whisper behind him as though Dog's not there. When eventually we get round to the play they want Dog to play a role. "Is it a sausage roll?" he asks. It's absolutely on the right wavelength for its audience of age seven and upwards and Rick, operating and voicing tail-wagging Dog, has won over every one of us.
Richard then becomes Giono's storyteller, he describes the land where Elzeard lives, we feel the cold winds and smell the lavender as the "collie" spreads them around the auditorium and see his first meeting with the shepherd before the First World War and discover him sorting across, choosing the best ones to go out and plant. The storyteller spends the night with him and guard dog and sheepdog Dog, who wakes him with his alarms and false alarms and is almost as noisy when he takes a nap himself. Elzeard goes on planting through the First World War and through the Second. Over the years the storyteller catches up with him with and with Dog, who's still chasing sheep and demanding games with his favourite stick as the trees grow.
With the new trees covering the landscape the audience get a wetting from the showers that now water the ground, have flights of birds over their heads now they can nest in the trees (the kids love getting watered on and trying to catch the birds) until we come at last to the end of Elzeard's life, though a very old Dog still seems to survive him. This brought tears in the house, including to me, but before that they had been tears of laughter. Dog is a marvellous creation but both performers establish a perfect rapport with the audience which is what makes this show so magically effective.
"The Man Who Planted Trees" runs at the Purcell Room until 28th October 2011, then New Jersey Performing Arts Center, Newark 16th-19th November; McLean Community Center, McLean, Virginia 20th November, Lincoln Center Institute, New York 28th November - 15th December 2011 with further dates in Canada and the USA
Reviewer: Howard Loxton