Platée
Jean-Philippe Rameau
Theater an der Wien, Austria
Released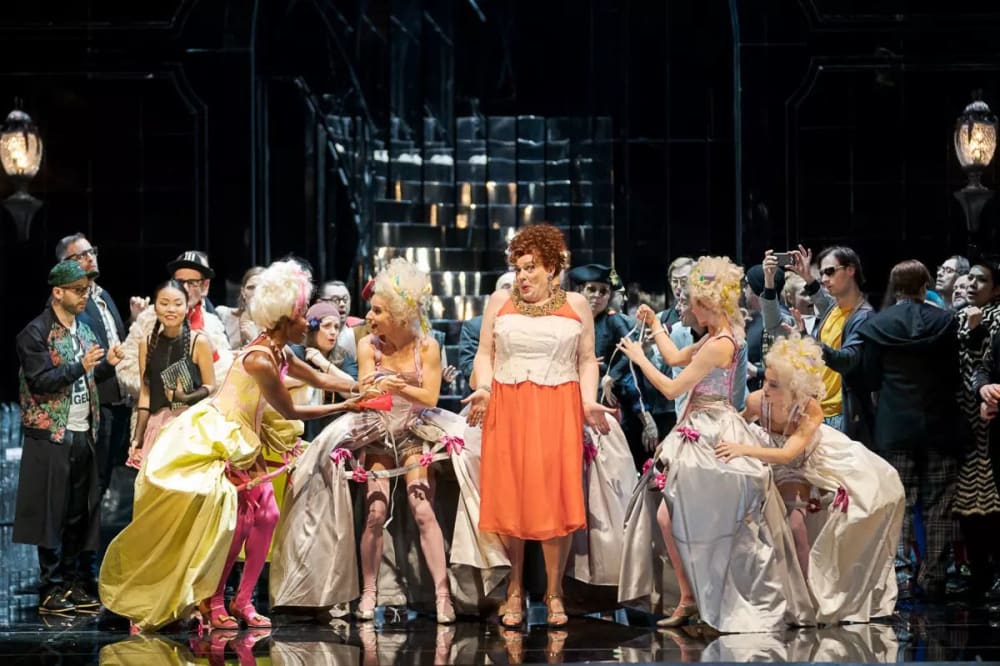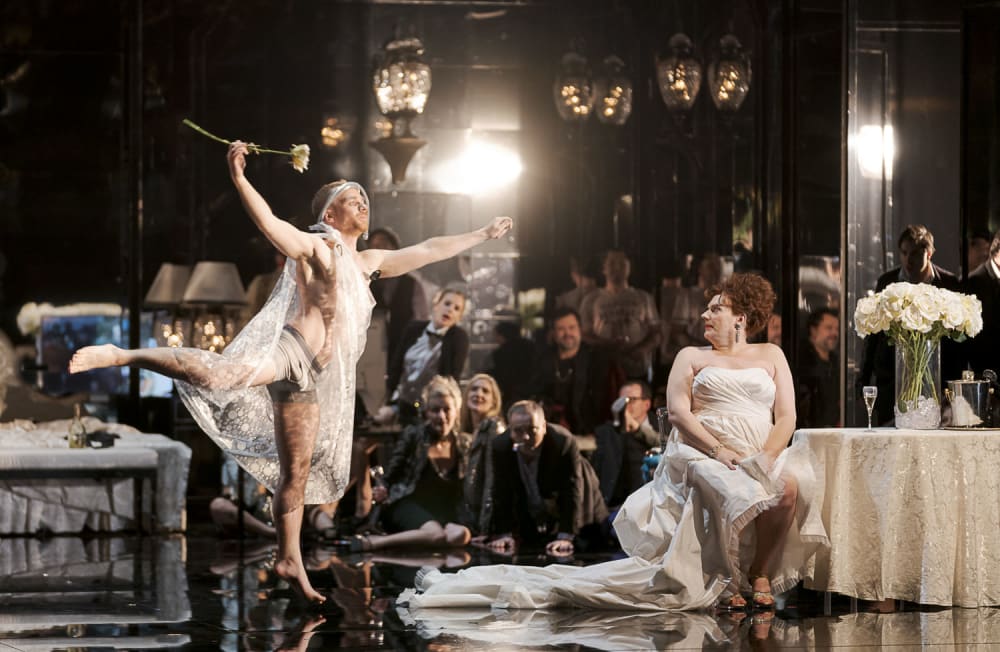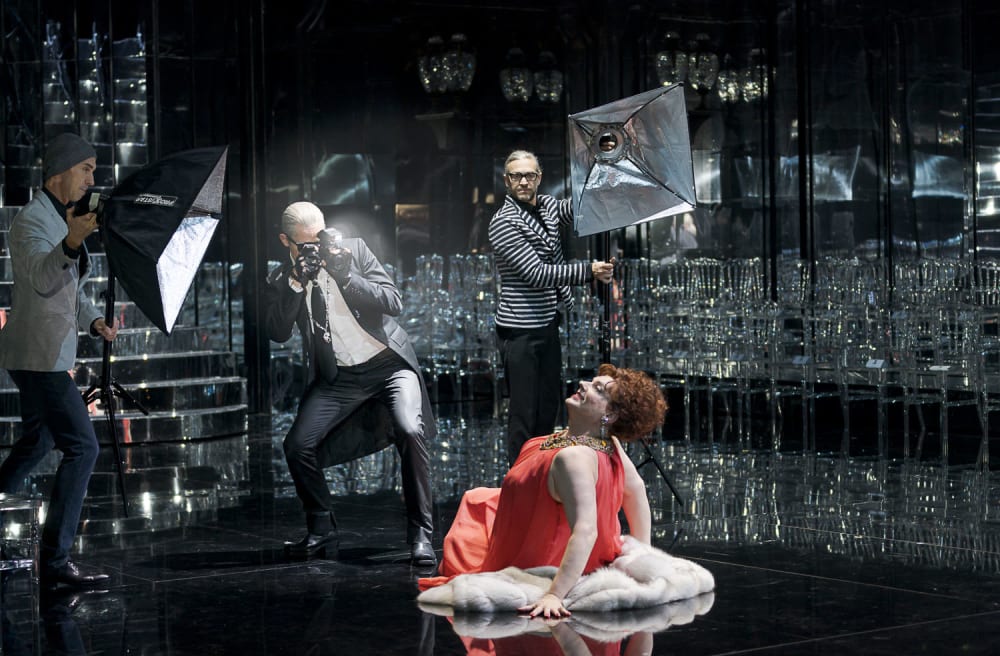 There can have been few more glittering, glamorous opera performances that Robert Carsen's extravaganza of a production of Rameau's comic 'ballet bouffon' of 1745, which he has set during Paris fashion week. I'm not sure however whether this makes the piece entirely forgivable, rather as if the gilt comes off on one's hands.
It's a pretty cruel story—of how the God Jupiter tries to cure his wife Juno of jealousy by pretending to fall in love with the ugly, ageing marsh nymph Platée, assuming correctly that when his wife sees her, she will find the situation ludicrous, so freeing him to carry on with more attractive liaisons. Platée, meanwhile, believes herself beautiful and laps up all his flattery, while Jupiter's followers divide their comments between hypocritical compliments and secret mockery.
The contrast in this 2020 production between Platée and the young, slim, elegant patrons of the Ritz bar could not be greater, as she first enters, draped in bathrobe and towel, and daubed with a hideous green face-pack.
Front of stage is a figure I take to represent fashion guru Anna Wintour; other customers, I learn from the accompanying booklet and interviews, are dressed in creations by the world's most famous designers. Jupiter himself, sung by the bass Edwin Crossley-Mercer, is dressed exactly like Karl Lagerfeld, although in my ignorance I would have taken him for David Beckham with Blofeld's cat.
It must have been a dream gig for set and costume designer Gideon Davey, and such was the excitement when the production was previously staged at the Theater an der Wien that the fashion world attended the première en masse, Lagerfeld himself even giving feedback later—down to the length of the mittens worn by his own character, and how the cast were using the wrong shampoo.
We are invited to see this as a brittle, narcissistic world. Mirrors are everywhere, and as slatted panes reflect models walking down silvered steps onto the runway I was reminded of Duchamp's Nude descending a staircase. The effect is shattering.
Marcel Beekman is clearly in the role of his life as Platée, judging not only on the basis of his confessional interview about dressing up as a child. At times, he deliberately enjoys distorting his lyrical tenor voice, and quacking his frequent "Qua? Qua?" questions to his fellow (unseen) swampies, but he also handles the long, high, ornamented passages with precision and feeling.
Platée's vulnerability is clear as she sings sweetly, fatally, of her happiness in love, the absurdity of which is heightened as the excellent Padraic Rowan as Momus, the god of satire, assumes the role of Eros's messenger, dressed in only a shower curtain.
After the wedding feast, Platée emerges, an Edna Everidge in a negligée, while Jupiter embraces a younger, more attractive model. Her humiliation is complete when she is uncovered in bed, Beekman presenting something more than a sylphic figure in lacy bra and knickers. A brave performance indeed.
Jeanine De Bique as La Folie is another who seems ideal for her part. The intonation is occasionally a little suspect, but she turns in a series of terrific arias, the jazzy Aux langueurs d'Apollon, followed by the gentle Aimables jeux and an irresistibly seductive Amour, amour. She has the looks and the figure to match those fashion models too, and delivers each of her numbers in a different, extravagant dress.
Crossley-Mercer sounds appropriately thunderous as Jupiter; Cyril Auvity is a constantly teasing presence as Mercury and as the actor Thespis, with a lovely, light, reedy tone ideal for the baroque.
The extensive dance numbers are perfectly integrated into the action, such as when beauticians are giving Platée the once-over or Ritz staff clearing up the debris from drunken guests segue into their own routines, although some of Nicolas Paul's sexy choreography would not have been quite what M. Rameau had in mind.
William Christie leads Les Arts Florissants with vigour while maintaining perfect balance with the singers, and bringing out the many quirky features of the score, such as the many effects of nature. The 'cuckoo' sound seems particularly apt in its English connotation for this absurd story.
So why do I still feel uneasy about the piece? Against whom is Rameau's satire directed? Written originally for a Royal wedding, it seems to deride the self-delusion of a lonely, loveless creature more than the shallowness of the gods / aristocracy, who suffer no remorse. A woman is humiliated by men.
I cannot help thinking that in 1745, the Dauphin and his bride Maria Teresa went away thinking "Who does she think she is?" rather than reassessing their own attitudes, and that even today it's hard to rub away that arrogance and misogyny from the work.
Reviewer: Colin Davison