Platonov
Anton Chekhov
Maly Drama Theatre of St Petersburg
Barbican Theatre
(2007)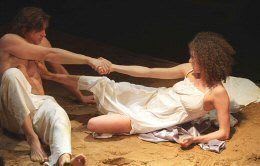 Music, heat, water, lots of water and a sandy river bank are the backdrop to an unfolding drama where love, marriage, seduction, disappointments, frustrations, attempted suicide and a murder all take place.
The artistic director, Lev Dodin, has produced an extravaganza extraordinaire of Chekhov's early, unfinished and untitled play, which was first staged in this theatre in 1999. The revisit is an inspired contribution to the Barbican's 25th birthday celebration.
The impressive set of a three-storey stage is superbly utilised ensuring smooth transition from one scene to another with opportunities for subplots to develop leaving the forefront of sand and waterfront for the intimate and intricate encounters between the main characters. The spoken Russian language with English surtitles is soon fused into the realism created in this surreal world. The characters are tragic-comical, representing real people with social standing and prejudices.
There is an almost cinematic impact at the outset of this production where the heat is communicated not merely by conventionally staged ploys but also through one of the characters' headfirst dive into the 'river'.
Platonov is but one of the titles this play has acquired since its posthumous publication. Don Juan was another.
Platonov, brilliantly performed by Sergey Kuryshew, is an attractive 'slightly married' schoolmaster, or as he refers to himself, a schoolteacher. He is a man who 'could have the whole female sex running after him, if he liked'. This may be a quality that many men would love to have, but too much of a good thing may turn a blessing into a curse.
Platonov is a sophisticated individual with the 'gift of the gab' whose contempt for most women is cynically demonstrated, including for his own wife Sasha whom he dismisses as a 'hopeless idiot who should have been a housefly'. He is seduced by several women but has to seduce his old flame, the newly wed Sonya (Irina Tychinina). The pursuit culminates in a dramatic scene where the naked couple quench their passionate love on the waterfront, a prelude to Sonya's emotional turmoil and Platonov's sense of worthlessness, unwittingly exposed by the adoring wife Sasha (Natalia Kalinina).
There is a sense of vulnerability when he movingly tries to understand how anyone can love him: 'There is nothing solid about me, nothing to respect or love,' he says to his wife who dismisses his comments as 'silly talk'.
Kuryshew superbly conveys the complex Platonov who is admired yet is contemptuous to those around him. His respect and admiration for Anna Ptrovana (Tatiana Shestokova), a general's widow, is somewhat shaken when she boldly indicates her desire for him. His preconceived ideas of women, together with his prejudices and long standing respect for Anna Ptrovana's intellect, create a fabulously amusing scene where vodka, water, emotions and sexual drives highlight, in a brilliant Chekhovian manner which we learnt to appreciate, numerous social issues and prejudices, butwithout an attempt to provide any answers.
The Jew, Abram Abramovich Vengerovich, is well performed by Sergey Kozyrew, though most of his gestures were exaggerated and unnecessarily stereotyped.
The overall performance was impressive. The introduction of Mendelssohn's Wedding March to announce Oleg and Sofya's wedding, a Chassidic tune played on the second level of the stage where Vengerovich is dancing and snatches of Mahler are but some of the musical treats. The music, fine acting and gymnastics of the players and a real firework display add up to superb evening of entertainment at the Barbican.
Reviewer: Rivka Jacobson