Playground
Peter Hamilton
Clockschool Theatre Company
Old Red Lion Theatre
–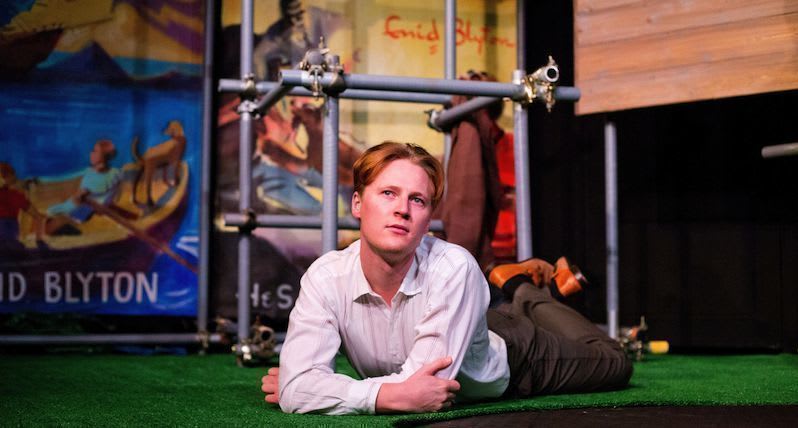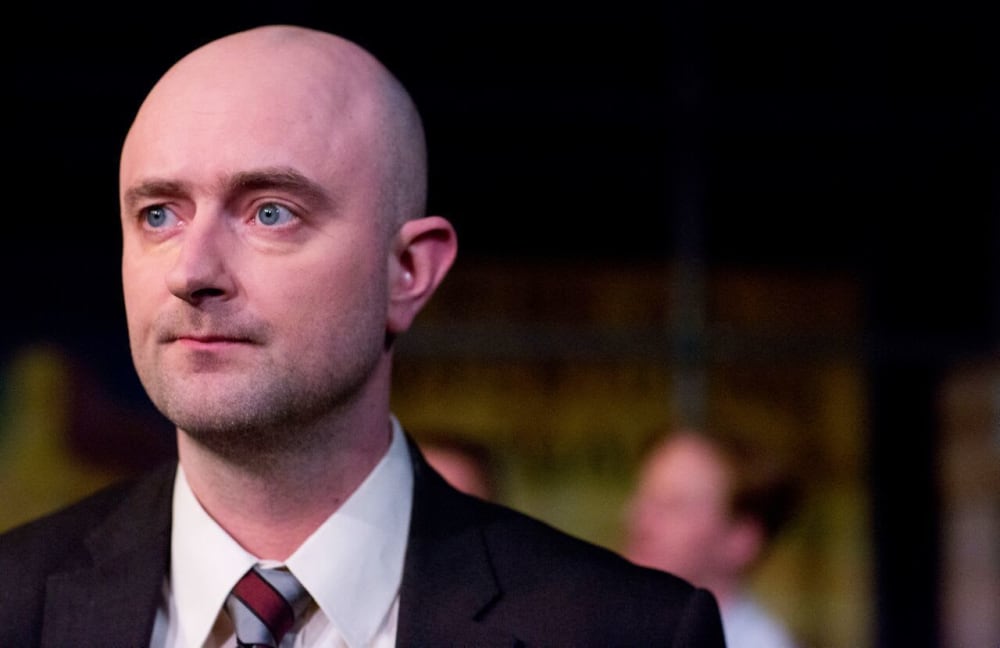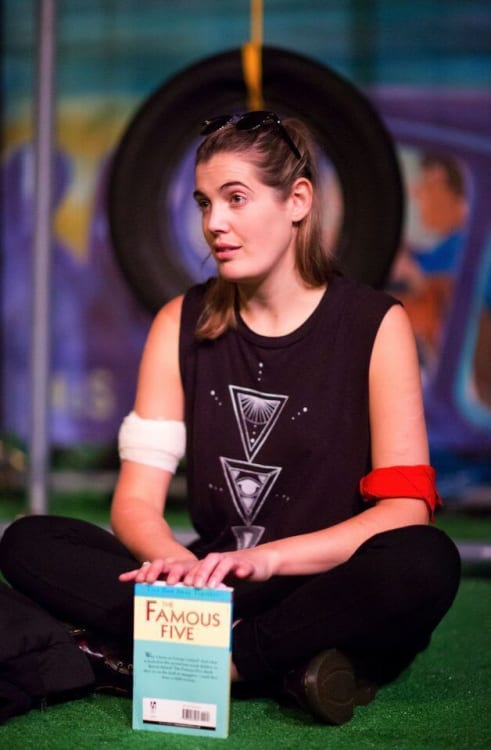 Did you ever read Enid Blyton's Famous Five books? Danny likes them; he sets up a reading group and plans to kick off with the first five books in the series.
There is someone else for whom the Famous Five seem to be favourites but he's a murderer. He's killing children, beheading them and then leaving a Famous Five book by the body, each a different one but open to the same number page.
Detective Sergeant Mitchell (Dan MacLane) is the copper conducting the murder investigation. He is a strange one; his eyes sometimes take on a distant look as though he is far away. DC Birch (Christopher James Barley) is his assistant, a young man who has no qualms about passing himself off as middle class Marjorie from Godalming, dragging up in a neat skirt suit and pearls to keep watch in the park. There's just a hint that there might be something between the two of them or are they a strictly on-duty mock married couple?
This isn't really a detective story, nor is it ghoulish—though the child-murdering psychopath is tracked down. In fact, it is much more a comedy, even though most of the characters are psychiatric patients, all attending the same clinic and under the same doctor. He's a doctor who tells his patients to take a holiday: go to Cornwall, or, to middle class Tamsin, get your posh parents to take off to the Caribbean. When they can't, he just gives them more pills.
Danny doesn't like pills. He says they turn you into a zombie. It is five years since he last took one. He says he was much more intelligent when he was 14—education knocks the stuffing out of you. Should you believe him? Richard Fish makes him a bit slow but very likeable, cuddly almost. His dream is to join the middle class intelligentsia. He thinks they have it sorted. He wants to give Islington dinner parties where people talk about literature and politics. His book club is the beginning of getting there.
Tamsin is beautifully spoken but no middle class maiden; she's a principled communist convert. She strikes up a friendship with local lad Stuart who fled some sort of fracas and ran off into Epping Forest. Three years later, he had worked his way down to Bow and the psychiatric centre. He wants to be a plumber and aspires to a bedsit in High Barnet with a Baby Belling and a power shower. Laura Garnier and Simon Every make them an intriguingly well-matched pair.
Danny encounters the somewhat older Carolyn (Josie Ayers). She slit her wrists (they're still bandaged) and was just about to try another way of suicide but it is a nice day and he dissuades her. "There's a Chinese belief," she tells him, "that if you save a life you're ever after responsible for it." So that pushes those two together.
The patients all join the book club which meets near the park refreshment stand. That's run by Bella (Sarah Quist) who bakes carrot cake. Stuart thinks he and she were kids together so why does she say she grew up in Deptford?
It's a show that is touching and funny and intriguing. There's clever writing and accomplished performances. These people feel real but the play's not naturalistic. Ken McClymont's production begins with Bella leading a ritual ring dance to "Oranges and Lemons", the rhyme's chopper replaced by a descending fretsaw, the verse continued at various points in the action. These characters are humanly comic but just removed from reality to allow us to laugh while retaining a sharp critical edge about social and psychiatric situations.
The interval comes just when you are beginning to wonder whether this is really going to go anywhere. That makes you stop and think about what Blyton's books stood for, what might be behind this play. Hamilton doesn't really present anything more definite but does add a neat twist.
McClymont and his team serve Hamilton well, not least Simeon Miller's lighting and Susie Hamilton's huge paintings of Blyton book jackets that back the scaffolding set. It is a production to enjoy with a touch of the absurd to produce occasional hilarity.
This quirky text, however, might in future allow for a quite different interpretation.
Reviewer: Howard Loxton