Playing Up 4
Jane Pickthall / Patrick Robertson / Chris Wilkins / Sharon Zucker / Lewis Cuthbert / Katie Ann Hunter / John Harrison
Lewis Cuthbert for Playing Up
Stage 3 at Northern Stage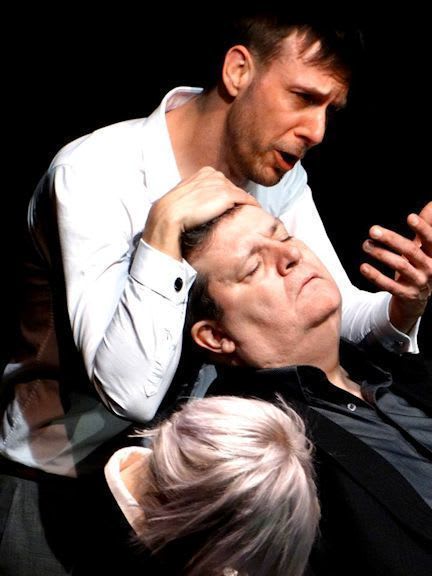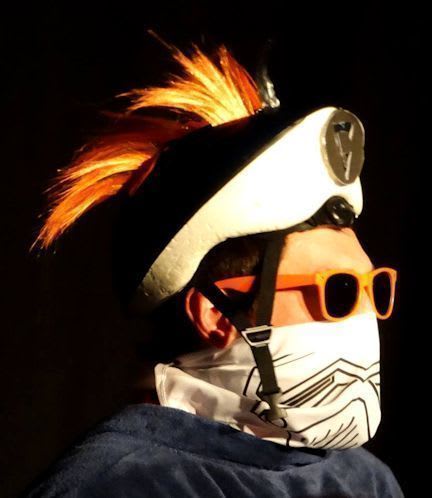 Playing Up 4 is the fourth selection of new short plays by a variety of North East writers, brought together in a new writing showcase by producer Lewis Cuthbert. The writers are of varying experience, although most are in the early years of their careers, as are most of the directors. There's a wide range of experience among the actors, too, who vary from established professionals to amateurs.
Bingo Wings
By Jane Pickthall, directed by William Wyn Davies
Sandra (Jill Dellow) and Lilian (Laura Halford-Macleod) are in church listening to preacher Peter (Richard Gardner) and in a bingo hall where the caller is Graham (Kevin Gibson). In this short piece we swap continually between church and bingo. It emerges that both have problems and, as the focus switches from one place to the other, the two ladies come up with a solution.
It's a lightweight piece—amusing, quite witty at times, with just a touch of satire.
Ganymede
Written and directed by Patrick Robertson
Ganymede is set in a theatrical dressing room after a performance of As You Like It, where Francis (Colin Jeffrey), who plays Rosalind in this production (which follows the Elizabethan tradition of men playing women), is taking off his wig and make-up. Rosalind, of course, disguises herself as a man, Ganymede, which, in Greek mythology, is the name of the young man abducted by Zeus to be his cup bearer and changed into an immortal, all because of his great beauty.
Francis, still in costume and make-up and obviously gay, is visited by Gary (Alex Blenkey), who is straight but not above teasing Francis.
Very little actually happens; this is a play of ideas, as the two discuss gender and sexuality from the Elizabethan fluidity of man/woman and man/man relationships to the modern stricter separation between gay, straight and bi. It is not, however, as dull a piece of theatre as that might suggest, for it is quite mischievous as both indulge in a little good-hearted teasing which entertains both them and the audience and is so comfortable to them that it would appear to be their normal interaction.
One of the highlights of the night.
Cow Juice
By Chris Wilkins, directed by James Ryland
Cow Juice, the longest play in the programme, starts off as a perfect object lesson in how some people, given just a tiny bit of power, will inflate their role and take every opportunity to wield that power over others. Middle manager Hurn (Chris Iddon) supervises the milk in the office fridge, a (we suspect) self-imposed task which allows him to almost terrorise those beneath him in the pecking order.
There are some nice barbs directed at management-speak but when the play widens to include positioning within the company, sacking and sucking-up, and the entire management team arrives, preceded by Hurn's immediate boss Bridget (Zoe Hakin), the whole thing becomes frantic and loses its way, changing from effective satire to silliness—not even farce.
Although it's the longest, it isn't long enough to cram in everything that author Wilkins wants. It needs judicious cutting; less would definitely be more.
A Moment
By Sharon Zucker, directed by Donna Marie Tonkinson
This, for me, was the real highlight of the evening, even though it has a most unlikely premise.
A Moment is a play about breasts. Alice (Sara Jo Harrison) is talking to us about her breasts; Donna Marie Tonkinson is her breasts and she expands on what Alice says from the breasts' point of view. We begin with their first budding and progress to breast-feeding and its inevitable result. We learn about Alice and her breasts in teenage years, in love affairs, in adulthood, in motherhood.
And then the mood changes…
And as the mood changes, what was a pleasantly amusing light comedy becomes something much darker and moving.
Chad
Written and directed by Lewis Cuthbert
This one-man piece, performed by David Parker, follows Chad Schweizer from being a child star to a less than impressive later career, a downhill slide which includes a porn film and a bottom-of-the-range TV gameshow.
In spite of the large number of voice-overs giving us additional information, the play doesn't quite hold together. There is a lot that is good here but it is the perfect example of a script which needs the intervention of a director, a third party, to clarify links and transitions.
Misophonia
Written and directed by Katie Ann Hunter
The word 'misophonia' means 'fear of a sound or sounds' and in this play new mother Sarah (Kylie Ann Ford) finds it impossible to relate to her baby because of the sound of its crying. The father, James (Liam R Angus) can calm the child. It's a situation which leads to hysteria, marital discord and the killing of the child.
It's also a situation which the play does not explore, nor does it even attempt to understand. We are merely presented with a sequence of scenes in which the level of emotion rises inexorably, along with the baby's screaming.
Misophonia is a serious mental condition, particularly in a new-born's mother, but here it just serves to produce a piece of grand guignol.
Scanners
Written and directed by John Harrison
Scanners is a comedy. It is set during a training session for those who operate the scanners in airports as passengers progress to the last stage of boarding. They seem to enjoy winding up those who pass through their hands, whether passengers or aircrew, and it might have been funny had it not been so under-rehearsed that lines were forgotten and the other actors did not seem confident enough to ad-lib their way out of the situation, hence long (embarrassed) pauses.
Reviewer: Peter Lathan