Playing God
Laurence Marks and Maurice Gran
Stephen Joseph Theatre, Scarborough
(2005)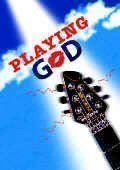 This is the first stage play from the BAFTA-winning Marks and Gran, best known for TV sitcoms including Birds of a Feather, Goodnight Sweetheart, Love Hurts and The New Statesman. As you'd expect, there are elements of TV sitcom (plenty of laughs, a few farcical situations), but this is balanced by a serious dilemma.
The play centres around two couples -- Ed and Claudia (David Cardy, Clare Swinburne), Clive and Henri (David Sibley, Becky Hindley), in almost a Noel Coward scenario. It opens in an attention-grabbing way, as three of the four characters at the dinner table put their cutlery down on their plate, one at a time, resulting from a sudden loss of appetite at Ed's blunt announcement that he is terminally ill.
By the end of the play little actual progress has been made, apart from the deterioration in Ed's health. Claudia, Clive and Henri seem to be so set in their ways that nothing, not even the earth-shattering news of Ed's illness, can really change them. You might hope that Claudia, who is suffering from agoraphobia at the beginning of the play, will have overcome it by the end, or that Henri, with her rather conventional, born-again religious beliefs would begin to see life from a wider perspective, or that Clive will find himself a more fulfilling job, but no -- despite some interesting situations, this lack of character development did seem to hold the play back. But perhaps character development is a bit of a cliché these days, and Marks and Gran were simply being true to life.
We were given four strong performances from a well-matched cast, and as ever an eye-catching set from Pip Leckenby.
Reviewer: Gill Stoker