Playing God
Paula Garfield, Rebecca Atkinson and Deafinitely Theatre
Soho Theatre
(2007)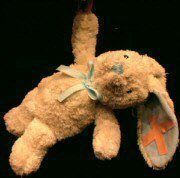 Playing God is an all encompassing and yet a teasing title.
In an era of 'cultural tolerance' and 'political correctness' one may be forgiven for not realising that being deaf means being a member of a social group embedded in its own culture norms and language which is distinct from that of the surrounding hearing community. It is a culture that is so cherished by its members that some guard it against any possible scientific or medical intrusion.
Deafinitely Theatre, an independent Deaf-led theatre company, attempts to provoke the hearing audience, and probably some of its deaf members, to consider some of the social and ethical issues they are facing. This is an attempt by the Deaf community to say out loud, "We are not disabled but different - and proud to be so." The introduction of the cochlear implants embodies the fear and fierce rejection by the Deaf community of attempts by the hearing community to treat deafness as a condition that needs to be treated or eradicated.
The play is acted in both spoken and sign languages to a mixed deaf and hearing audience. Kate Furby, the Voice Director, ensures smooth transitions from voice to sign language and, when necessary, impressive simultaneous translation which does not distract from actual events that take place on stage. The fusion and diffusion of the two languages is seamless and rather intriguing. The sign language had a theatrical life of its own yet it swiftly became an integral limb of unfolding drama.
The deaf couple, John (Matthew Gurney) and Emma (delightfully performed by Sandra Duguid), are Ruby's parents. Their dreams for their 'perfect deaf child' are no different from those of hearing parents. However, they know the obstacles awaiting their cherished young child. The couple's affection for each other is rather gentle and touching.
Emma, we learn, was born with full hearing until she suffered from meningitis which left her deaf at the age of three. She grew up in a loving home. Her parents learnt sign language to communicate with their daughter and her deaf friends. John on the other hand was born deaf to intolerant parents who rejected his condition as an embarrassing disability.
The cracks in the relationship appear on Valentine's Day when John discovers that Emma, his soul mate, behind his back requested Alex (Peter Abraham), the expert on cochlear implants, to assess their daughter, Ruby, for a possible implant.
A hearing couple with a young daughter is built into the drama with a contrived parallel 'moral' issue of choosing the right school for their 5 year old daughter. Should they send her to a school where its population is made of deaf children and children who cannot speak English? The husband is the consultant Alex who is insistent on their daughter going to a private school and not to 'that mixed school' while his wife Alison, charmingly performed by Andrea Newland, who makes every effort to learn and communicate in sign language, insists on the local mixed school.
The play airs some of the ethical issues that bedevil the Deaf community all over the world. The Artistic Director Paula Garfield, herself deaf from birth, presents the pain and possible social implications resulting from the medical intrusion in the form of cochlear implants.
The play has not convinced me that cochlear implants present a threat to the Deaf community. However, it opened my eyes and ears to social issues I would not have considered but for this exposure. In a conversation with Paula Garfield, with the aid of a sign language interpreter, she eloquently conveyed the breadth and depth of the issues raised in this production, which leaves a room for another more challenging play to voice the Deaf community's concerns which at present may just fall on deaf ears.
Until 4th August
Reviewer: Rivka Jacobson