Play It Again, Sam
Woody Allen
Ovation
Upstairs at the Gatehouse
(2011)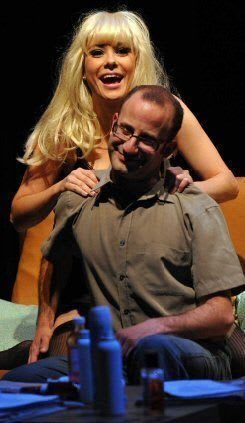 This revival of Woody Allen's 1969 Broadway play about a neurotic New York film critic and journalist whose wife has just divorced him is a delight. Tim Frost as Allan, the role Allen wrote for himself, may look rather like him but he makes the part his own. He is well matched by Amy Bailey, lovely as his best friend's wife Linda who, with her property-dealing, business-obsessed husband, is trying to set the nerd up with a girl. While Allan's wife (Josephine Kiernan) wanted to ride naked on a motor bike through Europe, unfortunate Allan is a man who, though he spent his entire honeymoon in bed, did so with dysentery. Without her he's a mess.
A succession of newsreel and film clips from Vietnam to Woodstock, Robert Kennedy to Diana Rigg and James Bond set the date as the audience settle (you can compete with your partner in identifying what they all are) to end with a 'turn off you mobiles' title that's a change from this theatre's traditional announcement. From then on director John Plews keeps the comic action fast running, slowing down just a little to allow romance to almost poke its head in as Allan and Amy find themselves increasingly attracted.
Suzie Lombardelli's set offers a West 10th Street apartment plaster with movie posters. Its layout is an architectural oddity, but it works very efficiently for the pop up or pop in appearances of Allan's ex-wife and of his adviser on women, none less than slouche-hatted Humphrey Bogart, whenever Allan's memory or imagination need them, which is often. Shaun Stone is a wonderfully one-dimensional Bogart and James Kermack is Amy's preoccupied husband, always ringing the office on arrival to say where he can be contacted next.
Felicity Russell plays a succession of girls that Allan tries to date, in life or in his imagination, most of them don't bite his line but with one his luck seems to be changing, and Kiernan doubles as some others, including a crazy disco dancer.
The gestures are bold and neither text or production is particularly subtle: Allan is dysfunctional so the set is littered with his dropped clothing, but the timing is right, its heart is in the right place and the laughs keep on coming. Enjoy it!
"Play It Again, Sam" runs until 26th June 2011
Reviewer: Howard Loxton