The Play What I Wrote
Hamish McColl, Sean Foley and Eddie Braben
Lyric Theatre, The Lowry, Salford
(2004)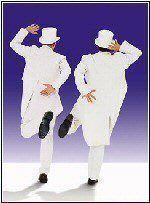 Hamish McColl and Sean Foley - aka The Right Size - have, in the past, taken seemingly dull premises, such as two people stuck in a bathroom for thirty years (Do You Come Here Often?) or two people who fall down the back of a sofa (Bewilderness) and turned them into some of the most hilarious and inventive shows you will ever see on stage. The Play What I Wrote has become their biggest commercial success by far with runs in the West End and on Broadway as well as UK tours. When it starts to tour with other performers in place of Foley and McColl, it changes from being a comedy act into a play but, as this production shows, with the right people in those parts it does not stop it from being very funny.
The show is a tribute to Morecambe and Wise, for many the greatest-ever British comedy double act. However the first half of the show is about the straight one (Kim Wall) insisting to the funny one (Clive Hayward) that he is not going to sell out by doing a crowd-pleasing show about Morecambe and Wise as he wants to be taken seriously as a playwright by putting on "the play what he wrote". This clever concept means that the two main characters "do" Morecambe and Wise without ever doing impressions of them, trying to recreate their famous routines or falling back on biographical scenes. The script peppers the original material with some recognisable lines from Morecambe and Wise's own routines, but they are always delivered knowingly and in a new context. Just to make sure they get the comedy right, Foley and McColl co-opted onto their writing team Eddie Braben, who wrote scripts for Eric and Ernie for fourteen years. Of course, after a few songs, dances and silly routines, they end up doing Kim's play set in the time of the French Revolution, A Tight Squeeze for the Scarlet Pimple.
Clive Hayward and Kim Wall do a good job of stepping into Foley and McColl's shoes, recreating both the funny and the occasional touching moments very well, as well as performing some quite energetic dance routines. The third member of the regular cast is Andy Williams, who brilliantly portrays a number of over-the-top and very funny characters. Alice Power's designs recreate accurately 70s-style TV scenery, and sometimes her designs are an integral part of the comedy in the show. As is well-publicised, there is also a fourth performer that may be different each performance: the secret celebrity guest star for them to abuse, insult, dance with and give terrible lines to in the play what Kim wrote.
This is an extremely funny show, well performed, that anyone who loved the humour of Morecambe and Wise will enjoy.
"The Play What I Wrote" runs until 9th October 2004 and tours until 4th December 2004
Philip Fisher reviewed the original West End production; Steve Orme saw it in Nottingham and Peter Lathan at the Theatre Royal, Newcastle.
Reviewer: David Chadderton