Péleas et Mélisande
Debussy
Garsington Opera
Wormsley Theatre
–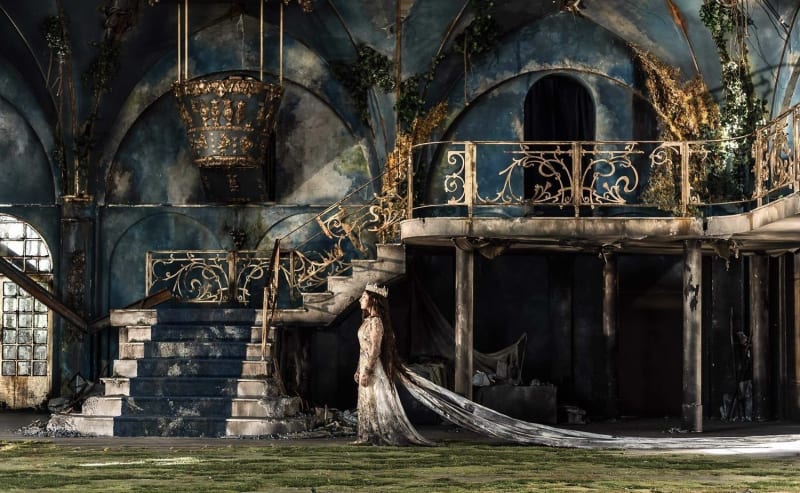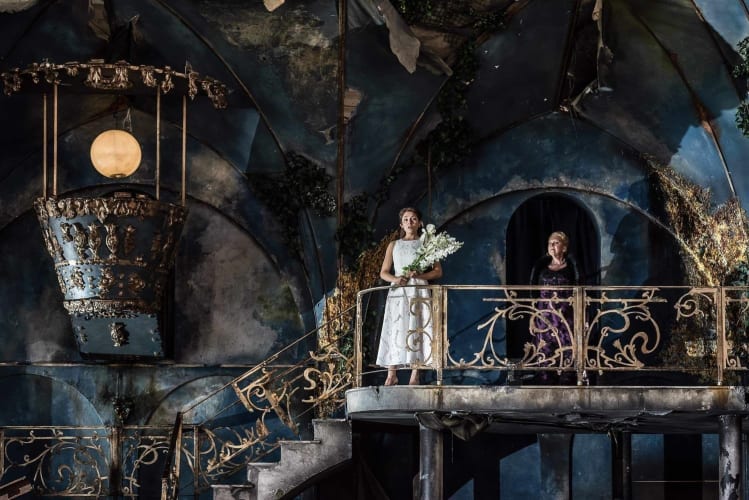 Debussy writes beguilingly beautiful music to a dark and tragic tale. A girl in the woods rescued by a prince is a fairytale opening which quickly becomes a nightmare of abusive family relationships and constant suspicion.
Performances of Debussy's only opera, Péleas et Mélisande, are scarce. A contemporary of Italian Verismo, Debussy's score couldn't be further removed. There is no naturalism here—and director Michael Boyd works brilliantly in this freer imaginary playground.
Mélisande (Andrea Caroll) slowly enters a fairytale world of dilapidated grandeur, dragging a ten-foot train. She rests at a crater in the stage, a pool lying just beneath the surface. Throughout, Peléas and Golaud compliment her beauty—her bewitching eyes, her youth, and her Rapunzel-length hair. The casting director has found a rare gem in Andrea Caroll—she has all these attributes (plus an excellent wig!) and she radiates wide-eyed innocence.
In this first scene, Mélisande seems half woodland sprite, and the arrival of Gonaud in hunting gear brings an interruption from the outside world. Tom Piper's set is unchanged throughout—but offers a multi-level world which Boyd makes us believe to be a wood at one moment, or a cave at the beach the next, before moving us again.
Castle walls in fantasy blue are ringed with grimy, glass-paned doors, adding to the feeling that everyone's actions are watched. Into this more affluent world, rusty wrought iron is flung into corners, a staircase hovers above the pool and the floor is covered with woodland moss.
Debussy's orchestral writing is luscious and Jac Van Steen creates a gorgeous sound (if often too loud) with the Philarmonia Orchestra. Debussy gives the best melodies to the orchestra, and even if you closed your eyes you could follow the story perfectly—the characters' emotional journeys projected so clearly through the accompaniment.
The first half has a treacle-type pace—Mélisande seems detached from the world around her and we are simply observing her interactions with Gonaud and his brother Péleas. It's hard to get wrapped up in the emotions here as there is a lot of metaphor and not much substance. Coming back from the interval, the tension ratchets up; acts 3 and 4 are filled with intrigue and suspense as Gonaud's suspicions reach a climax.
Paul Gay's Gonaud comes to life in the second half; gruff and quick-tempered, he uses his height to loom over the other characters. His passionate love for Mélisande is unfortunately far less believable than the subsequent hatred he projects so well. A highlight is Gonaud's interrogation of Yniold (William Davis). Attempting to win the sweetly singing boy to his side with presents and gentle words, Gay captures the boiling rage and frustration which constantly bubbles over the surface, scaring his child.
Jonathan McGovern's Péleas is youthful and fresh, his puppy dog love spilling out. He and Caroll make a fine pair—both blessed with beautiful lithe voice which soar across the full orchestration. Caroll is a star to watch; making her UK debut, she marries crystalline tone with exquisite interpretation and characterisation.
This is only Boyd's third foray into the world of operatic directing. He's chosen a minefield of a piece but has largely trodden a safe and illuminating path.
Reviewer: Louise Lewis