Plenty
David Hare
Crucible Studio, Sheffield
(2011)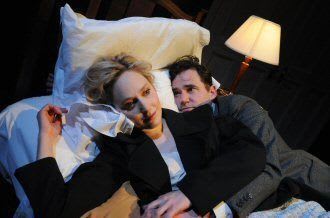 Plenty is the first of three plays to be performed at Sheffield Theatres in a retrospective on Hare's work over four decades. Written in 1978, the play spans a period of time from 1943 (occupied France) to 1962 (opulent Knightsbridge).
Plenty is complex but largely concerned with disillusion. The disillusion of individual characters is set against a background of socio-political disappointment: that the promised new dawn of post war socialism was a chimera; that the old style values of Empire had collapsed; that the rich still exploited the poor.
The Crucible Studio provides a plain but intimate setting for the drama. The many scene changes were cleverly covered by on stage costume changes which held the audience's interest and maintained the impetus of the action. It is difficult to suggest the opulence of the Embassy and Knightsbridge settings in such a bare stage production and the suits worn by the Embassy staff did not seem stiff enough. Consequently, an important visual dimension of the class war was lost.
The central character in the play is Susan, played with energy and passion by Hattie Morahan. Susan, fairly unbelievably, has been recruited at 17 by the SOE to act as a wartime courier in France. When we meet her in 1943, she is terrified of dying and traumatised by the loss of fellow operatives. She finds solace in brief anonymous relationships with men whose names she doesn't know, and whose faces she doesn't want to remember. But it is the intensity of the wartime experience that remains with Susan through her later life, makes it impossible for her to find satisfaction in a sustained relationship, and eventually tips her into madness.
Hare's script works best in short interactive exchanges, which allow time for the incipient humour to emerge and for the actor to explore character through pause and nuance. This is superbly achieved by Bruce Alexander as Sir Leonard Darwin in a performance that is hugely entertaining while remaining true to the part. Simon Coates is equally effective as Sir Andrew Charleson, another cynical Embassy official. The problem for Hattie Morahan as Susan, is that so much of her part is made up of long, literary-style narratives which owe more to the written than the spoken word. Morahan's response to this was to take them pretty fast, which sometimes made them difficult to follow, particularly in the 'round' setting.
There were strong performances from the various men in Susan's life. Both Edward Bennett as Brock, her long suffering husband, and Jack Ryder as Mick, with whom she tries to conceive a child, want to know why she 'chose' them. Mick is particularly bitter when Susan refuses to have anything more to do with him when the experiment fails, 'It feels very bad to be used' and 'You fuck people up'.
Brock pays a heavy price for rescuing Susan from the Maudsley. His career, happiness, comfortable life style and material possessions are all destroyed. Bennett effectively tracks Brock's faithful determination not to walk away, and his final angry outburst, 'I am going to play as dirtily and ruthlessly as you. And this time I am certainly not giving in'.
Susan's most comfortable relationships are with Lazar (David Bark-Jones), the airman she fleetingly knew in France, who like her, finds suburban life unbearably banal, and Alice (Kirsty Bushell) who is a kindred spirit, amoral, self-deceiving, promiscuous. Good supporting performances from the rest of the cast.
Penty is not an easy play. It is complex, layered, and elusive. David Hare is quoted in the programme (lecture first published by the RSC in 1978). 'As you can't control people's reactions to your plays, your duty is not to reduce people's reactions, not to give them easy handles with which they can pigeon-hole you, and come to comfortable terms with what you are saying '
"Plenty" continues at the Crucible Studio until Sat 26 February
Reviewer: Velda Harris