Plock!
Concept by Hanne Vandersteene and Mahlu Mertens
Grensgeval
Curve Theatre, Leicester
–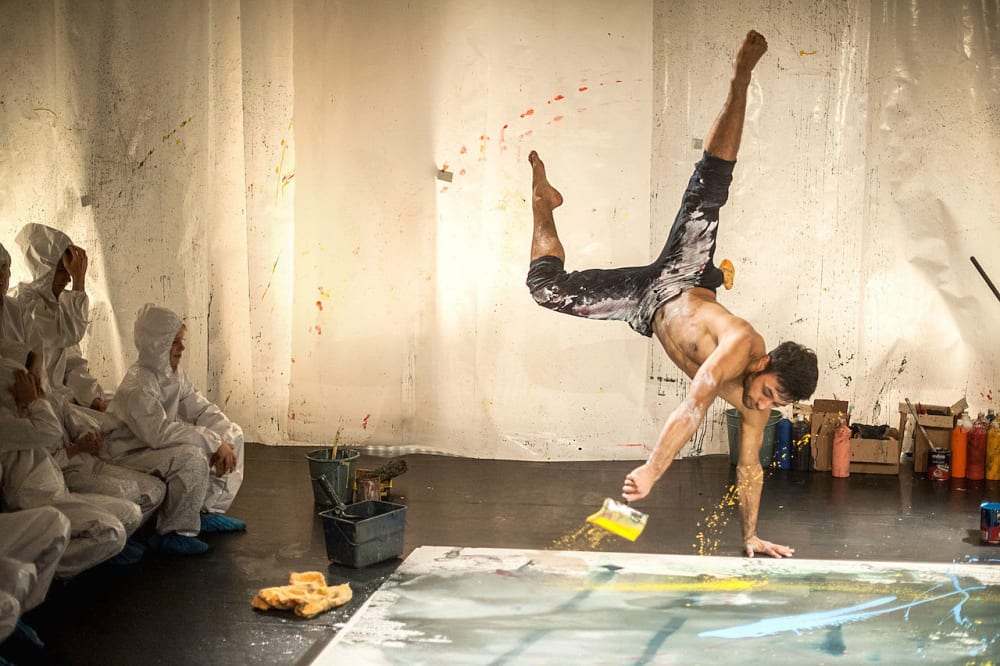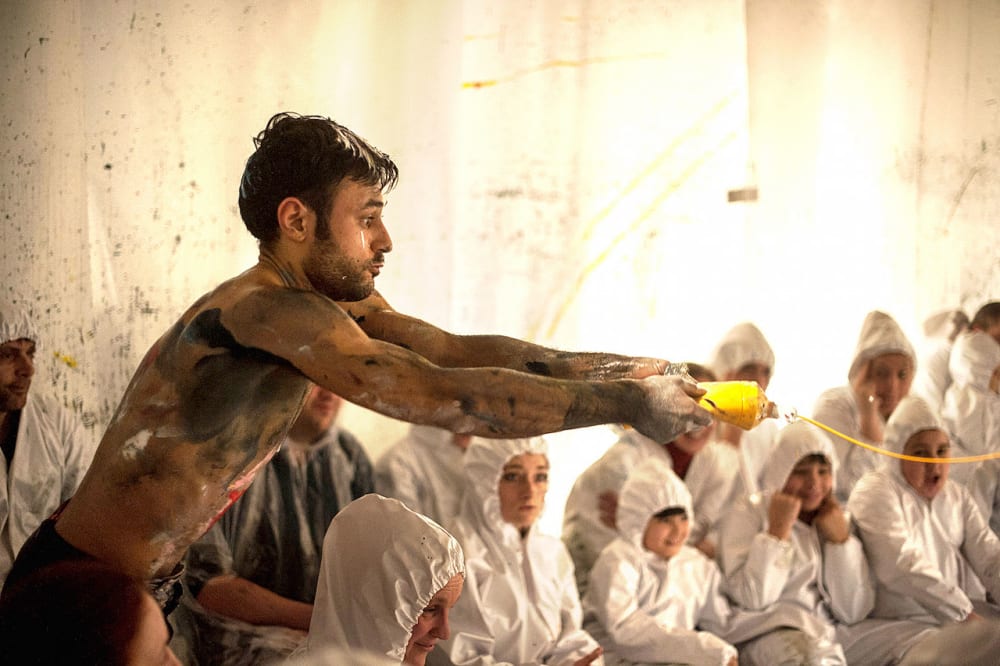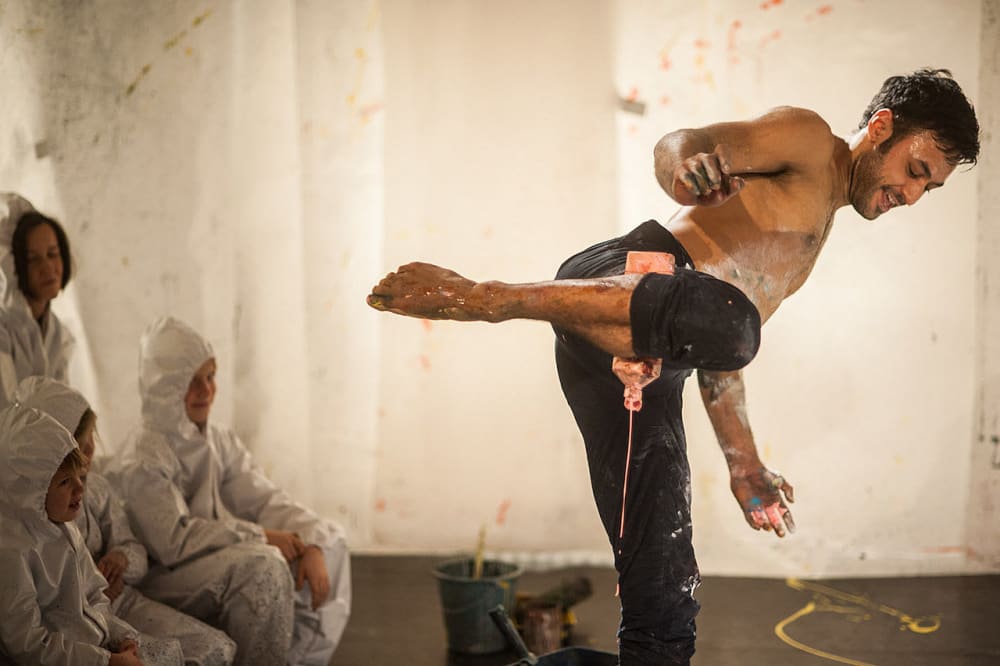 Art and performance combine in myriad meanings in Plock! by Belgian company Grensgeval, creators of "visual circus-sound theatre". This production is part of The Spark Festival, the arts organisation based in Leicestershire for children aged 0 to 13 years, and now coming to the end of this year's week-long programme of festival performances.
Donning protective, full-body PVC suits and plastic shoe protectors, we push through paint-splattered screens into the performance space. Sitting on benches arranged in thrust, we watch as Jakob Lohmann (not the performer featured in the images) assesses his blank canvas: about 4 metres long and 1.5 metres wide secured to the stage floor with small pots of paint and roller trays placed at intervals around it.
Taking the art of Jackson Pollock and his abstract "action painting" style as inspiration, Jakob seems nervous and unsure, wanting to get his painting right. After a few tentative brush strokes, he becomes more adventurous, overcomes a few accidents with overturned paint pots and grows in confidence using his body: twists and flicks with paint brushes between his toes, handstands, backflips, even using his head as a brush along the canvas. With the help of a volunteer "human" paintbrush literally dipped into a paint pot, his masterpiece is finally complete.
There are several levels of engagement with this entertaining production: the joy of messy play, the audience as part of the performance as we help each other into our protective suits to join the "art". We go with Jakob on his journey from uncertainty to his exuberant enjoyment of creativity, admire his physicality and strength as he flicks and splatters us with paint.
Subtle changes in lighting by Jeroen Doise and Saul Mombaerts indicate different moods and "turns" in the process. Stijn Dickel's sound design of drips and rattling brushes in tin pots keep an insistent and suitably random rhythm.
With its slapstick and "naughty" feel (you'd never be allowed to do this kind of thing at home!), this is ideal for children around five and above, and their accompanying grown-ups had just as much fun as the children, safe in the knowledge they wouldn't be clearing up this particular mess.
It is also refreshing to see, in the current educational landscape of tests and learning by rote, a representation of the world where it is okay to be unsure, to learn from mistakes, to experiment and create.
In just under an hour, Plock! explores some big themes: art as performance, the artist as performer, the audience as performers and co-creators. In summary, a work of art.
Reviewer: Sally Jack