The Pocket Dream
Elly Brewer and Sandi Toksvig
Theatre Royal, York
(2004)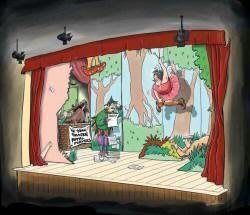 No-one could accuse Brewer and Toksvig of selling their audience short. The Pocket Dream has Shakespeare, audience participation, dancing penguins, several backstage dramas which actually take place onstage and a cast of six playing twenty-one roles between them (oh, and a few extra fairies). The play has also been specially revised to include a host of local references, all of which were relished by the York residents in the audience but may have baffled tourists. There were moments when I felt that the authors had tried just a little too hard to send up every theatrical cliché, but on the whole The Pocket Dream is a thoroughly entertaining broad comedy (and you can't beat a broad Bottom).
The curtain goes up on the first scene of A Midsummer Night's Dream, during which actors Simon (Ben Porter) and Phyllida (Susan Kyd) make the alarming discovery that their fellow thespians - driven to distraction by Phyllida's grand dame manner - have staged a mass walkout and are getting riotously drunk at the Wonky Donkey. But the show must go on, and with the help of overworked stage manager Jo (Lucy Benjamin), stagehand Dave (Ronnie McCann), libidinous gym teacher Tom (Travis Oliver) and front-of-house manager Felix (Owen Brenman) we are treated to a truly surreal version of Shakespeare's play
It could be said that the authors have chosen an easy target for this sort of treatment. The sheer familiarity of A Midsummer Night's Dream is an open invitation for directors and actors to seek new (and not always credible) interpretations; many regular playgoers, sitting through their umpteenth Pyramus and Thisbe, must have wondered how much more new comic business the playlet can be made to bear. But this is all part of The Pocket Dream's fun. Ben Porter's strangulated vowels and gloriously OTT miming of Theseus' discovery of the runaway lovers - not to mention the wild diversity of regional accents and Ronnie McCann's Sean Connery impersonation - will strike a chord of recognition amongst dedicated followers of the Bard.
Every member of the cast does a truly heroic job of coping with multiple roles, quick (sometimes near-instantaneous) costume changes and the occasional foray into the auditorium. And as if that wasn't enough, Lucy Benjamin also has to fly, which she does with great aplomb despite being hampered by a Puck costume that includes hot pants and a back-to-front baseball cap. Owen Brenman (best known as Victor Meldrew's next door neighbour) gives a marvellous performance as the f-o-h manager driven to distraction when he gambles away the evening's box office takings. Director Paul Clayton keeps the comic chaos under tight control and designer Angela Simpson makes sly use of certain motifs, most notably stepladders and multiple doors, which have become tiresomely overused in recent productions of Shakespeare's most popular comedy. I heartily recommend The Pocket Dream to anyone who enjoys a good laugh, Shakespeare, dancing penguins and the opportunity to take part in a Mexican Lion Roar!
Playing at the Theatre Royal, York, until 17th July
Reviewer: J. D. Atkinson