Poet in New York

Rafael Amargo Company
Sadlers Wells
–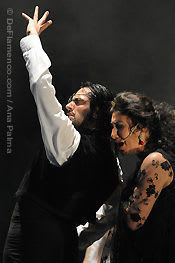 The poet is Frederico García Lorca who in 1929-30 visited America, enrolling to study English at Columbia University. In part the trip was an attempt to escape the pressures of his personal life in Spain. He was there for the Wall Street Crash and witnessed its effect, resulting in a series of poems that reflect his own isolation in New York and a condemnation of the capitalist creed which had brought the depression.
This dance work is built around a selection of those poems which are delivered by leading Spanish actors and actresses. There is no translation so if, like me, you don't have good Spanish or already know them well it is difficult to judge how directly Amargo has responded to them.
This is very much a multimedia production with video projections that range from Manhattan skyscrapers at night and documentary film of bread lines to montages of flower buds bursting open and a repeating ocean sunset as well as choreographic material that complements or matches what is being presented live as well as the speakers of the verse.
It begins with vivid images of Amargo, a head and one shoulder seen from behind approaching what could be the New York skyline through a swirl of smoke opens the show, followed by his sharply silhouetted figure in excitingly dramatic flamenco postures that firmly establish who is the star. But, though he gives himself a number of solos that display his ultra fast footwork, this is not just a star vehicle with a supporting cast. Amargo gives plenty of opportunities to all the members of his company to display their individual talent in numbers that even include a Coppelia-like ballet dancer doll. Nevertheless, though it jettisons the flounces of traditional flamenco costume for contemporary dress it is still has flamenco at its centre.
The opening dance, in which white clad bodies on the floor rise to dance between the restraints of bare metal lighting battens which have been lowered from the flies is packed with anguished movement and there is a strikingly dramatic sequence in which rows of bandaged and white striped figures that reminded me of Fritz Lang's Metropolis advanced in a montage of serried close-ups on video while the live dancers on stage themselves seemed to turn into automatons. Another number depicting an alcohol swigging suicide, dramatic in a scarlet dress, with a figure that must be death appearing tips into melodrama but there is much here that is joyous including what is surely a bridal sequence with a pair of white clad lovers.
Design plays an enormous contribution. No one is credited for the videos but costume designers Antonio Hernández and Soledad Picossi make a major contribution with clothes that are largely black and white. Rafael Amargo dazzling in a white suit against women's black dress, black dresses that reveal red linings to panelled skirts splashes of colour that are dramatically effective and break into a full rainbow for the Cuban finale.
Much shorter than it was first premiered ten years Poet in New York still runs rather longer than its advertised 85 minutes. It is not always easy to see what points these dances are making but its eclectic dance genres produce a mixture of comment, excitement, euphoria and passion that drew an extended ovation from an audience that was delighted by its flamenco bravura.
Reviewer: Howard Loxton