Poirot and More, A Retrospective
Co-Created by David Suchet and Liza McLean
Liza McLean, Andrew Kay and Jonathan Church Theatre Productions
Harold Pinter Theatre
–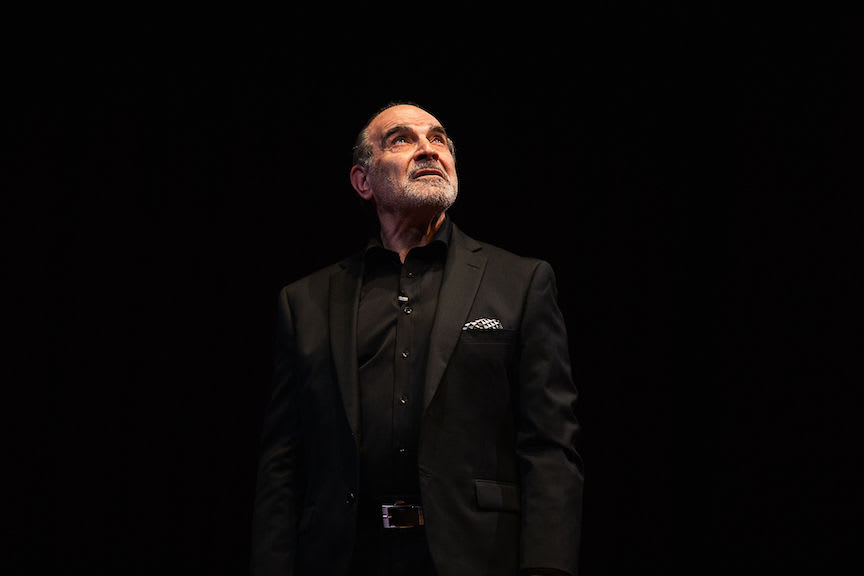 This is not just an evening of Sir David Suchet talking about the role for which the public knows him best. The show's publicity says he is "interviewed by" his friend the author and journalist Geoffrey Wansell, but this is no off-the-cuff question and answer session. It is a carefully crafted performance that nevertheless, even after extensive touring before this West End run, has a freshness that does make it seem spontaneous.
Wansell opens the evening by sharing some of the history of this theatre (where Suchet made his West End debut in 1987) before introducing Sir David and starting their conversation in which the actor ranges from his first appearance on any stage as a small child playing an oyster in a school production of Alice in Wonderland and Macbeth at Wellington public school to the Youth Theatre and LAMDA, where he was offered a place after failing auditions at several other drama schools, then his first professional job as an ASM at Chester's Gateway Theatre and his distinguished career since.
He doesn't talk a great deal about his private life, though we do hear how he first met his wife Sheila Ferris in rep and how he discovered his grandma used to be a sand dancer—together with a nifty demonstration of the soft shoe shuffle the old lady showed him, her muscles remembering the steps from her young days.
The emphasis however is on his professional life: how he researched playing Freud, sought to find Robert Maxwell's character as a person, not just the tycoon who snatched his workers' pension fund, found a different way of playing Lady Bracknell's most well-known line when he played the role and, at a prompting from Wansell, confides that he'd like to play Napoleon.
After the interval, Sir David changes into a suit and is more formal and the lighting becomes dramatic before he delivers a speech by Salieri from Peter Shaffer's Amadeus. Explaining that the very word person (or persona, originally the name for a theatre mask) means through the sound, he goes on to explore the importance of voice, exploring how to deliver Shakespeare's text in ways that follow the ideas that John Barton taught to the Stratford company, illustrated by contrasting speeches from Caliban in The Tempest, Macbeth on the death of his wife and Oberon in A Midsummer Night's Dream. These are offered to show the way the language works, not as bravura performances, but it is a delight to hear them.
From his many RSC roles, he also explores that of Shylock, arguing that seen in its original context Shakespeare was not creating an anti-Semitic portrait but rather the opposite. He also gives us a speech of Cardinal Benelli from Roger Crane's The Last Confession, which he played in 2007, before returning to Poirot to describes his search to find the voice and the mannerisms of Agatha Christie's detective as she actually described them.
Sir David makes his points about acting in a lively and engaging way, illuminating for those outside the profession and amusingly shares the disasters rather than triumphs in his personal stories. Some of them will be familiar to fans from previous interviews in the press or on radio and television but he still makes them funny and this is a show with a light touch, an entertainment with infused with enlightenment.
Reviewer: Howard Loxton