The Girls from Poppyfield Close
Alison Carr
Live Theatre, Newcastle
(2011)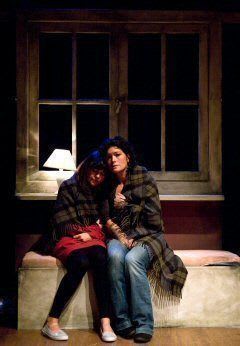 It's always interesting to watch the development of a play. The Girls from Poppyfield Close began life last year as a half hour piece, part of the double bill Blood and Money by Alison Carr (Blood) and Rosalind Wyllie (Money), which I saw in February at Northern Stage at a kind of scratch night. I didn't review the production as it was in the early stages of development. It then went on to the Prague Fringe where it got good reviews.
Now Carr has developed it into a full-length play and it has changed considerably, although the basic premise remains the same.
More than twenty years ago teenager Charlotte disappeared and was murdered. Now the house in Poppyfield Close in which she and her family (late mother and father, sisters Susan and Elle) is to be pulled down as part of a redevelopment scheme and in it Susan (Phillippa Wilson) and Elle (Cheryl Marie Dixon) meet at the former's invitation, not having seen each other for quite some time, on the night before demolition starts. As the first act progresses long-standing tensions in their relationship unfold. The arrival of the health reporter from the local paper (Cliff Burnett) who was taken off the original story because he was too young and inexperienced and is now in search of a feature which will give his career a boost brings out yet more buried feelings.
In the second act we jump back 24 years to the anniversary of Charlotte's disappearance on the morning on which Susan (now played by Samantha Neale) is to take part in a TV reconstruction of Charlotte's last known movements. Again we meet Elle (Rachel Teate) and we get a different perspective on and a greater understanding of their relationship. Also making an appearance is their father's friend John (Christopher Connel) and the slow revelation of his relationship with Susan gives the piece an added layer of complication.
The reversal of the timescale - not easy to bring off - works well here, adding layer upon layer to our understanding of the characters and the situation. And it adds layers to the play, too, for what at first seems to be a family drama is slowly revealed as being much more.
The Girls from Poppyfield Close has come a long way from its orginal Blood in the last year: it delves more deeply into the subject matter and the characters are richer. Carr and her director Rosie Kellagher are well served by an excellent cast. Such a pity that it is only running for three nights. It's definitely a play which will have legs.
Reviewer: Peter Lathan