Porgy and Bess
George Gershwin, Dubose & Dorothy Heyward & Ira Gershwin
Cape Town Opera
London Coliseum
–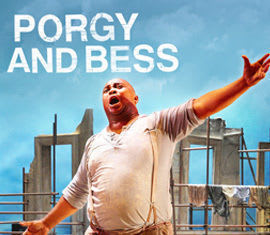 Cape Town Opera transports the inhabitants of Catfish Row from Carolina to a township in South Africa. The move brings new modern resonances to Gershwin's opera, claiming the poverty and apartheid themes as South Africa's own. This performance has emotional intensity pouring out from the singers, and perhaps this is because they can really relate to a problem that is still running through townships in South Africa.
Designer Michael Mitchell takes inspiration from seventies apartheid-ridden Sowoto City. Depression has hit and in these harsh times the fashions worn seem interchangeable with any decade. The chorus swarms over the derelict buildings making up Catfish Row, hanging onto scaffolding and banging on tin roofs. Mitchell emphasizes the cramped conditions by using the same set throughout, which simply swivels to make more dilapidated buildings.
Director Christine Crouse's production is tougher and grittier than a traditional sunny deep south show. The main entertainment in the seventies townships is still the same today: dancing, singing, gambling and drinking. In Porgy and Bess, there is a song for every occasion and every emotion, and when singing no-one stands still. Through each crowd scene, choreographer Sibonakaliso Ddaba creates a real pull for the audience with the colourful dance-steps. We want to be up there enjoying the party, drawn in by the swaying gospel music.
The crowd is a rippling, rich tapestry of movement at all times, catcalling to one another and sparking into fights. The energy onstage is electric and allows the cast to move us to the extremes of ever-changing mood throughout Porgy and Bess. The power of this cast is spectacular, a cocophony of sound and depth of emotion rolls over the stalls.
Albert Horne (conductor / chorus master) writes that the South African people have "traditional songs and hymns for virtually every conceivable emotion and event". In this production, the music feels spontaneous; the singing wells up from each individual as if truly their own reaction to such strife.
With such a strong ensemble, it is wonderful that there are so many notable individual performances too. Tshepo Moagi's (Sportin' Life) voice has an unusual quality to it, a musical opera hybrid that adds sass and a party spirit to "It Ain't Necessarily So", with a fantastically free top range. In comparison, Porgy (Otto Maidi) is a wonderful actor but takes longer to warm up vocally. In act two, his truly rich and deep vocal timbre shines and opens act two up for regular bouts of spontaneous applause.
Bess (Sibongile Mngoma) moves from slutty sexy to desperate sincerity with ease and vocal prowess. Truly exciting is Serena (Nkosazana Dimande), whose grief filled aria is gutsy and powerful. Gershwin writes indulgent vocal lines, and Cape Town Opera certainly doesn't hold back. Their stamina is impressive; none of the huge character personalities are dropped for a moment.
Gershwin's folk opera often confuses as we don't quite know how to pigeonhole the work. It's safe to say that this Porgy and Bess is an emotional rollercoaster to watch, and comparable to any grand opera in its extremes. Tonight, Crouse combined a whole range of elements in perfect balance, mixing Broadway moves, operatic splendour and South African attitude.
Porgy and Bess is known as the people's opera, and Cape Town Opera singers have certainly claimed this work as their own.
Reviewer: Louise Lewis