The Gershwin's Porgy and Bess
George Gershwin, DuBose and Dorothy Heyward, and Ira Gershwin
Regent's Park Open Air Theatre
–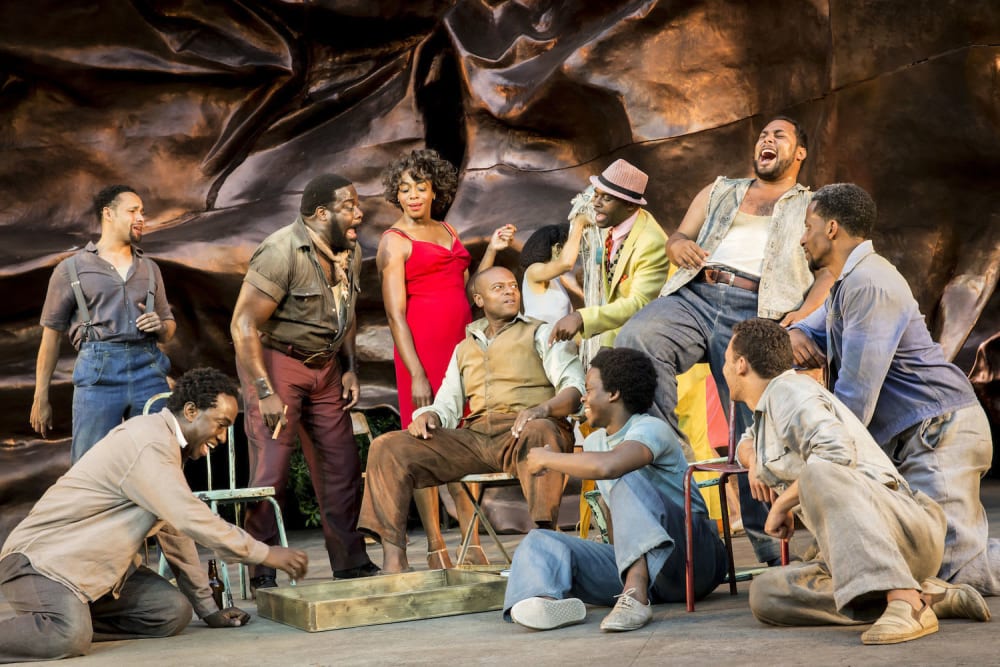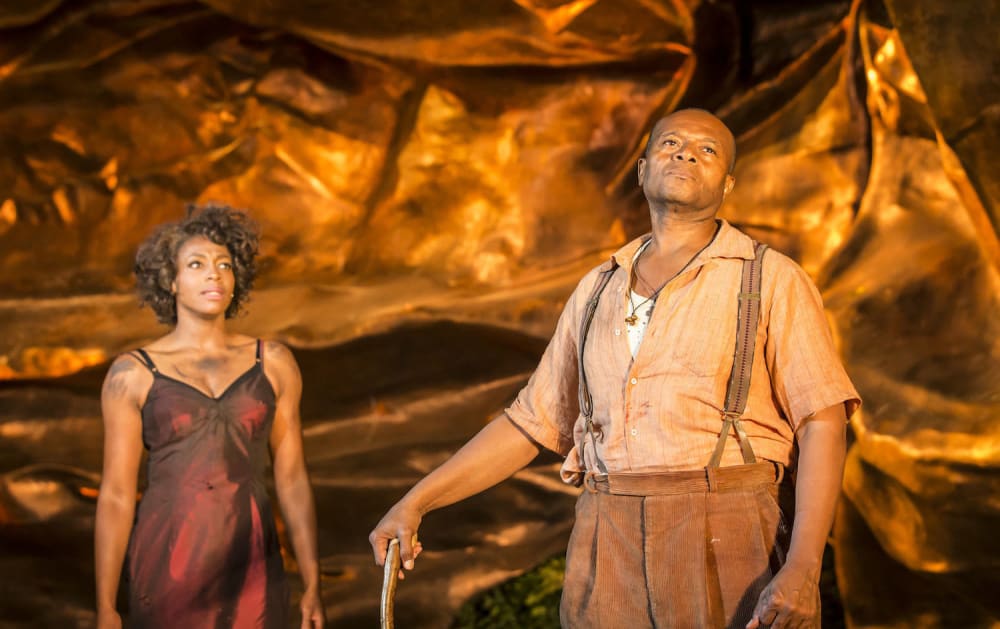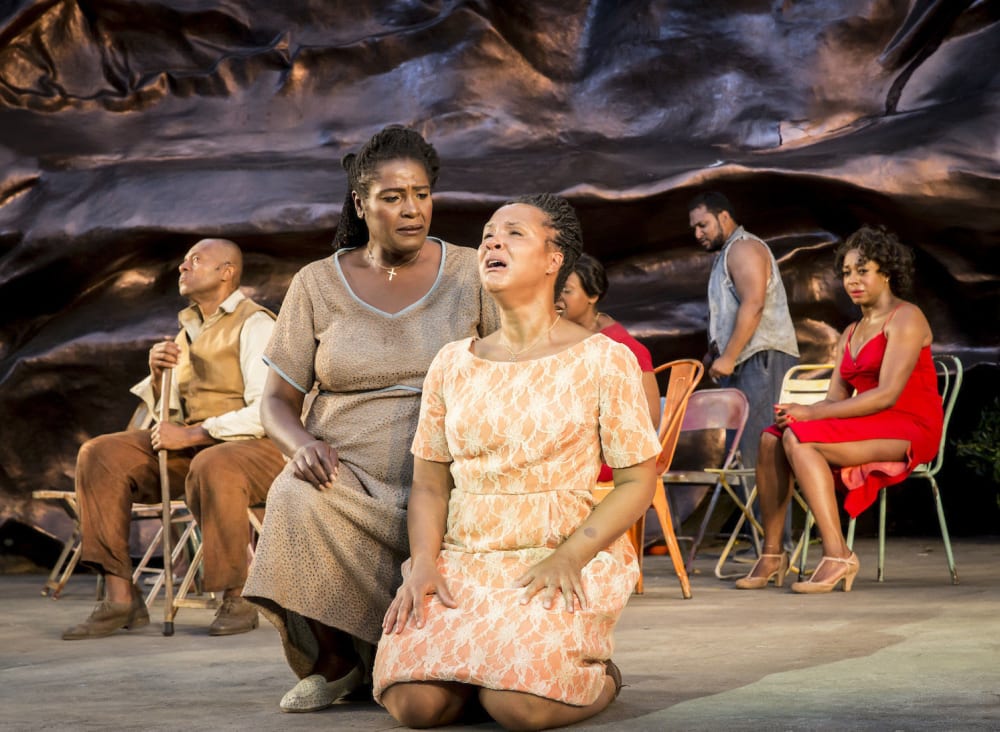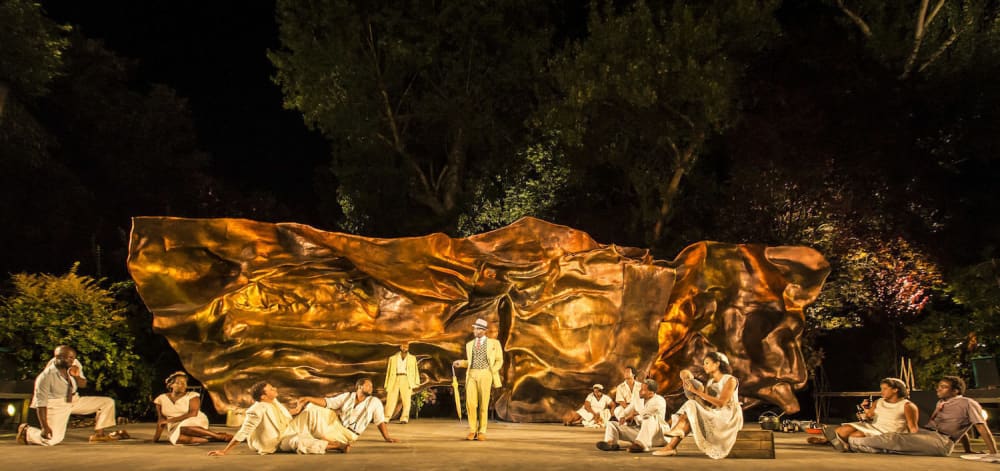 Is this an opera or a Broadway musical? Some modern musicals occupy the ground between the two but, when first staged in 1935, Porgy and Bess was something new.
George Gershwin called it a "folk opera" and it was cast with classically trained singers, but the first Broadway revival in 1942 was drastically cut with recitative replaced by dialogue. That is largely what we get here. Director Timothy Sheader uses a version seen on Broadway in 2012 in which adapters Suzan-Lori Parks (book) and Diedre L Murray (music) cut the four-hour opera down to two and a half.
It is given a stylized staging in front of a cliff of what looks like convoluted metal. There is no attempt to represent a realistic Catfish Row in South Carolina where the action largely happens. This abstraction not only allows tables and chairs to be built into a boat or become doors but also matches the theatricality of breaking into song or dance.
It gives no sense of place but masks out most of the park's bucolic background and becomes a foil to Rick Fisher's atmospheric lighting and, though it dominates the space, soon just becomes a background that focuses attention on the actors.
Under the UK and American Equity exchange programme, three of those actors are from the States: Rufus Bonds Jr as crippled beggar Porgy, Phillip Boykin, reprising his powerful Broadway performance as big brutal Crown, and Cedric Neal as drug pusher Sportin' Life, also from the Broadway cast. With the rest of the British cast, they make a formidable team whose ensemble work is excellent.
Bonds's Porgy fluctuates between quiet and concentrated and full throttle. It's a sensitive performance that captures his pain and joy, dispensing with any cart or truck he gets around on his twisted foot with just a stick.
His Bess is Nicola Hughes (nominated for an Olivier when she played the role in Trevor Nunn's Savoy production) who gives a sizzling performance from the moment we first see her, sinuously cavorting in black underwear before struggling into a symbolic red dress. There is sensitivity here too, but matched by a sexual intensity that has her flinging herself at former lover Crown with an explicitness that would never have done in 1935.
Boykin's Crown is not only the biggest man on stage; he gives the most powerful performance. Until that scene, this production suggests Bess is afraid of him; now it looks as though she just can't resist him. It makes it easier to see why she then leaves Porgy to run off to New York with Sportin' Life.
He's nimbly played by Neal, cutting a figure in a yellow suit and twirling a yellow parasol. He points things clearly but needs more projection to work his tricksy charm on the whole audience, but when he takes off with flashing fleet he carries them with him.
There is a delightful Clara from Jade Ewen, singing the "Summertime" lullaby to her baby, a strong Serena from Golda Rosheuvel, especially moving mourning her murdered husband in "My Man's Gone Now", and Sharon D Clarke as Mariah (though she gets to display her vocal power mainly in the ensembles).
The spiritual-influenced chorales, partly a capella, are some of the best parts of this production. When they move into more operatic registers, one regrets that this is such a truncated version of the score, especially with such an excellent band and resources that match strong voices with feet to deftly deal with Liam Steel's choreography.
This is a production that certainly has its dramatic moments but it keeps seeming about to become so much more. Has just too much been trimmed away? That didn't stop it getting a warm reception from an audience who were additionally bonded by almost all ignoring the few drops of rain that threatened a soaking but fortunately failed to develop further.
That's always a risk with Britain's passion for outdoor performance but it is amazingly seldom that Regent's Park performances get called off.
Reviewer: Howard Loxton