Porgy and Bess
George Gershwin
Grange Park Opera
Theatre in the Woods, West Horsley Place
–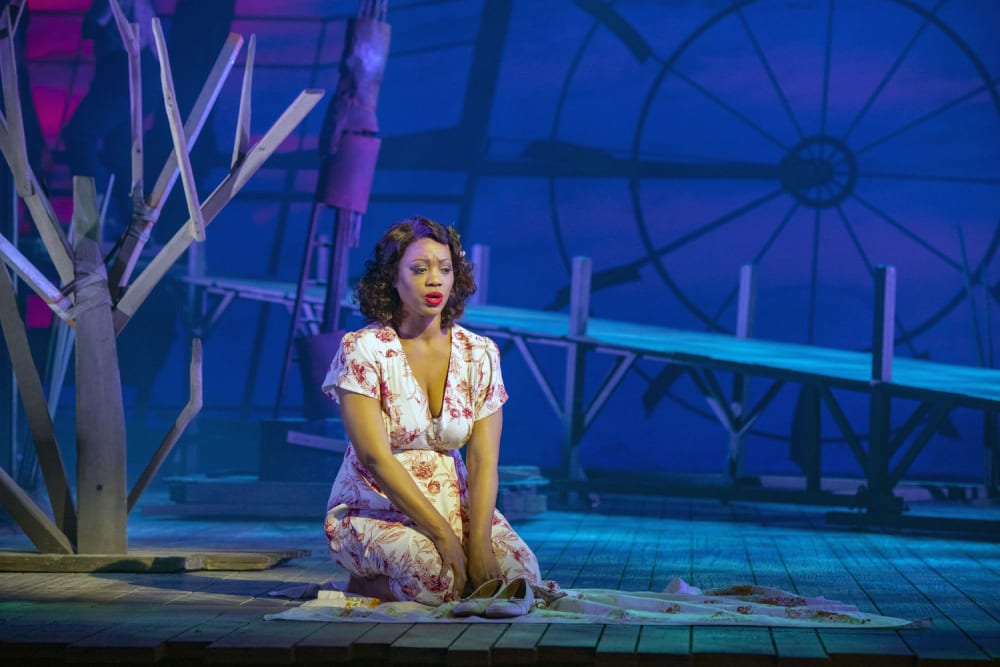 Thursday night in Surrey was wet and windy; certainly not delightful picnic weather for our dinner interval. Thankfully, stepping into the Theatre in Woods, we were transported to the hot and passionate drama of Catfish Row.
Gershwin's only opera is brought to life by Grange Park. It's an incongruous pairing—we come in from the rich and plentiful surroundings of West Horsley Place to meet the hardship and poverty of the deep south tenements. These poor residents entertain themselves dancing, singing, gambling and drinking. Lizzie Gee choreographs energetic numbers, the cast bringing a religious zeal and rousing singing.
Francis O'Connor designs revolving multi-storeyed buildings. It's a little cramped onstage, but that only adds to the feeling of poverty. Later, out on Kittiwah Island, a long jetty juts out on stage and the rest of the location is brought to life by David Plater's rich, sun-drenched lighting designs.
Recent graduate of the Jette Parker ROH studio, Francesca Chiejina opens the show with a luminous toned "Summertime", the feeling of ease she captures showing off her vocal prowess. This, teamed with a beautiful stage presence, makes her one to watch—she could certainly hold her own in the title role.
Instead, Bess is sung by Gershwin-veteran Laquita Mitchell, who delivers more wide-eyed vulnerably than fallen woman. She elicits an urge to look after her and Porgy willingly rises to the task. Mitchell's intonation suffers when duetting but otherwise she delivers with a winning, bright tone. It is Porgy (Musa Ngqungwana) who really steals the show—though tied down to earth in leg braces and crutches, Ngqungwana's glorious tone soars freely through the opera house.
Other notable performances include Chantale Nurse as Maria, who manages to straddle the musical opera hybrid with great sass, laying into Sportin' Life with spirit and humour. Serena's (Sarah-Jane Lewis) performance excites, her grief-filled aria gutsy and powerful.
Rheinhaldt Tshepo Moagi (Sportin' Life) is fleet-footed and convincing as a charming but dangerous low-life, ready to pounce. Donovan Singletar terrifies as the well cast Crown, his muscly physique intimidating all around him.
Stephen Barlow and the BBC Concert Orchestra's performance is well balanced and tidy, though it could do with more swelling strings and percussion.
Whether summer returns to Surrey or not, if you go down to the woods today, Jean-Pierre Van der Spuy's production will provide a heartwarming evening of entertainment.
Reviewer: Louise Lewis