Pornography
Simon Stephens
Birmingham Repertory Theatre Company & Traverse Theatre Company
Tricycle Theatre, Kilburn
(2009)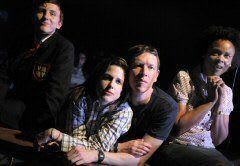 TV screens are littered around the stage; thick red wires like veins pumping blood wrap themselves across the bare black floor; dark wires are strung from the stage into the rafters of the auditorium with thin fluorescent lights dangling precariously. As soon as they flicker for a moment, Paul Wills' design immediately transports us to the London underground.
Simon Stephens' play, rigorously directed by Sean Holmes, delicately summons a plethora of images, situations and characters through gentle suggestion. The play leads up to the London bombings, but never once is it explicitly mentioned. Instead, we are presented with four monologues and two duologues expertly interspersed over ninety minutes of underlying tensions, fears and personal explosions.
Everyone here is on the edge, disconnected from each other, and yearning for someone to love them. Through these characters' journeys Stephens seems to be writing a quiet love-letter to London, a city in which you can always find yourself completely alone and aching for human contact yet is always throbbing with life. An excellent Frances Ashman is nervously obsessed with her baby, whose husband barely touches her anymore; sister and brother, Kirsty Bushell and Sam Spruell, embark on an incestuous affair; a sprightly Anthony Welsh calmly changes three trains to eventually get on a tube at Kings Cross with an oversized backpack...
The pornography of the title is watched by Sheila Reid's fantastic portrayal of an over-anxious and grumpy old lady, whose husband is no longer around. Alone and achingly lonely she detachedly watches hours of porn until the early hours of the morning. We see her yearning for human contact in the slightest clench of her fist. She walks from Hammersmith to Gower Street on the day of the London bombings for a meeting she's been nervously waiting for only to find that no-one else has arrived at work. In a heartbreaking moment she knocks at a stranger's door to ask for some barbecued chicken.
Billy Seymour as the young boy obsessed with his teacher is also compelling. He is the voice of a childhood marred by feuding parents and a sibling who doesn't speak to him. Violence is never far from his squeaky voice and he regularly erupts in a stream of obscenities, at one point explicitly detailing how he would knife his teacher to pieces. He incessantly lights matches in the background, a constant, unnerving reminder of the attack to come.
Pornography is disquieting, intelligent and affecting. The play is a constant reminder of the capital's power, inhabitants and possibilities. Having started life in Germany, and winning Best New Play Award in Scotland earlier this year it's important that it is now in London. It feels at home here.
Runs 4 - 29 August
Reviewer: Terry O'Donovan