Porridge
Dick Clement and Ian La Frenais
Theatre Royal, Newcastle, and touring
(2009)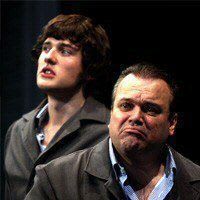 In spite of my admiration for the genius that was Ronnie Barker, I confess that Porridge was never one of my favourite sit-coms. In fact, I gave up watching it fairly early in its first series, before it went on to achieve cult status.
Whether this qualifies or disqualifies me as a reviewer of this stage adaptation by original authors Clement and La Frenais I'm not sure but it did mean I could approach it without expectations of reviving happy memories or fears of disappointment.
Strangely enough - perhaps I'm a bit more mature than I was 35 years ago! - I can now see the appeal, as I couldn't then. What interested me particularly is the fact that, in this adaptation at any rate, Porridge is not pure comedy, unlike, for example, Barker's other great hit (which I still love), Open All Hours. Among the laughs there are intensely serious, even dramatic, moments which for me is a definite plus.
It has a good cast who capture the essence of the original characters: Daniel West (Godber) really does look like Richard Beckinsale and the contrasting "screws", Nicholas Lumley's MacKay and John Conroy's Barrowclough, are well presented, coming close to their originals. Shaun Williamson, however, wisely does not try to imitate Barker. I say "wisely" because Fletcher is not a two-dimensional character and Williamson gives him the depth without slavishly mimicking Barker's portrayal, although there are, inevitably, some of the mannerisms which the fans of the TV show will expect.
There is not a single plot line which runs throughout: Clement and La Frenais have selected some of the "best bits" and loosely linked them in such a way that one flows into the next without any sense of discontinuity, joined together mainly by the almost father/son relationship between Fletcher and Godber.
The weakness of the piece, however, is that it remains decidedly televisual, with short scenes which switch location and thus necessitate set changes. These are carried out smootly and efficiently, using cast members to move furniture on and off stage whilst flying in backgrounds, but they inevitably slow the pace.
That said, however, this stage adaptation of Porridge provides a pleasant and gently amusing evening of theatre - and they saved the best joke of the night for the last line!
Reviewer: Peter Lathan