Port Authority
Conor McPherson
Tim Johanson Productions and Ollie Jordan
Southwark Playhouse
–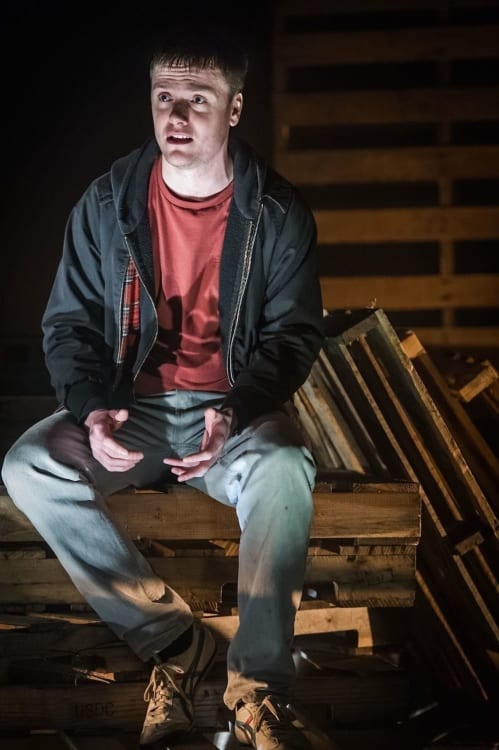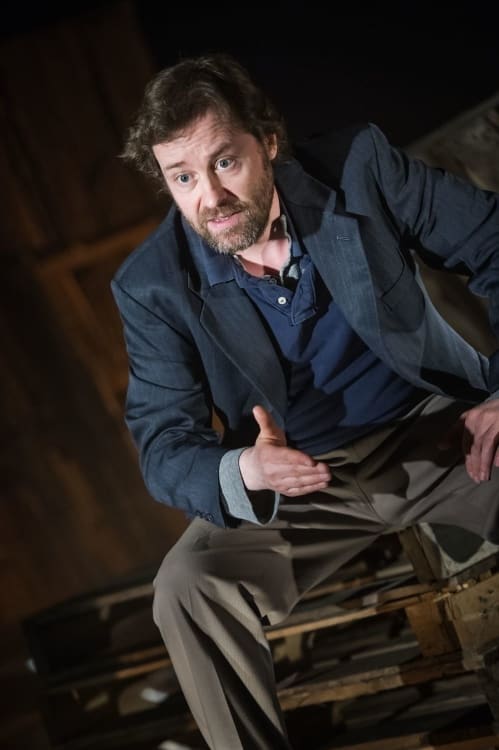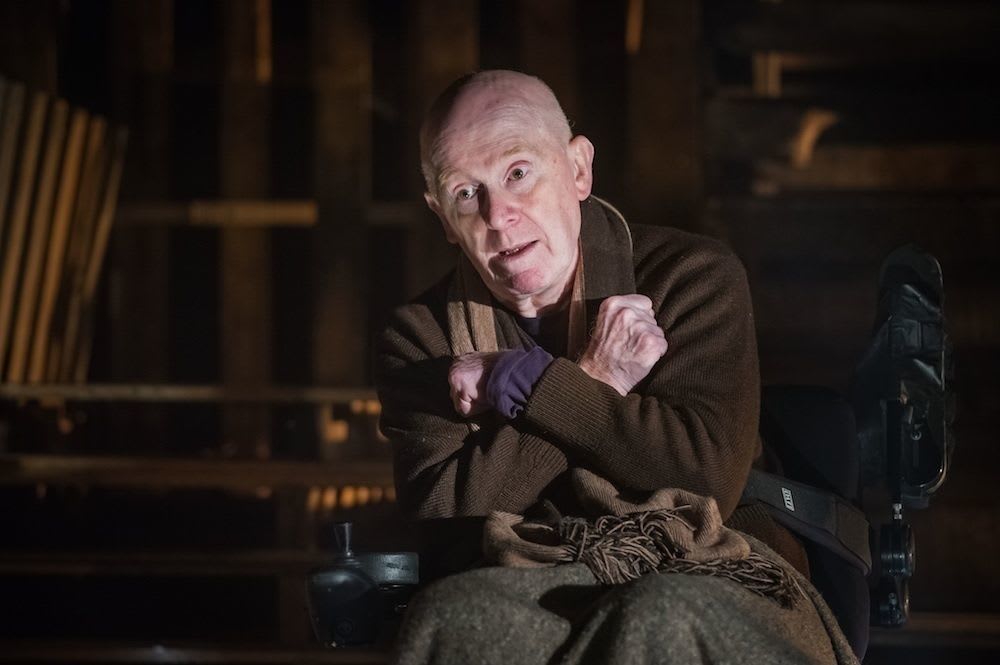 Three dark figures are silhouetted against an atmospheric set pregnant with promise. Towering up to the vaults of the railway arches, it is built from wooden pallets, lit from below through the wide spaced boards of the stage platform. For a moment, light floods the deep tunnels that stretch into the distance on either side. It is a mysterious, dramatic opening. When the lights come up on the stage we see just three men: one young, one older, and one old, a blanket draped over his knees.
Kevin, the youngest, begins to tell us about his mates and moving in to share a house with them, then, after a musically resonant pause, accountant Joe takes over talking about the interview for a job and his surprise at getting it, and then it is the turn of Dermot, in his seventies in an old folk's home. Three Dublin lives, three people who don't know each other, though it turns out there is a tiny tenuous link: a pop group that Kevin and Joe both hear play, though on different sides of the Atlantic, a photograph a connection between Joe and Dermot.
This is not drama but story telling. There is no communication between these characters, nothing acted out. These are three separate monologues, delivered in stages, in regular sequence, not intercutting each other to create links or counterpoints, there is no frisson of things happening, we know that everything is in the past. They could be individuals in a bar each separately spilling out their confidences to their new acquaintance. Link each character's episodes and they could be three short stories with no need to stage them for where is the drama? And yet…
The staging and the dramatic mood created by designer Francesca Reidy and Joshua Carr's lighting for the opening firmly mark this as being a theatrical event. We are in a theatre to enjoy theatrical skills of the kind already displayed by them and, having created that mood, Tom Attenborough's production doesn't disappoint, though what it delivers is the opposite of what the build up might lead you to expect.
It takes a lot for monologues to win me over, but these are beautifully written and perfectly performed. The episodic structure of the telling does generate a level of wondering what comes next, though an even bigger wonder was how on earth McPherson was going to pull these three stories into one. Of course he doesn't, despite those tenuous links, except that in their differences he is giving us parallel pictures of three lives and three men in different ways in lust or love.
Andrew Nolan's Kevin talks to us standing, a young man discovering life, drinking scrumpy with his stupid, lazy, masturbating mate, fascinated by the posher girl house sharer who's on the fringes of the music scene, falling for a student barmaid a and trying to sort his head out in a garden reeking of cider piss. Then there is Joe, drunk at his new boss's house, besotted by his hostess's breasts, off on a junket to LA before being brought suddenly to earth. Ardal O'Hanlon plays him seated, leaning towards us, guiltily confiding. For he is a married man with kids and knows now just how much his wife is devoted to him.
These men are Irish; their stories spill out nonstop, interrupted only by this play's structure. Perhaps that's why the lack of dialogue seems more natural than with other folk whose gab is less of a gift. Old Dermot is a master at it, keeping back a nugget of information to drag out interest further. John Rogan doesn't have to reach out to communicate, upright in his wheelchair he draws us in as he gradually unfolds the story of one brief incident that still he does not understand but that has stayed with him through decades.
Three fine characterisations; three actors who connect directly with their audience; and a finely phrased script, full of detail and sounding entirely spontaneous, all carefully timed and shaped to add up to ninety minutes that feel much more substantial than you might imagine yet are also full of laughs.
Reviewer: Howard Loxton