Portraits
William Douglas Home
Georgina Ratnatunga in association with Neil McPherson for the Finborough Theatre
Finborough Theatre
(2011)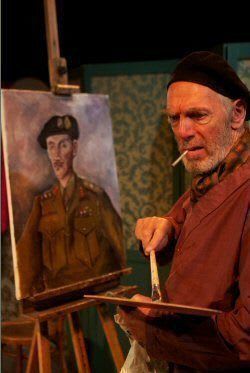 Whilst for many theatres 2011 heralded the opportunity to celebrate the centenaries of theatrical heavyweights Rattigan and Tennessee Williams, the Finborough, with its focus on new work and rediscoveries, decided to turn its attention elsewhere and commemorate fifty years since the death of respected portrait artist Augustus John.
Set over sixteen years, Portraits paints a picture of John's latter life leading up to his death in 1960. From artist at the top of his game to slurred old drunk, William Douglas Home's play depicts the demise of a Great through the sittings of three prominent subjects.
The themes of destruction, decay and loss run through and link each of the portraits in progress. When painting General Bernard Montgomery, John feels for the young colonel accompanying his master. A beautiful figure, John longs to paint him, but knowing the brutality of war, he has already started to mourn the young man knowing that he'll never see his next leave.
As well as loss having affected John's partner Dorelia, it also heavily affected fellow artist Matthew Smith. So bereft was he by the loss of his sons in the war that he gave up painting, only to be tempted back to it by some encouragement and a portrait pact from John. But, as Portraits reveals, as Smith took up his paintbrush once more, John started to take up another cause...
John was disgusted at the abomination of war and its careless destruction. If war continued, he argues in the piece, there would be nothing left to paint. In a serious of sittings with Cecil Beaton, John reveals why he joined the campaign for nuclear disarmament, channelling his passion into protest as his faith in his own work started to wane.
It seems only fitting that a show about one of Britain's greatest artists should be directed by someone with artistry knowledge himself. In his first role as director at the Finborough, resident designer Alex Marker, who also designs, evokes a cavern of creativity in John's studio. Just as in portrait painting, each scene is a well crafted character study with subtle direction assisting, but not distracting the actors from communicating these well known figures of the past to their audience in the intimate surroundings of the Finborough.
In the title role, Peter Marinker gives a superb performance as the bohemian artist, known as 'Gus' to his friends. Charming, yet hot-headed, caring, yet quarrelsome, Marinker effortlessly portrays the physical demise of a once sprightly man turned ailing pensioner with a simple change of gait and posture.
Kristin Milward's Dorelia too is a lesson in the art of acting. There is great tenderness between Milward and Marinker in the role of lovers and their cattish arguments come across even more biting knowing that underneath it all the two characters depend on each other for survival.
As Montgomery, Smith and Beaton, Hayward Morse manages to differentiate each role well and there is strong support from Matt Barber as the young Guards' Colonel Joe. Douglas Home's text is extremely witty and touching at times and each of the five strong cast deliver it honestly, with David Gooderson's somewhat leprechaun-inspired George Bernard Shaw adding to the piece's irresistible charm.
It is astounding to think that Portraits has not been produced professionally since 1987. The Finborough's outstanding production is not only a fitting celebration of Augustus John's life and work, but also that of William Douglas Home, who died nearly twenty years ago. A place for new writing and rediscoveries, the Finborough has found and created yet another masterpiece.
"Portraits" plays Sundays and Mondays until 22nd August 2011.
Reviewer: Simon Sladen