Portraits in Song: Edith Piaf & Bertolt Brecht
Devised by Elizabeth Mansfield in collaboration with Steve Trafford
New End Theatre, Hampstead
(2006)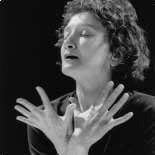 She was one of France's most loved singers and a national icon. He was a German poet, playwright, and theatrical reformer, both knew fame in their lifetime. Edith Piaf (1915-1963) experienced social ills, and Berthold Brecht (1898-1956) observed and wrote about them. They seem an unlikely pair to share a stage but pulling on opposite ends of the social ladder they touched common notes on a not dissimilar scale. Each was successful despite their indifference to social norms. They are both ingeniously portrayed by Elizabeth Mansfield in 95 minutes of song and dramatised monologue.
Edith Piaf's life story unravels in the ensemble of some of her best known ballads. Accompanied on the piano by Russell Churney, Elizabeth Mansfield sings and presents a life replete with hardship, loss, love despair and above all resilience of a legend whose driving force is encapsulated in her signature song Je ne regrette rien.
Piaf's mother was a street singer and a drug addict who showed no interest in new born child. Her father was an acrobat. On his return from the frontlines in First World War, he finds his baby daughter in a back room riddled with lice, rickets and blind. He hands her over to the care of his mother, who ran a brothel at Bernay in Normandy. There the prostitutes were kind to her. They liked having a young girl who they believed would 'bring them good luck'.
Piaf recovered her sight after a pilgrimage to Saint Thérèse de Lisieux and later rejoined her father in his acrobatic street performances where she learnt not only to pass the begging hat but also use her voice to attract an audience and their money. Three years later, at 17 she broke away from her father and learnt to appreciate her independence until her baby daughter Marcelle, died of meningitis aged two. Piaf had to sell her body for 10 Francs to pay for her little girl's funeral.
Mansfield's performance is stimulating. The songs and monologue unveil France's social ills. Though Piaf's life was lived in the 20th century, she could have easily been the main protagonist in a 19th century novel written by either Victor Hugo or Alexander Dumas.
This is a theme which neatly leads to the rogue Mack the Knife, a song composed by Kurt Weill with lyrics by Berthold Brecht for their Threepenny Opera (Die Dreigroschenoper, 1928).
Brecht's bourgeois background leaves the talented young man hungry for words. He uses angry words 'to slap the face of the Middle Classes'.
While Piaf sang of love, Brecht's songs aimed at making people think and not reach for their handkerchief 'and leave their brain behind'.'
In the First World War Brecht was fortunate to 'fail the call-up as a medical orderly'.
The Cannon Song from The Threepenny Opera follows and leads to the period of the Second World War where in Brecht's monologue we learn that, despite his loud protestation against social ills, he recalls watching a brown shirt clubbing a man, kicking him and 'I felt Glad. Glad it wasn't me. Strange how your conscience is weakest at the moment you need it most'.
We learn nothing of Piaf during the Second World War but learn of Brecht's escape from his own country, Germany, because his wife was a Jewess.
In post war period, Piaf is rehearsing and performing in New York while Brecht has to escape from the House Committee on Un-American activities as his affiliation to the Communist movement categorized him as 'depraved, evil and insane'
The tension/attraction of the opposite sexes appears in Piaf's and Brecht's songs. It is fitting to end the show with La Goulante du Pauvre Jean:
You're a pauper, you're a king!
Without love, life don't mean a thing!
The applause at the end by the young audience of that evening demonstrates not only appreciation of Mansfield's adept performance but also the fact that the two great figures of European chanson and ballad still have an undying appeal.
Until 23rd April 2006
Peter Lathan interviewed Elizabeth Mansfield in 2004
Reviewer: Rivka Jacobson