Posh
Laura Wade
Nottingham Playhouse Theatre Company and Salisbury Playhouse
Nottingham Playhouse
–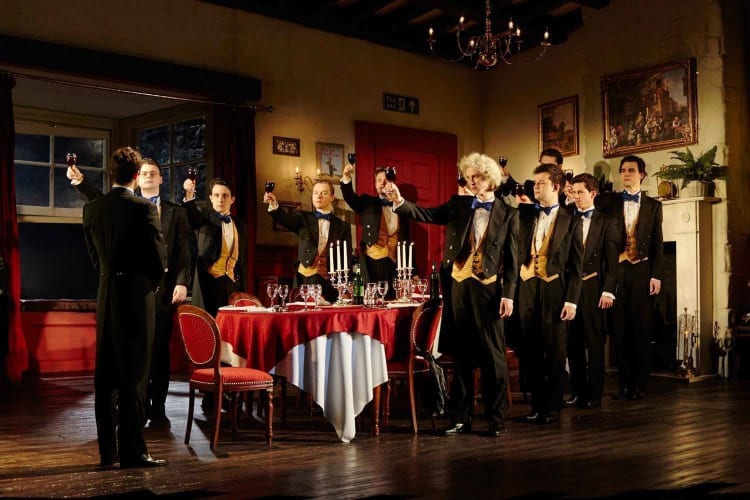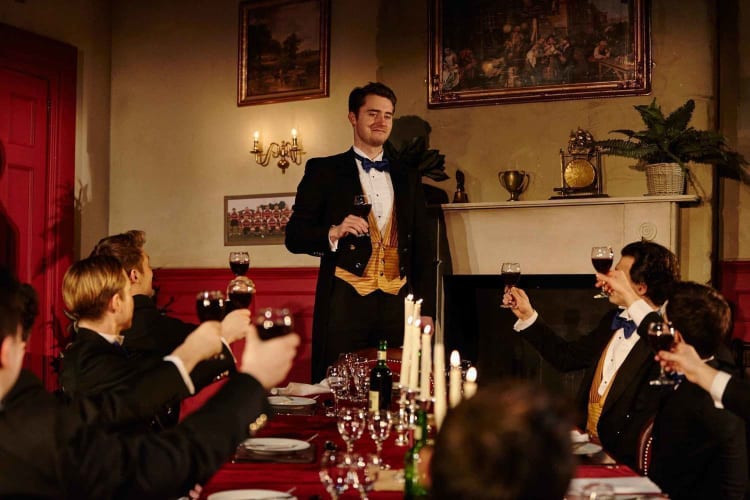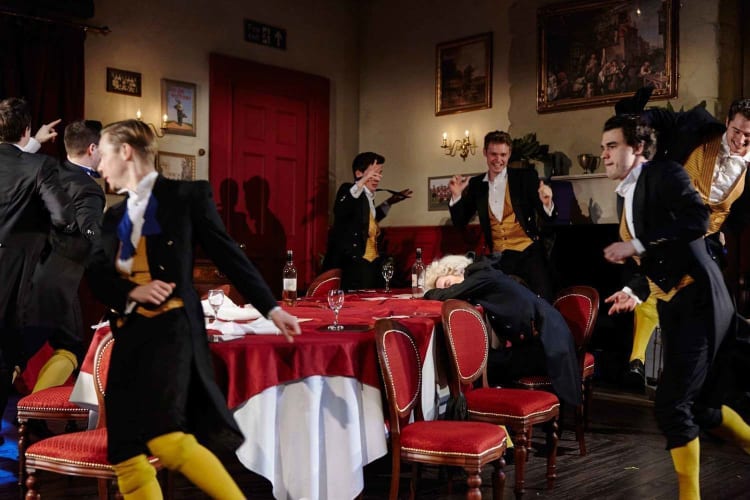 In the run-up to the General Election Nottingham Playhouse is staging a political season based around the regional première of Laura Wade's Posh.
Wade's satire on class, wealth and privilege is being staged only a few months before voters go to the polls; director Susannah Tresilian says that was done deliberately to "generate discussion". It can also be seen as highly controversial as the play catalogues the excesses of a group of young men who are destined to have a role in running the country and may represent a certain political party.
Laura Wade draws her inspiration from the Bullingdon Club, founded at Oxford University more than 200 years ago and which boasts David Cameron, George Osborne and Boris Johnson among its former members.
In Posh, we have the Riot Club, an exclusive organisation of ten toffs who meet up for a regular evening of good food, drink and behaviour that others might describe as outrageous.
The one thing the ten members of the club have in common is money. They come from extremely wealthy families and believe they are allowed to be as destructive as a top 1970s rock band if they pay for the damage.
Susannah Tresilian does a fine job of showing how these sex-obsessed young bucks who are lacking in certain social skills make complete idiots of themselves and are lacking decency, values and principles.
Posh is set in the small dining area of a pub which has been set aside for the club's exclusive use. As the evening wears, on all the members are affected by alcohol—some through ridiculous drinking games—and there is a general sense of disgust and revulsion at their antics.
At one point, they play their own version of musical chairs without the music, everyone prancing around and all looking certainties to win a Monty Python Upper-Class Twit of the Year competition.
Even when the evening goes tragically wrong, some of the Riot Club will not own up to their horrendous actions and decide one of them must become a scapegoat for the good of all.
The acting in Posh deserves to get the public's vote. All ten Riot Club members bring individual characteristics to their parts as well as forming a tightly connected ensemble.
Contrast is provided by Neil Caple as landlord Chris, shocked at their escapades and determined to prove that money cannot buy everything and Laurence Kennedy as the peer who pulls all the strings and can gloss over the past if a young man is seen as a future leader.
There are also excellent performances from the two women in the cast. Charlotte Bramble as waitress Rachel gives as good as she gets when faced with the men's sexually-charged innuendos. Joanne Evans, making her professional debut as escort Charlie, turns the tables on the chauvinists when they expect her to go beyond what was agreed. She also has a delightful operatic voice, showing there is a place for culture in the Riot Club's amoral world.
The scene in which club founder Lord Riot makes an appearance is a little difficult to take seriously and to me appears out of place. But Posh has been trimmed since its Royal Court and West End debut and the play is the better for it.
Whether theatregoers' voting intentions will change after seeing this play is about as clear as who will actually win the General Election. Posh though will certainly achieve its aim of starting a discussion. People really ought to vote with their feet and see it.
Reviewer: Steve Orme