Positive
Shaun Kitchener
Ann Pinnington Productions in association with West Avenue
Park Theatre (Park 90)
–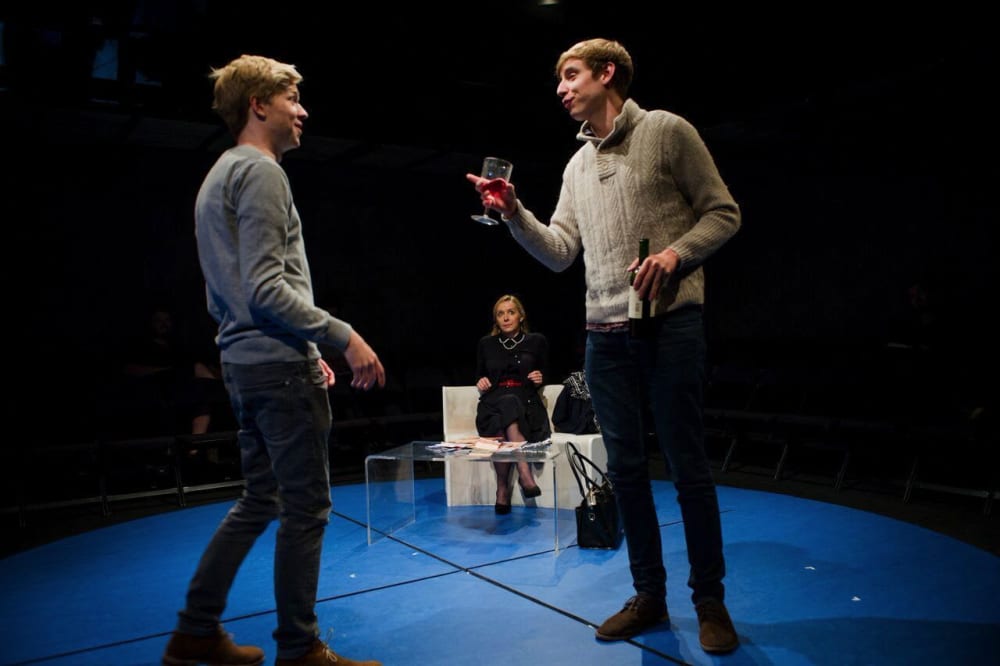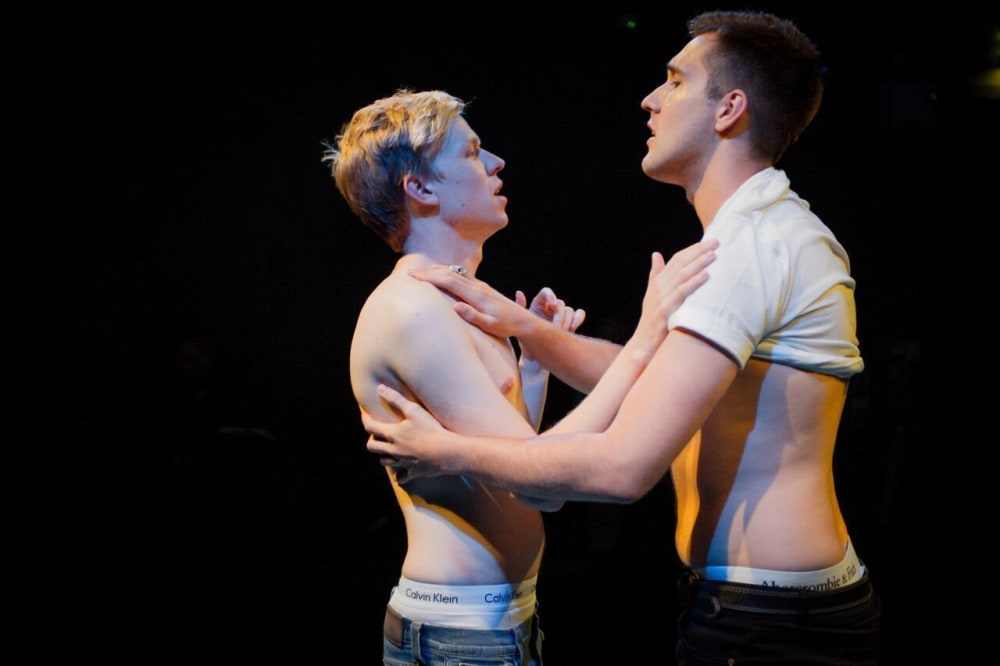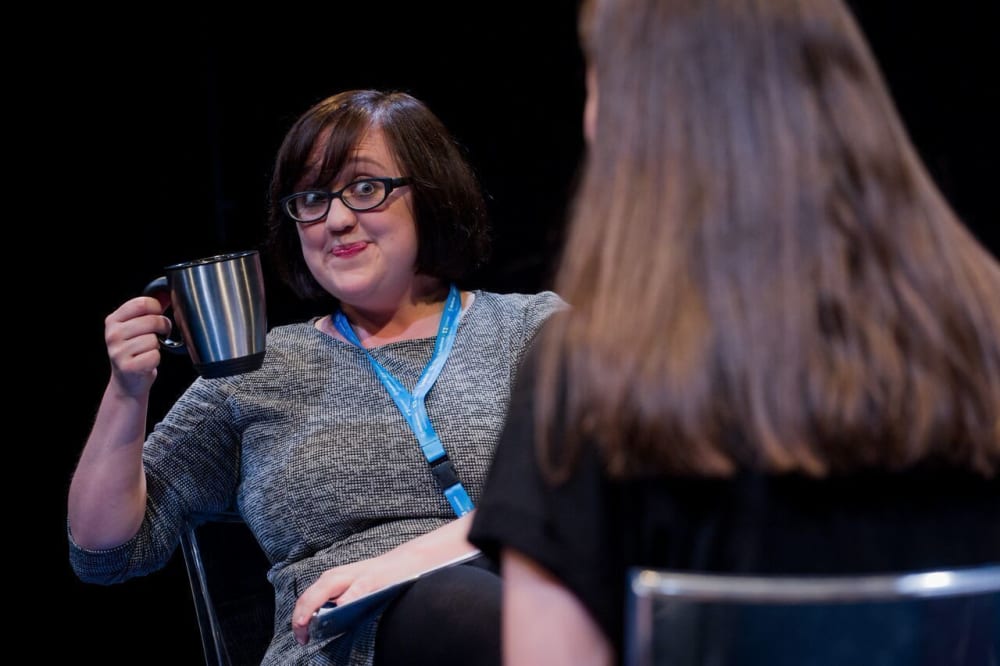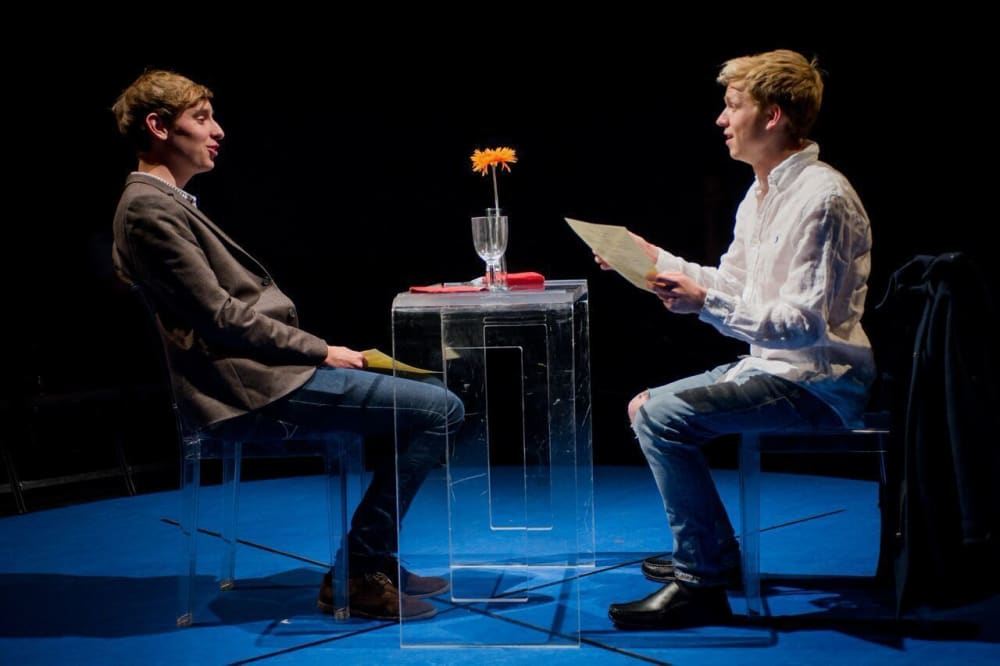 Already enthusiastically greeted in preliminary versions on the Edinburgh Fringe and at Waterloo East, this further development of Shaun Kitchener's play gets a stylish new in-the-round production in Park 90 directed by Harry Burton.
Designer Marcio Santarosa sets it on a disk crossed with neon with the minimum of furniture in clear plastic and what looks like pleated cardboard. It is fast-moving and lit very precisely by Nic Farman.
Positive is a play about living with HIV. No, no, not a gloomy one—it is very funny, truly. It is a play about people and how they handle it: both the positive people and their lovers, friends and families.
Twenty-six-year-old Benji had shut down his life when he got diagnosed. Now, a year later, his flatmate Nikki is bullying him into going on a blind date. Meanwhile, he has just been out all night, having plucked up the courage to go to a bar and get picked up. Nikki also has HIV, caught in Africa when working for an NGA. This is her story too.
It isn't a horror story. As the publicity tells you: "Spoiler: Nobody dies". But, although packed with laughter, it is an honest and serious look at the way people react and manage things.
There is Nicki's supportive, reliable boyfriend (they are planning to go back to Africa together): a warm, solid performance from Paul Heelis. There is Benji's mum Margo, worried because he doesn't keep in touch: Sally George makes her histrionically hysterical; she's hilarious but also absolutely right, a caring woman who can't cope because she not equipped with the facts.
Sexual health consultant Jennifer is cheerful and supportive and gets a sparky performance from Claire Greenaway, making what could be a cypher a fully-rounded character—if only all health workers were like that. Olly, the irresponsible student Benji gets picked up by, is a crazy queen, all wavy arms as Ryan J Brown plays him. He's a bit of a cliché but we have all met them and he helps the audience understand that they are meant to laugh.
Nathalie Barclay's highly-strung Nikki is a lovely example of one of those people always there for others who's not quite so good at handling herself. She captures that vitality that makes you want to be with someone even though it can get too much.
Benji is delightful, attractive and bright; there is not much sign of the dark days he has been through. Timothy George's fresh performance ensures the audience likes him but there is a chasm of bad communication between him and his mother. A running gag about his devotion to Britney Spears feels a bit like a private joke on the part of the writer but it doesn't get overdone. This is very realist writing.
There is a great scene for Benji and Matt, the blind date with whom Nikki and Greg set him up: that awkward first meeting, tongue-tied across a restaurant table. In Matt, Shaun Kitchener has created a confident, outspoken character totally at home in his own skin and in this new production Kitchener himself plays him. He's not an Adonis, a little bit willowy and perhaps just too good to be true but a near perfect performance.
This is a play that is totally positive, while pointing out problems, but it works because it is about people not disease, and you want to know what will happen to and between them. It is the first time I have seen Kitchener or his writing; I hope we shall see much more of them both.
Reviewer: Howard Loxton