Post
Xavier de Sousa
Xavier De Sousa and Ovalhouse
Ovalhouse
–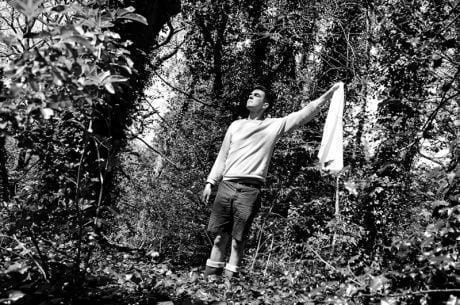 Xavier de Sousa's show Post is a dinner party at which the audience is encouraged to speak about aspects of national identity. The host Xavier prepares the food, offers drinks and asks individuals questions.
Film footage of a traditional style of dancing is projected onto a screen at the back of the performance space. Later, Xavier will don part of what looks like a traditional costume and also dance.
There are four sections to the show and in the first, entitled the prologue, Xavier plays records on an old record player as he amiably tells us about the meal he is making. As he does so, he offers us all a drink of cachaça which he describes as 'a true representation of Portuguese culture', adding that it originates in Brazil. This leads him to mention that Brazil was among those countries that Portugal 'discovered' which, he says means it was colonised.
In this way, the meal that he prepares and the people he speaks with illustrate the way national identity is created from many international elements.
When the food is cooked, the table is set for four. Three volunteers from the audience are invited to join him for the meal. As they eat, they talk about the countries they have come from and the extent to which they feel Britain is a welcoming place.
It is only in this final section that something theatrically dramatic happens. The lights dim and a single industrial noise gradually increases in volume till it makes it impossible to hear the conversation of those at the dinner party. It is a harsh metaphor for the crude way in which such public debates have been suffocated.
Xavier is a charming host whose conversation is gentle and polite. The point he is making about the impossibility of regarding national identity in a narrow geographic way is important and positive particularly during a period where some politicians have been cranking up the fear factor about foreigners. After all, we are all foreigners.
That's something we quickly learn when we study, work or travel anywhere in a city. However, the complicated factors that are feeding xenophobia are not going to be challenged or even explored by the simple image of a multicultural dinner party. The performance is also illustrating the obvious in a way which is not particularly dramatic.
The audience will find Xavier's company pleasant and the message his show promotes something they instantly agree with, but they may yearn for a form and content that is more substantial.
Reviewer: Keith Mckenna