The Post Show Party Show and GuruGuru
Michael Pinchbeck and Ant Hampton in collaboration with Joji Koyama and Isambard Khroustaliov
Sprint 2010
Camden People's Theatre
(2010)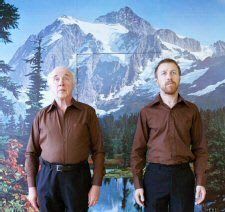 As an opener to the Camden People's Theatre's 2010 Sprint Festival these two works could not have been more of a contrast in concept. The Post Show Party Show by Michael Pinchbeck recreated the minutiae moment his parents met at an After Show Party with charm, wit and the most deadpan, ironic 1970's humour you will ever experience in 55 minutes. GuruGuru (by Ant Hampton in collaboration with Joji Koyama and Isambard Khroustaliov) involved only five audience members who entered a room and follow instructions from a set of headphones each, and explored the idea of our socially conditioned responses to situations.
In the first piece, The Post Show Party Show, writer Michael Pinchbeck performs with his father and mother. Dressed identically in brown shirts and black trousers, father and son set out stools in perfectly taped white boxes on the floor in what becomes a kind of rather beautifully choreographed OCD dance. They are recreating an ill-fated party after an amateur dramatic production of The Sound of Music in 1970, where a performer died, but his parents started the journey that would produce not only Michael but also this show. This is, as Michael says, 'the story of how he came to be'. While father and son perform, in the background is the rather serene and exquisite presence of his mother, who, while looking extremely nun-like all in black, has the position of technician, like some benign god who flicks the switches of the lighting board and controls the sound.
Playing with time, humour and turning Edelweiss into the delightful 'Ill advice', the sixteen scenes correspond to the different songs of the musical and each one gets fascinatingly reconstructed into different ways of looking at this eventful evening forty years ago. Keeping flat-toned voices, which is at first disconcerting but becomes endearing, we hear that father Tony 'was a nazi and she was a nun', and all three performers effortlessly win you over with their non-performative, surreal performance. While the mind at first boggles at the multi-faceted perspectives of a moment (told through the eye of The Sound of Music, as it were) the heart rejoices in this simple and complex story of 'girl meets boy' distorting 'time and space'. What could be more straightforward?
If nothing else, fans of The Sound of Music will love this wonderfully ironic twist on their favourite show, and anyone else will simply be charmed by the beauty of a family under construction in the past and still creating today.
The second piece was less beguiling by any viewpoint. Taking your instructions from the headphones and a single television screen, each audience member becomes a performer in a focus group working to create a Guru who will help them get over their terrifying moments of stage fright. Effectively GuruGuru creates a production (less a 'performance') to make you reflect on our social conditioning and the 'voices in your head' that tell you to behave in certain ways or say certain things. What are the fears we have of letting these barriers go, and saying what we really think or feel?
These are, of course, interesting issues, but GuruGuru ultimately does not work to surmount them. Sadly, with a piece that could have easily been cut by a third if not a half, the production is too long to hold your interest with so little narrative, and becomes an exercise in following instructions in a tediously unimaginative scenario. To make matters worse, the technology does not even work properly as the character of Angel's lines were fed miss-timed for the audience member, making a slightly confusing continuous glitch in the development of the supposed story.
Did this really matter? In reality no, because there was so little story to actually engage us that the scenario was easy to work out and even more easy to tire of. What little personal interaction the piece did encourage was the only interesting part of the piece, but it had no development and yet could so easily have been used to create fascinating personal motivations where each character was trying to pursue agendas with the others. Seemingly the creators did not think this far. The only interaction that the piece did provoke once the five participants were 'off the headphones', was the unanimous conclusion that this was an hour where we all could have spent the time doing something better. Oh dear.
I, as the voice on your headphones, can only advise you to invest your hour at the Camden People's Theatre seeing The Post Show Party Show and fall in love with its creative, ironic charm, and give GuruGuru a miss. But of course, in the end, it is your choice, and remember, the voices in your head are mere advisors and not necessity.
Reviewer: Sacha Voit