Potentials
Dominic Mitchell
PapaTango
Tristan Bates Theatre
(2009)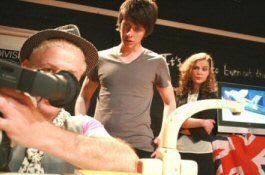 Kurt Cobain's much-mythologised exclamation "It's better to burn out than fade away" is chalked on the back wall of Benny's flat. This accomplished new play falls somewhere between the two.
Dominic Mitchell's prize-winning new piece follows four staggeringly solipsistic friends who made a youthful pact that if they weren't successful in their chosen artistic fields, they would kill themselves at midnight on their thirtieth birthdays. It is wide-eyed wannabe rocker Benny's (Sam Donovan) birthday, and his behatted Shoreditch artist friend Max (Philip Brodie) has shown up to film his final moments for posterity - or profit.
The production delivers some good black humour in the scenes with Benny and Max, including an excellent scene in which Benny rejects all the tools for suicide that Max has brought, with more and more feeble excuses ("But I'd have to get my hair wet!" on being handed a straight razor), and the two actors have good chemistry. Donovan brings enough naïve likeability and genuine despair to his performance that there is a real build up of tension as he gets closer to midnight.
Laura Murray is great as Karen, striding around the stage wearing scarlet heels and a brittle, sarcastic perma-smile. However, the exchanges Karen has with ex-lover Frank (George Turvey) on the moralities surrounding the reality TV industry in which she now works are somewhat uneven in tone, and in their conclusions. The topical references to Jade Goody's recent death do give the production a sense of immediacy and presence, which is underscored by director Matt Robert's use of live video media.
This use of the live video feed on the flat screen TV on the back wall of the set allows the audience to see the actors' full expressions, even when they are in profile. This voyeuristic conceit brings into focus the idea that nothing is real or important unless people are watching. Though effective, it is at some times distracting, as the eye is drawn to the close-up of the face on screen, and away from any other action onstage.
The intimate studio space works well as the set of Benny's small flat, with its peeling kitchen cupboards and Sylvia Plath poem daubed ostentatiously on the wall, and the size of the theatre allows the cast a degree of naturalism which sits well with the documentary video approach.
Mitchell's characters are well observed and engage the audience, but the pace is uneven, rushing towards a hurried conclusion after a measured build up. Though topical and darkly comic, this well-executed production is too ambiguous in its conclusions to display any coruscating new insight into a celebrity-obsessed society. Potentials is full of promise, but in the end, is cut off too abruptly to realise it.
Until 23rd May
Reviewer: Beth O'Brien